Laporan Kasus: MAKROADENOMA HIPOFISIS FUNGSIONAL DENGAN MANIFESTASI AKROMEGALI DAN DIABETES MELITUS TIPE LAIN YANG TIDAK TERKONTROL
Keywords:
Akromegali,, Diabetes, makroadenoma hipofisis
Abstract
Akromegali merupakan penyakit yang sangat jarang dan sering tidak disadari, sehingga menimbulkan keterlambatan diagnosis serta munculnya komplikasi sistemik. Peningkatan kadar growth hormone pada pasien akromegali menyebabkan munculnya penyakit diabetes mellitus (DM). Laporan kasus ini bertujuan untuk  membahas makroadenoma hipofisis fungsional dengan manifestasi akromegali dan diabetes melitus tipe lain yang tidak terkontrol. Laki-laki berusia 39 tahun dirujuk ke RS Dr. Mohammad Hoesin karena DM yang tidak terkontrol, sering sakit kepala, nyeri di tangan dan kaki serta pandangan mata kabur. Pasien merasakan perubahan pada tubuh yang bertambah besar sejak tahun 2004. Pada tahun 2018 pasien mulai menderita DM dengan terapi insulin yang dosisnya meningkat bertahap. Pada pemeriksaan fisik dijumpai gambaran khas akromegali mulai dari muka serta jari tangan dan kaki. Pemeriksaan mata dengan tes Humprey didapatkan gangguan lapangan pandang pada kedua mata. Pemeriksaan penunjang didapatkan kadar insulin-like growth factor-1 (IGF-1) yang sangat tinggi dan gambaran massa di hipofisis yang berukuran 32 x 22 x 28 mm. Pasien menjalani operasi transpheonidal (TSS) dengan hasil pemeriksaan patalogi didapatkan suatu adenoma hipofisis. Pasien didiagnosis dengan akromegali oleh karena makroadenoma hipofisis fungsional dengan DM tipe lain. Lima hari setelah operasi pasien didapatkan kebocoran liquor cerebro spinal (LCS) dan kembali dilakukan operasi untuk mengatasi kebocoran LCS. Pasien menderita DI permanen setelah 2 minggu setelah operasi. Setelah TSS didapatkan ukuran tumor berkurang sekitar 54% dan pasien mendapat terapi lanjutan somatostatin analogs (SSA) octretide long-acting release (LAR). Kondisi post TSS terjadi perbaikan klinis dan kadar gula darah.
References
Melmed S. Pituitary-Tumor endocrinopathies. N Engl J Med. 2020 Mar 5; 382(10):937-950. doi: 10.1056/NEJMra1810772
Emerald M. Pituitary Gland: Pituitary Hormones. Elsevier Ltd. 2016. P. 392-400.
Suh H, Martin DM, Charles MA, Nasonkin IO, Gage PJ, and Camper S. Role of PITX2 in the Pituitary Gland. In: Molecular Mechanisms of Axenfeld-Rieger Syndrome. Amendt BA (Editor). Chapter: 5. Publisher: Eurekah.com. 2005. P. 55-62.
Zahr R and Fleseriu M. Updates in Diagnosis and Treatment of Acromegaly. European Endocrinology. 2018; 14(2): 57–61. doi: 10.17925/EE.2018.14.2.57.
AlDallal S. Acromegaly: A Challenging Condition to Diagnose. International Journal of General Medicine. 2018; 11:337–343. doi: 10.2147/IJGM.S169611.
Molitch ME, Diagnosis and Treatment of Pituitary Adenomas A Review. JAMA. 2017; 313:516-523. doi:10.1001/jama.2016.19699.
Bogusławska A and Korbonits M.Review Genetics of Acromegaly and Gigantism. J Clin Med. 2021 Mar 29; 10(7):1377. doi: 10.3390/jcm10071377.
Capatina C and Wass JAH. Acromegaly. Journal of Endocrinology. 2015; 226:T141–T160.
Gadelha MR, Kasuki L, Korbonits M. The Genetic Background of Acromegaly. Pituitary. 2017; 20(1): 10–21. doi: 10.1007/s11102-017-0789-7.
Varlamov EV, McCartney S, Fleseriu M. Functioning Pituitary Adenomas–Current Treatment Options and Emerging Medical Therapies. Eur Endocrinol. 2019 Apr;15(1):30-40. doi: 10.17925/EE.2019.15.1.30.
Cordido F, Arnés JAG, Aspiroz MM, Vela ET. Practical Guidelines for Diagnosis and Treatment of Acromegaly. Endocrinol Nutr. 2013; 60(8):457-472. doi: 10.1016/j.endonu.2013.01.012.
Woodmansee WW, Carmichael J, Kelly D, Katznelson L. American Association of Clinical Endocrinologists and American College of Endocrinology Disease State Clinical Review: Postoperative Management Following Pituitary Surgery. Endocr Pract. 2015 Jul; 21(7):832-8. doi: 10.4158/EP14541.DSCR.
Plockinger U. Medical Therapy of Acromegaly. Int J Endocrinol. 2012; 2012: 268957. doi: 10.1155/2012/268957.
Kyriakakis N, Seejore K, Hanafy A, Murray RD. Management of Persistent Acromegaly Following Primary Therapy: The Current Landscape in the UK. Endocrinol Diabetes Metab. 2020 Jul; 3(3): e00158. doi: 10.1002/edm2.158.
Taboada GF, van Haute FR, Correa LL, Casini AF, Gadelha MR. Etiologic Aspects and Management of Acromegaly. Arq Bras Endocrinol Metab. 2005; 49(5):626-640. doi: https://doi.org/10.1590/S0004-27302005000500004.
Giustina A, Barkhoudarian G, Beckers A, Shlomo A, Biermas N, Biller B, Boguszewski C et al. Multidisciplinary Management of Acromegaly: A Consensus. Rev Endocr Metab Disord. 2020 Dec; 21(4):667-678. doi: 10.1007/s11154-020-09588-z.
Störmann S and Schopohl J.Drug Treatment Strategies for Secondary Diabetes in Patients with Acromegaly. Expert Opin Pharmacother. 2020 Oct;21(15):1883-1895. doi: 10.1080/14656566.2020.1789098.
Hannon AM, Thompson CJ, Sherlock M. Diabetes in Patients With Acromegaly. Curr Diab Rep. 2017 Feb;17(2):8. doi: 10.1007/s11892-017-0838-7.
Ferraù F, Albani A, Ciresi A , Giordano C, Cannav S. Diabetes Secondary to Acromegaly: Physiopathology, Clinical Features and Effects of Treatment. Front Endocrinol (Lausanne). 2018; 9: 358. doi: 10.3389/fendo.2018.00358.
Katznelson L, Laws ER, Melmed S, Molitch ME, Murad MH, Andrea, Wass JH. Acromegaly: An Endocrine Society Clinical Practice Guideline.J Clin Endocrinol Metab, November 2014;11:3933–3951. https://doi.org/10.1210/jc.2014-2700.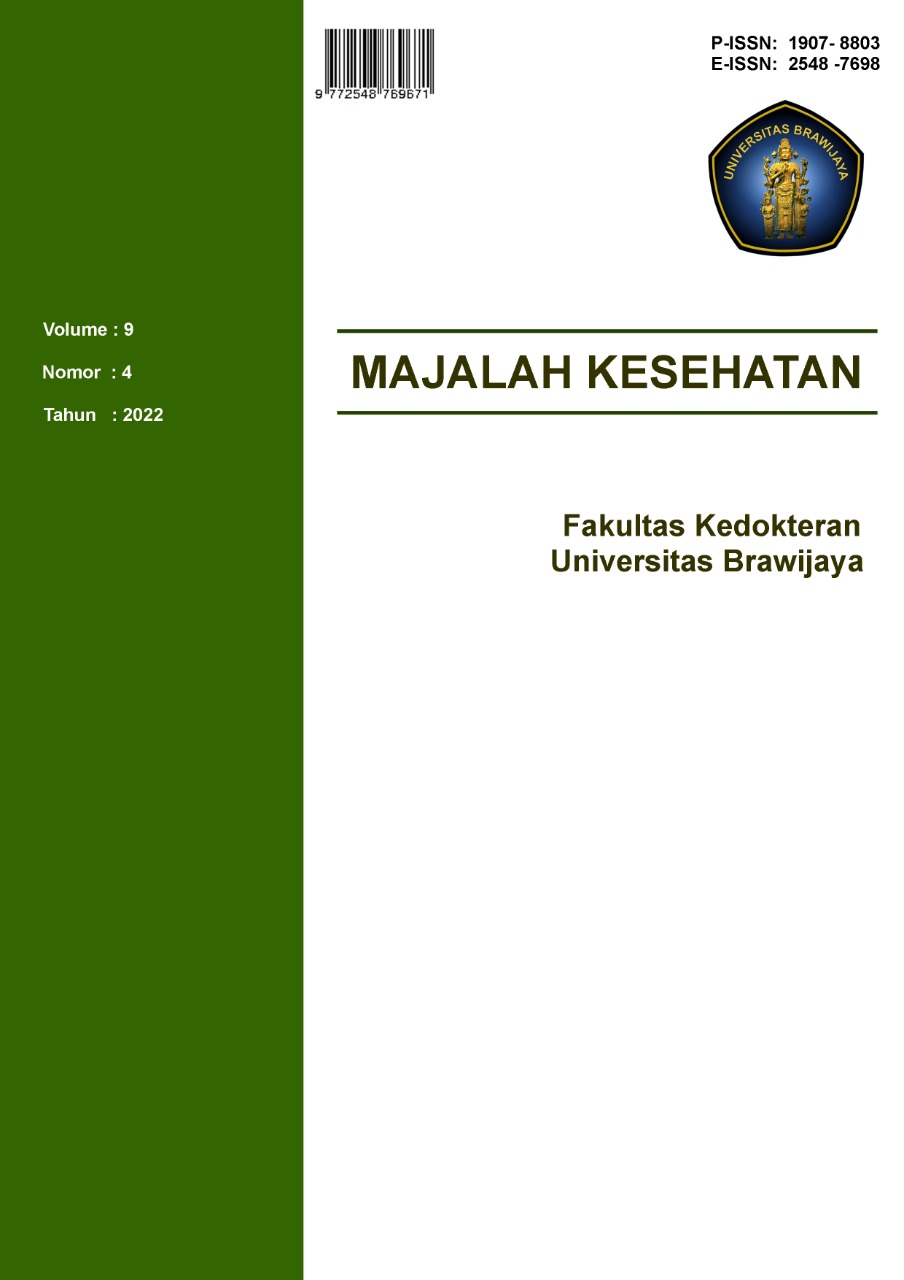 Downloads
Section
Original Research Article
License
Copyright (c) 2023 Majalah Kesehatan FKUB
This work is licensed under a Creative Commons Attribution-NonCommercial 4.0 International License.