PENGARUH STATUS GIZI TERHADAP KESINTASAN DUA TAHUN PASIEN GAGAL GINJAL TAHAP AKHIR YANG MENJALANI CONTINUOUS AMBULATORY PERITONEAL DIALYSIS
Keywords:
Continuous Ambulatory Peritoneal Dialysis (CAPD), gagal ginjal tahap akhir, status gizi
Abstract
Berbagai penelitian menunjukkan tingginya prevalensi malnutrisi pada pasien dialisis kronik, namun hingga saat ini, penelitian lebih banyak dilakukan pada pasien yang menjalani hemodialisis. Penelitian ini bertujuan untuk mengetahui pengaruh status gizi terhadap kesintasan pasien gagal ginjal tahap akhir yang menjalani continuous ambulatory peritoneal dialysis (CAPD) di RSUD Dr. Saiful Anwar Malang. Penelitian ini adalah penelitian observasional analitik berupa retrospective cohort. Sampel penelitian adalah pasien gagal ginjal tahap akhir yang menjalani terapi CAPD di RSUD Dr. Saiful Anwar Malang yang dipilih dengan teknik simple random sampling. Hasil dari analisis data berdasarkan nutritional risk index (NRI) dan instant nutritional assessment (INA) didapatkan asosiasi bermakna terhadap risiko mortalitas pasien CAPD (p < 0,05). Hal ini berbeda dengan indikator BMI yang tidak memiliki asosiasi terhadap risiko mortalitas pada pasien CAPD (p > 0,05). Kesimpulan dari penelitian ini adalah status gizi berdasarkan indikator NRI pada kategori severe mempunyai tingkat mortalitas lebih tinggi dibandingkan kategori no risk, dan status gizi berdasarkan indikator INA kategori severe malnourished memiliki mortalitas lebih tinggi dibandingkan kategori lain dan status gizi mempengaruhi kesintasan dua tahun pasien gagal ginjal tahap akhir yang menjalani CAPD.
References
van Son J, Stam SP, Gomes-Neto AW, Osté MCJ, Blokzijl H., van den Berg AP et al. Post-Transplant Obesity Impacts Long-Term Survival after Liver Transplantation. Metabolism. 2020; 106:154204. doi: 10.1016/j.metabol.2020.154204.
Yulianti M, Suhardjono S, Kresnawan T, dan Harimurti K. Faktor-faktor yang Berkorelasi dengan Status Nutrisi pada Pasien Continuous Ambulatory Peritoneal Dialysis (CAPD). Jurnal Penyakit Dalam Indonesia. 2015; 2(1):2-8. doi:10.7454/jpdi.v2i1.59.
Kementerian Kesehatan RI. Tabel Batas Ambang indeks Massa Tubuh. [Internet]. 2019. Available from: https://p2ptm.kemkes.go.id/infographicp2ptm/obesitas/tabel-batas-ambang-indeks-massa-tubuh-imt.
Hwang SD, Lee JH, Jhee JH, Song JH, Kim JK, and Lee SW. Impact of Body Mass Index on Survival in Patients Undergoing Peritoneal Dialysis: Analysis of Data from the Insan Memorial End-Stage Renal Disease Registry of Korea (1985-2014). Kidney Research and Clinical Practice. 2019; 38 (2):239-249. doi: https://doi.org/10.23876/j.krcp.18.0106.
Stack AG, Murthy BV, Molony DA. Survival Differences between Peritoneal Dialysis and Hemodialysis among "Large" ESRD Patients in the United States. Kidney International. 2004; 65:2398-2408. doi:https://doi.org/10.1111/j.1523-1755.2004.00654.x.
Ramkumar N, Pappas LM, Beddhu S. Effect of Body Size and Body Composition on Survival in Peritoneal Dialysis Patients. Peritoneal Dialysis International. 2005; 25:461-469.
Ren H, Xie J, Li X, Huang X, Zhang C, and Chen N. Nutritional Assessment of CAPD Patients. Kidney Research and Clinical Practice. 2012; 31(2):A68.
Martín-del-Campo F, Batis-Ruvalcaba C, González-Espinoza L, Rojas-Campos E, Angel JR, Ruiz N, et al. Dietary Micronutrient Intake in Peritoneal Dialysis Patients: Relationship with Nutrition and Inflammation Status. Peritoneal Dialysis International. Journal of the International Society for Peritoneal Dialysis. 2012; 32(2):183-191. doi: https://doi.org/10.37 47/pdi.201 0.00245
Dai L, Mukai H, Lindholm B, Heimburger O, Barany P, Stenvinkel P, et al. Clinical Global Assessment of Nutritional Status as Predictor of Mortality in Chronic Kidney Disease Patients. PLoS One. 2017; 12(12):e0186659. doi: 10.1371/journal.pone.0186659. eCollection 2017.
Hakemi M, Golbabaei M, Nassiri A, Kayedi M. Predictors of Patient Survival in Continuous Ambulatory Peritoneal Dialysis 10-Year Experience in 2 Major Centers in Tehran. Iranian Journal of Kidney Diseases. 2010; 4(1):44-9.
Daugirdas JT, Blake PG, and Ing TS. Handbook of Dialysis. Philadelphia: Wolters Kluwer. 5th Edition. 2014.
Prasad N, Sinha A, Gupta A, Bhadauria D, Manjunath R, Kaul A, Sharma RK. Validity of Nutrition Risk Index as a Malnutrition Screening Tool Compared with Subjective Global Assessment in End-Stage Renal Disease Patients on Peritoneal Dialysis. Indian J Nephrol. 2016 Jan-Feb; 26(1):27-32.
Obi Y, Streja E, Mehrotra R, Rivara MB, Rhee CM, Soohoo M, Gillen DL, Lau WL, Kovesdy CP, Kalantar-Zadeh K. Impact of Obesity on Modality Longevity, Residual Kidney Function, Peritonitis, and Survival Among Incident Peritoneal Dialysis Patients. Am J Kidney Dis. 2018 Jun;71(6):802-813.
McDonald SP, Collins JF, Johnson DW. Obesity is Associated with Worse Peritoneal Dialysis Outcomes in the Australia and New Zealand Patient Populations. J Am Soc Nephrol. 2003 Nov;14(11):2894-901
Hoogeveen EK, Halbesma N, Rothman KJ, Stijnen T, van Dijk S, Dekker FW, Boeschoten EW, de Mutsert R; Netherlands Cooperative Study on the Adequacy of Dialysis-2 (NECOSAD) Study Group. Obesity and Mortality Risk among Younger Dialysis Patients. Clin J Am Soc Nephrol. 2012 Feb; 7(2):280-8. doi: 10.2215/CJN.05700611.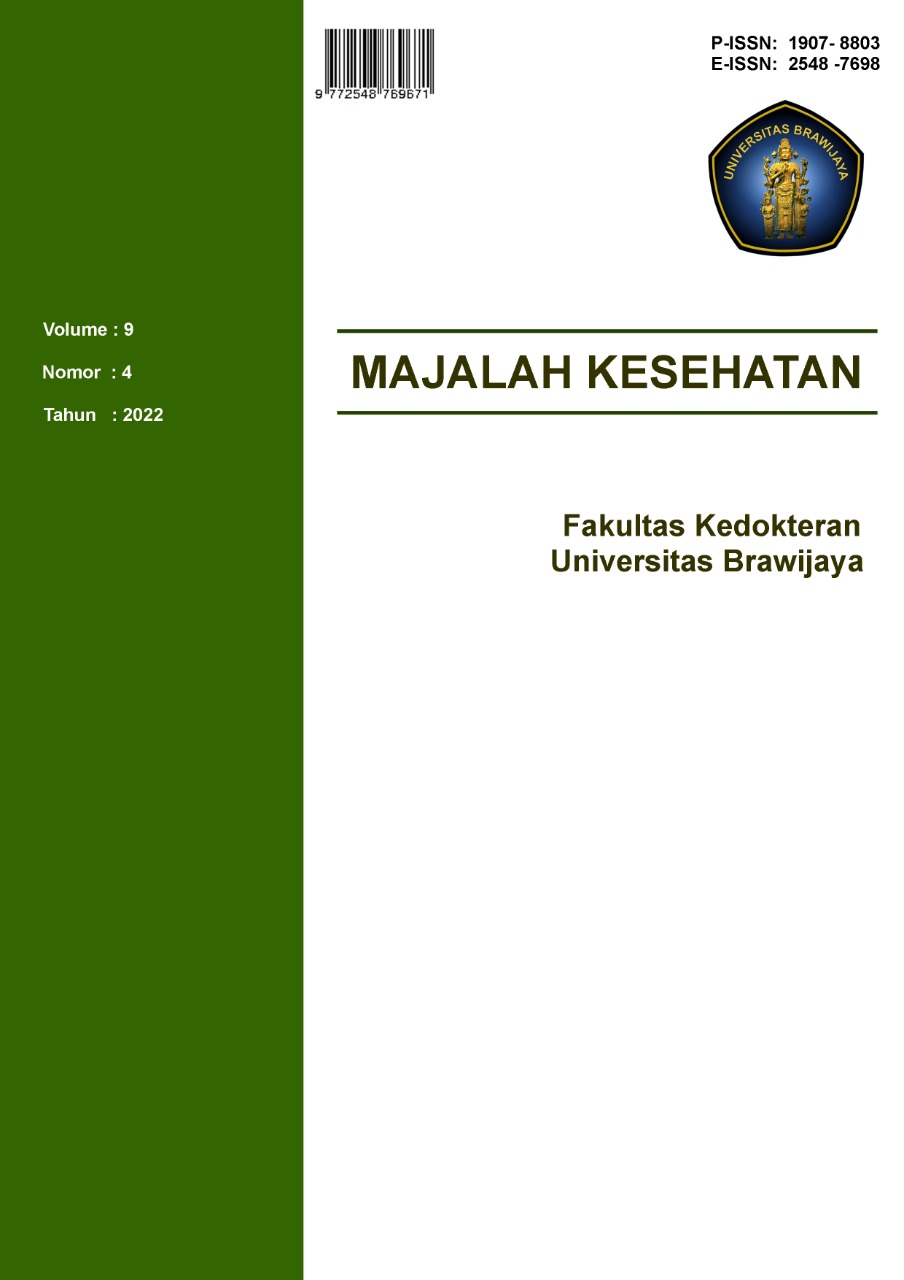 Downloads
Section
Original Research Article
License
Copyright (c) 2023 Majalah Kesehatan FKUB
This work is licensed under a Creative Commons Attribution-NonCommercial 4.0 International License.