PENGARUH PAPARAN MEDAN ELEKTROMAGNETIK FREKUENSI RADIO 1800 MHZ TERHADAP PERSENTASE SEL T CD4+ PADA KULTUR PERIPHERAL BLOOD MONONUCLEAR CELLS
Keywords:
limfosit, medan elektromagnetik 1800 MHz, peripheral blood mononuclear cells (PBMC), sel T CD4
Abstract
Penggunaan gelombang elektromagnetik telah banyak dijumpai dalam kehidupan sehari-hari, salah satunya gelombang elektromagnetik global system for mobile communication (GSM) pada ponsel. Beberapa penelitian menyebutkan paparan medan elektromagnetik pada ponsel dapat mempengaruhi fungsi sel dalam tubuh, antara lain sel limfosit. Penelitian ini dilakukan untuk mengetahui pengaruh paparan medan elektromagnetik 1800 Mhz terhadap persentase sel limfosit T CD4+ pada kultur  peripheral blood mononuclear cells (PBMC). Penelitian ini menggunakan metode experimental design di laboratorium Biomedik dan Parasitologi Klinik, Fakultas Kedokteran, Universitas Brawijaya secara in vitro dengan pre & post test group design pada kultur PBMC pada kelompok sampel yang telah dipapar dengan medan elektromagnetik frekuensi radio 1800 Mhz selama 60 menit dengan jarak 5 cm. Analisis sampel dilakukan dengan FACSVia flowsitometer untuk menganalisis persentase limfosit T CD4+. Analisis data dilakukan dengan uji normalitas, uji homogenitas, dan uji Wilcoxon. Hasilnya didapatkan rata-rata persentase sel limfosit T CD4+ sebelum paparan 38,765%±8,42 dan setelah paparan meningkat menjadi 42,545%±2,33. Namun peningkatan yang terjadi masih dalam batas normal dan tidak berbeda signifikan. Hasil penelitian menyimpulkan bahwa paparan gelombang elektromagnetik 1800Mhz selama 60 menit pada jarak 5 cm tidak mempengaruhi persentase sel T CD4 pada kultur PBMC. 
References
Rahmayani I. Indonesia Raksasa Teknologi Digital Asia. Sorotan Media Kominfo. (Online). 2015. https://www.kominfo.go.id/content/detail/6095/indonesia-raksasa-teknologi-digtalasia/0/sorotan_media.
Alghamdi MS, El-Ghazaly AA. Effect of Exposure to Electromagnetic Field on some Hematological Parameters in Mice. Open Journal of Medical Chemistry. 2012; 2:30-42.
Territo M & David G. Hemato and Oncology Lymphocytopenia. MSD Manual Profession Version. (Online). 2018. https://www.msdmanuals.com/professional/hematology-and-oncology/leukopenias/lymphocytopenia.
Abbas AK, Lichtman AH, Pillai S. Imunologi Dasar Abbas: Fungsi dan Kelainan Sistem Imun. Edisi Ke-5. Elsevier. 2016. P. 10-129.
Muir T. Peripheral Blood Mononuclear Cells: A Brief Review. (Online). 2019. https://www.stemexpress.com/blogs/peripheral-blood-mononuclear-cells/. Diakses 3 November 2019.
Capri M, Salvioli S, Altilia S, Sevini F, Remondini D, Mesirca P, Bersani F, Monti D, Franceschi C. Age-Dependent Effects of In Vitro Radio Frequency Exposure (Mobile Phone) on CD95+ T Helper Human Lymphocytes. Ann N Y Acad Sci. 2006; 067:493-9. doi: 10.1196/annals.1354.071.
Rios AS, Fransisco AC, Jodefa L, Elisa RM, Irene C. Involvement of Free Radicals in Breast Cancer. Springerplus. 2013; 2:404. doi: 10.1186/2193-1801-2-404.
Gavrieli Y, Sherman Y, & Ben-Sasson SA. Identification of Programmed Cell Death In Situ Via Specific Labeling of Nuclear DNA Fragmentation. J Cell Biol. 1992; 119: 493-501.
Lamina S, Charles IE, Anele IT, Ezugwu UA. Effect of Free Redicals and Antioxidants on Exercise Performance. Oxidant and Antioxidant in Medical Science. 2013; 2(2):83-91. doi: 10.5455/oams.010413.rv.005.
Husain M & Makiyah NN. Pengaruh Pajanan Gelombang Telepon Seluler terhadap Struktur Histologi Limpa pada Mencit (Mus musculus). Jurnal Kedokteran Yarsi. 2012; 20(3):167-173.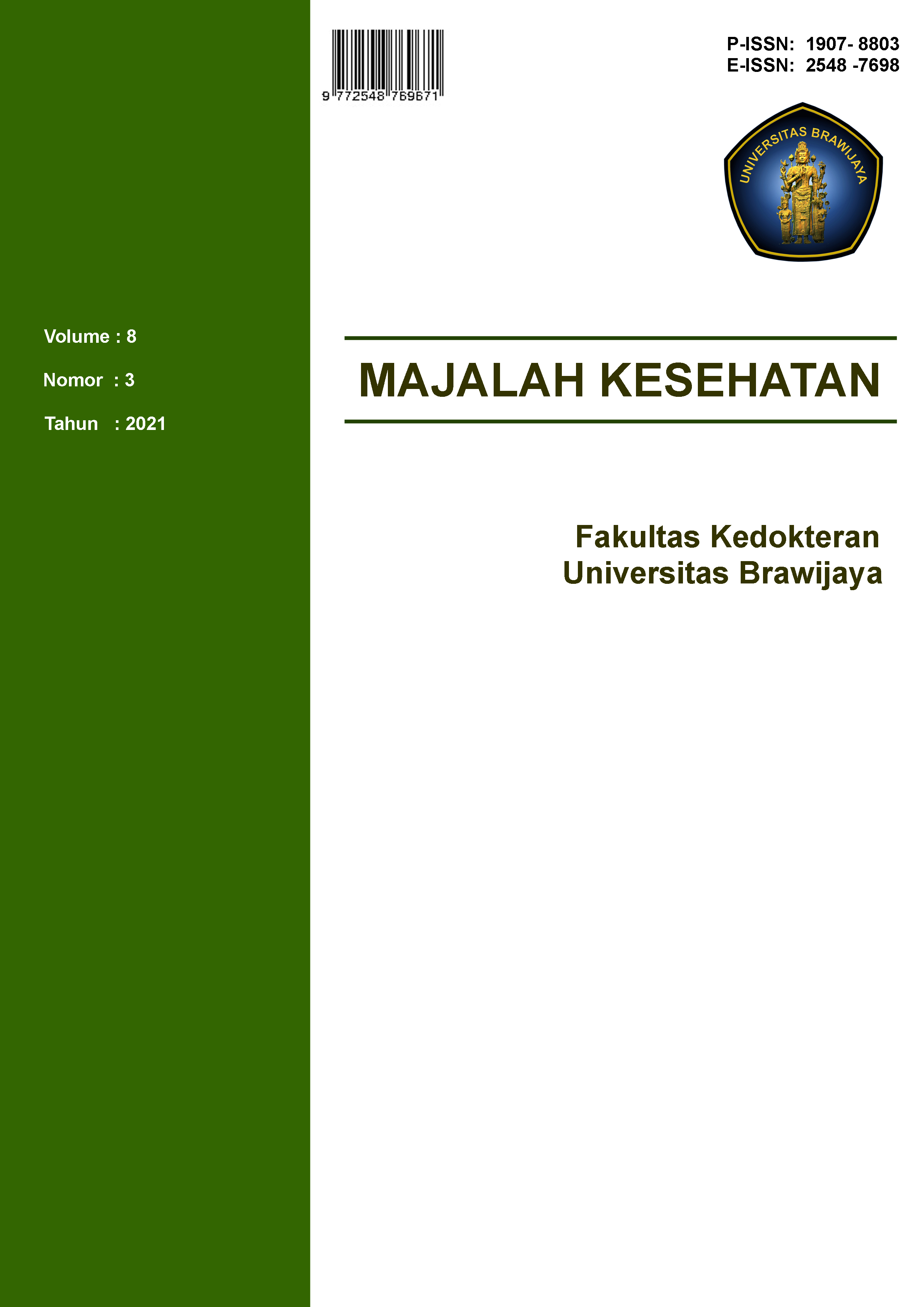 Downloads
License
This work is licensed under a
Creative Commons Attribution-NonCommercial 4.0 International License