Laporan Kasus: MYCOSIS FUNGOIDES FASE DINI DENGAN GAMBARAN HISTOPATOLOGI YANG MENYERUPAI DERMATITIS LIKENOID: SERIAL KASUS
Keywords:
Mycosis Fungoides, imunohistokimia, rasio CD4/CD8
Abstract
Mycosis Fungoides  adalah keganasan sel limfosit T yang langka dan bersifat indolen pada kulit dengan evolusi klinis berupa bercak, plak dan tumor. Mycosis Fungoides fase dini  sulit terdeteksi karena kemiripannya dengan keradangan pada kulit  berpola likenoid.  Mycosis Fungoides dan dermatitis likenoid memiliki terapi dan prognosis  yang berbeda sehingga harus dapat dilakukan diagnosis yang akurat. Kami melaporkan serial kasus  Mycosis Fungoides dari dua orang pasien wanita yang terdiagnosis pada fase dini dengan gejala klinis berupa bercak dan plak multipel disertai gatal menahun. Kasus pertama terjadi pada usia 60 tahun dengan gejala selama 8 tahun sedangkan kasus kedua terjadi pada usia 58 tahun dengan gejala selama 6 tahun.  Bercak dan plak pada kedua pasien tersebut berlokasi di area yang terlindung dari sinar matahari disertai skuama halus, sebagian hiperpigmentasi, bervariasi bentuk dan ukuran. Hasil pemeriksaan histopatologi dari sediaan biopsi kulit kedua penderita berupa reaksi likenoid yang mengandung sejumlah  sel limfoid atipik, serebriformis. Hasil  pewarnaan imunohistokimia menunjukkan CD3 positif membentuk epidermotropisme, rasio CD4/CD8 8:1, Ki67 positif sekitar  25%  dan CD20 negatif.  Dari kedua kasus ini dapat disimpulkan bahwa pemeriksaan imunohistokimia dapat membatu menegakkan diagnosis Mycosis Fungoides pada dua orang wanita tua dengan keluhan gatal disertai bercak atau plak yang menahun dengan gambaran histopatologik berupa reaksi likenoid dengan  epidermotropisme.  
References
Cerroni L, Sander CA, Smoller BL, Wilemze R. Mycosis Fungoides. In: Elder DE, Massi D, Scolyer RA, Willemze R, eds. WHO Classification of Skin Tumours. 4th ed. Lyon : IARC Press. 2018. P. 226-33.
Song SX, Willemze R, Swerdlow SH, Kinney MC, Said JW. Mycosis Fungoides, Report of the 2011 Society for Hematopathology/ European Association for Haematopathology Workshop. Am J Clin Pathol. 2013; 139:466-90.
Retnani, DP. Peran Aspek Klinikopatologi, Imunofenotip dan Analisis Klonalitas untuk Menegakkan Diagnosis Mycosis Fungo-ides. Majalah Kesehatan. 2020; 7(1):59-71.
Cerroni L. Clinicopathological Spectrum of Mycosis Fungoides. Proceeding Book NUHS Haematolymphoid Pathology Course. Singapore, 4 May 2019. P. 260-362.
Calonje E, Goodlad J. Calonje E, Brenn T, Lazar AJ, McKee PH (Editors). Cutaneous Lymphoproliferative Diseases and Related Disorders. In : McKee's Pathology of the Skin with Clinical Corre-lations. 5th ed. China: Elsevier Saunders. 2020. P. 1405-30.
Bagot M, Stadler R. Kang S, Amagai M, Bruckner AL, Eng AH, Margolis DJ, McMichael AJ, Orringer JS (Editors). Cutaneus Lymphoma. In: Fitzpatrick's Dermatology in General Medicine. 9th ed. New york: McGraw-Hill Education. 2019. P. 2072-100.
LeBoit PE, Pincus LB. Mycosis Fungoides and Sezary syndrome. In: Jaffe ES, Arber DA, Campo E, Harris NL, Martinez-Quintanilla L (Editors). Hematopathology. 2th ed. Philadelphia: Elsevier. 2017. P. 713-29.
Calonje E. Cutaneous T cell lymphoma. Proceeding Book of HKIAP Fall Scientific Meeting. Shatin, Hongkong 12-13 November 2016.
Arps DP, Chen S, Fullen DR, Hristov AC. Selected Inflammatory Imitators of Mycosis Fungoides Histologic Features and Utility of Ancillary Studies. Arch Pathol Lab Med. 2014; 138:1319-27.
Wobser M, Geissinger E, Rosenwald A, Goebeler M. Mycosis Fungoides: a Mi-micker of Benign Dermatoses. World J Dermatol. 2015; 4(4): 135-44.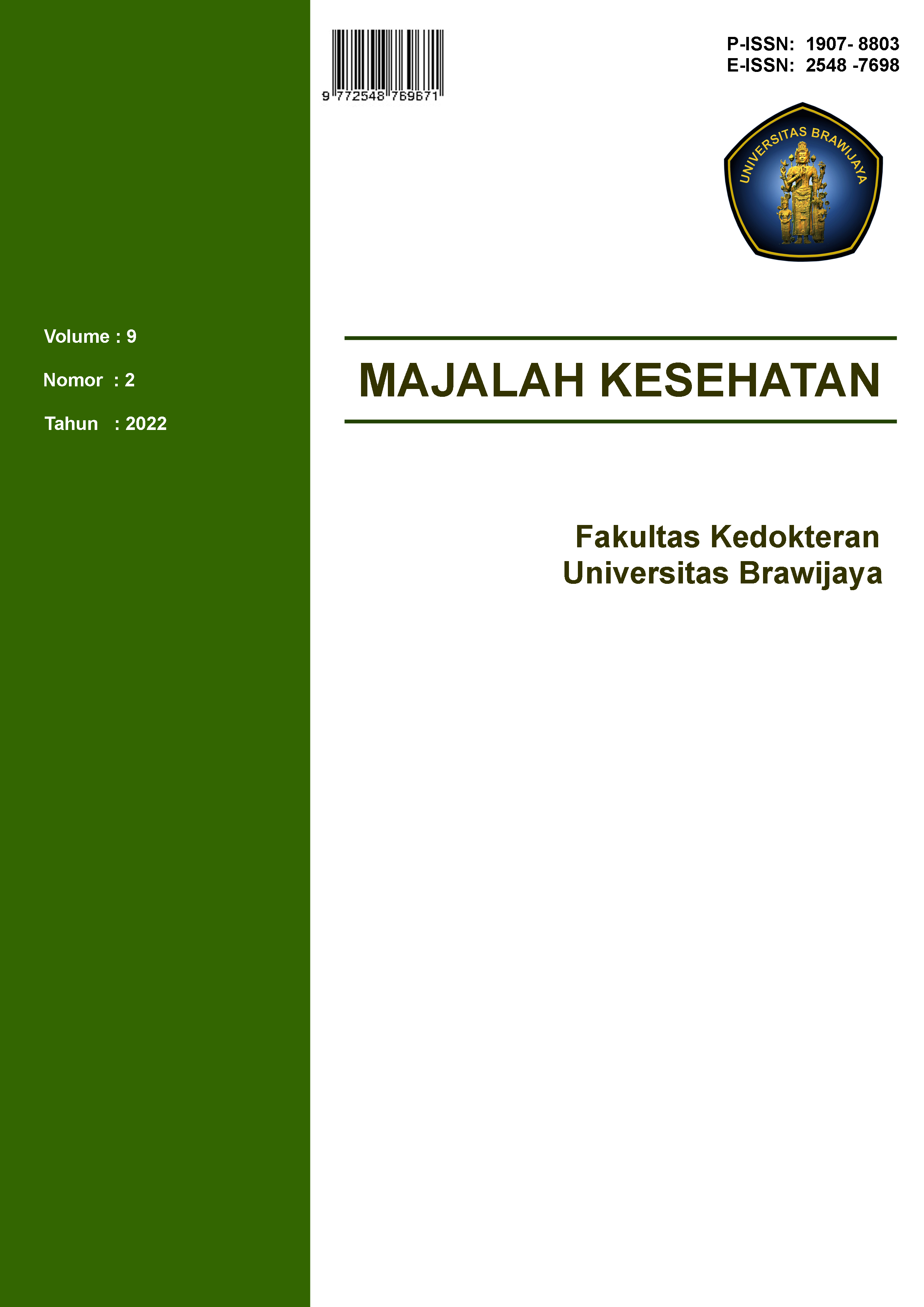 Downloads
License
Copyright (c) 2022 Majalah Kesehatan FKUB
This work is licensed under a Creative Commons Attribution-NonCommercial 4.0 International License.
This work is licensed under a
Creative Commons Attribution-NonCommercial 4.0 International License