EKSPRESI BCL-2 PADA NEOPLASMA EPITELIAL OVARIUM JINAK, BORDERLINE, DAN GANAS SERTA KORELASINYA DENGAN DERAJAT HISTOPATOLOGIK
Keywords:
Bcl-2, derajat histopatologik, neoplasma ovarium
Abstract
Neoplasma epitelial ovarium diklasifikasikan menjadi 3 kategori yaitu jinak, borderline, dan ganas. Neoplasma ganas ovarium termasuk dalam sepuluh besar penyebab kematian tersering akibat kanker pada perempuan di dunia. Penentuan kategori neoplasma ovarium kadang masih menjadi masalah karena dipengaruhi oleh beberapa faktor, termasuk proliferasi dan apoptosis sel serta invasi stroma. Bcl-2 (B-cell lymphoma 2) merupakan salah satu protein prosurvival yang berfungsi sebagai antiapoptosis dan cukup berperan dalam perkembangan neoplasma. Tujuan penelitian ini adalah untuk mengetahui perbedaan eks-presi Bcl-2 pada neoplasma epitelial ovarium jinak, borderline, ganas serta untuk mengungkap hubungan ekspresi Bcl-2 dengan derajat histopatologik pada neoplasma ganas. Penelitian ini merupakan penelitian analitik cross-sectional. Sampel penelitian berupa 35 blok parafin kasus neoplasma ovarium serosum dan musinosum (13 jinak, 8 borderline, 14 ganas) di RSUD Dr. Saiful Anwar Malang periode 2016-2017. Kelompok neoplasma ganas terdiri dari masing-masing 5 kasus derajat 1 dan 3 (35,7%) serta 4 kasus derajat 2 (28,6%). Perbedaan ekspresi pulasan imunohistokimia Bcl-2 antara neoplasma jinak, borderline, dan ganas dianalisis menggunakan uji Kruskal-Wallis, sedangkan korelasinya dengan derajat histopatologik dianalisis menggunakan uji korelasi Spearman. Hasil penelitian menunjukkan ekspresi Bcl-2 tidak berbeda signifikan antara neoplasma jinak, borderline, dan ganas (p = 0,159). Bcl-2 pada neoplasma ganas menunjukkan eks-presi yang semakin rendah dengan meningkatnya derajat histopatologik (p = 0,021 dan r = -0,608). Ke-simpulannya, tidak terdapat perbedaan ekspresi Bcl-2 yang signifikan antara neoplasma epitelial ovarium jinak, borderline, dan ganas. Ekspresi Bcl-2 berkorelasi negatif yang kuat dengan derajat histopatologik pada neoplasma ganas.
 
References
Kurman RJ, Carcangiu ML, Herrington CS, Young RH. WHO Classification of Tumours of Female Reproductive Organs 4th Edition. Lyon: IARC. 2014. p 11-28.
Ferlay J, Soerjomataram I, Dikshit R, Eser S, Mathers C, Rebelo M, Parkin DM, Forman D, Bray F. Cancer incidence and mortality worldwide: sources, methods and major patterns in GLOBOCAN 2012. International journal of cancer. 2015 Mar 1;136(5):E359-86.
Badan Registrasi Kanker, Perhimpunan Dokter Spesialis Patologi Indonesia. Kanker di Indonesia Tahun 2014 Data Histopatologik. Jakarta: Yayasan Kanker Indonesia; 2018.
Le Page C, Huntsman DG, Provencher DM, Mes-Masson AM. Predictive and prognostic protein biomarkers in epithelial ovarian cancer: recommendation for future studies. Cancers. 2010;2(2):913-54.
Lowe KA, Chia VM, Taylor A, O'Malley C, Kelsh M, Mohamed M, Mowat FS, Goff B. An international assessment of ovarian cancer incidence and mortality. Gynecologic oncology. 2013 Jul 1;130(1):107-14.
Vereczkey I, Serester O, Dobos J, Gallai M, Szakacs O, Szentirmay Z, et al. Molecular characterization of 103 ovarian serous and mucinous tumors. Pathology & Oncology Research. 2011;17(3):551-9.
Rojas V, Hirshfield KM, Ganesan S, Rodriguez-Rodriguez L. Molecular characterization of epithelial ovarian cancer: implications for diagnosis and treatment. International Journal of Molecular Sciences. 2016;17(12):2113.
Hauptmann S, Friedrich K, Redline R, Avril S. Ovarian borderline tumors in the 2014 WHO classification: evolving concepts and diagnostic criteria. Virchows Archiv, 2017;470(2):125-142.
Ushijima K, Kawano K, Tsuda N, Nishio S, Terada A, Kato H, Tasaki K, Matsukuma K. Epithelial borderline ovarian tumor: Diagnosis and treatment strategy. Obstetrics & gynecology science. 2015 May 1;58(3):183-7.
Fischerova D, Zikan M, Dundr P, Cibula D. Diagnosis, treatment, and follow-up of borderline ovarian tumors. The oncologist. 2012 Dec 1;17(12):1515-33.Longacre TA, Gilks CB. Surface Epithelial Stromal Tumors of the Ovary. In: Nucci MR, Olivia E. Gynecologic Pathology: A Volume in the Series: Foundations in Diagnostic Pathology. Elsevier Churcill Livingstone. 2009. p 393-426.
Curry EW, Stronach EA, Rama NR, Wang YY, Gabra H, El-Bahrawy MA. Molecular subtypes of serous borderline ovarian tumor show distinct expression patterns of benign tumor and malignant tumor-associated signatures. Modern Pathology. 2014;27(3):433-442.
Morice P, Uzan C, Fauvet R, Gouy S, Duvillard P, Darai E. Borderline ovarian tumour: pathological diagnostic dilemma and risk factors for invasive or lethal recurrence. The Lancet Oncology. 2012;13(3):e103-15.
Chaudhry P, Srinivasan R, Patel FD. Differential expression of Fas family members and Bcl-2 family members in benign versus malignant epithelial ovarian cancer (EOC) in North Indian population. Molecular and Cellular Biochemistry. 2012;368(1-2):119-126.
Campbell KJ, Tait SW. Targeting BCL-2 regulated apoptosis in cancer. Open biology. 2018 May 16;8(5):180002.
Anderson NS, Turner L, Livingston S, Chen R, Nicosia SV, Kruk PA. Bcl-2 expression is altered with ovarian tumor progression: an immunohistochemical evaluation. Journal of Ovarian Research. 2009 Dec;2(1):16.
Zeren T, Inan S, Vatansever HS, Sayhan S. Significance of apoptosis related proteins on malignant transformation of ovarian tumors: A comparison between Bcl-2/Bax ratio and p53 immunoreactivity. Acta histochemica. 2014 Oct 1;116(8):1251-8.
Longacre TA, Gilks CB. Surface Epithelial Stromal Tumors of the Ovary. In: Nucci MR, Olivia E. Gynecologic Pathology: A Volume in the Series: Foundations in Diagnostic Pathology. Elsevier Churcill Livingstone. 2009. p 393-426.
Frenzel A, Grespi F, Chmelewskij W, Villunger A. Bcl2 family proteins in carcinogenesis and the treatment of cancer. Apoptosis. 2009;14(4):584-596.
Chan WY, Cheung KK, Schorge JO, Huang LW, Welch WR, Bell DA, et al. Bcl-2 and p53 protein expression, apoptosis, and p53 mutation in human epithelial ovarian cancers. The American Journal of Pathology. 2000;156(2):409-417.
Gursan N, Sipal S, Calik M, Gundogdu C. P53, bcl-2, ki-67 li (labeling index) status in benign, proliferative, and malignant ovarian surface epithelial neoplasms. The Eurasian journal of medicine. 2009 Apr;41(1):10.
Ozer H, Yenicesu G, Arici S, Cetin M, Tuncer E, Cetin A. Immunohistochemistry with apoptotic-antiapoptotic proteins (p53, p21, bax, bcl-2), c-kit, telomerase, and metallothionein as a diagnostic aid in benign, borderline, and malignant serous and mucinous ovarian tumors. Diagnostic Pathology. 2012;7(1):124.
Arik D, Kulacoglu S. p53, bcl-2, and nm23 expressions in serous ovarian tumors: correlation with the clinical and histopathological parameters. Turk Patoloji Derg. 2011 Jan 1;27(1):38-45.
Anderson NS, Bermudez Y, Badgwell D, Chen R, Nicosia SV, Bast Jr RC, Kruk PA. Urinary levels of Bcl-2 are elevated in ovarian cancer patients. Gynecologic oncology. 2009 Jan 1;112(1):60-7.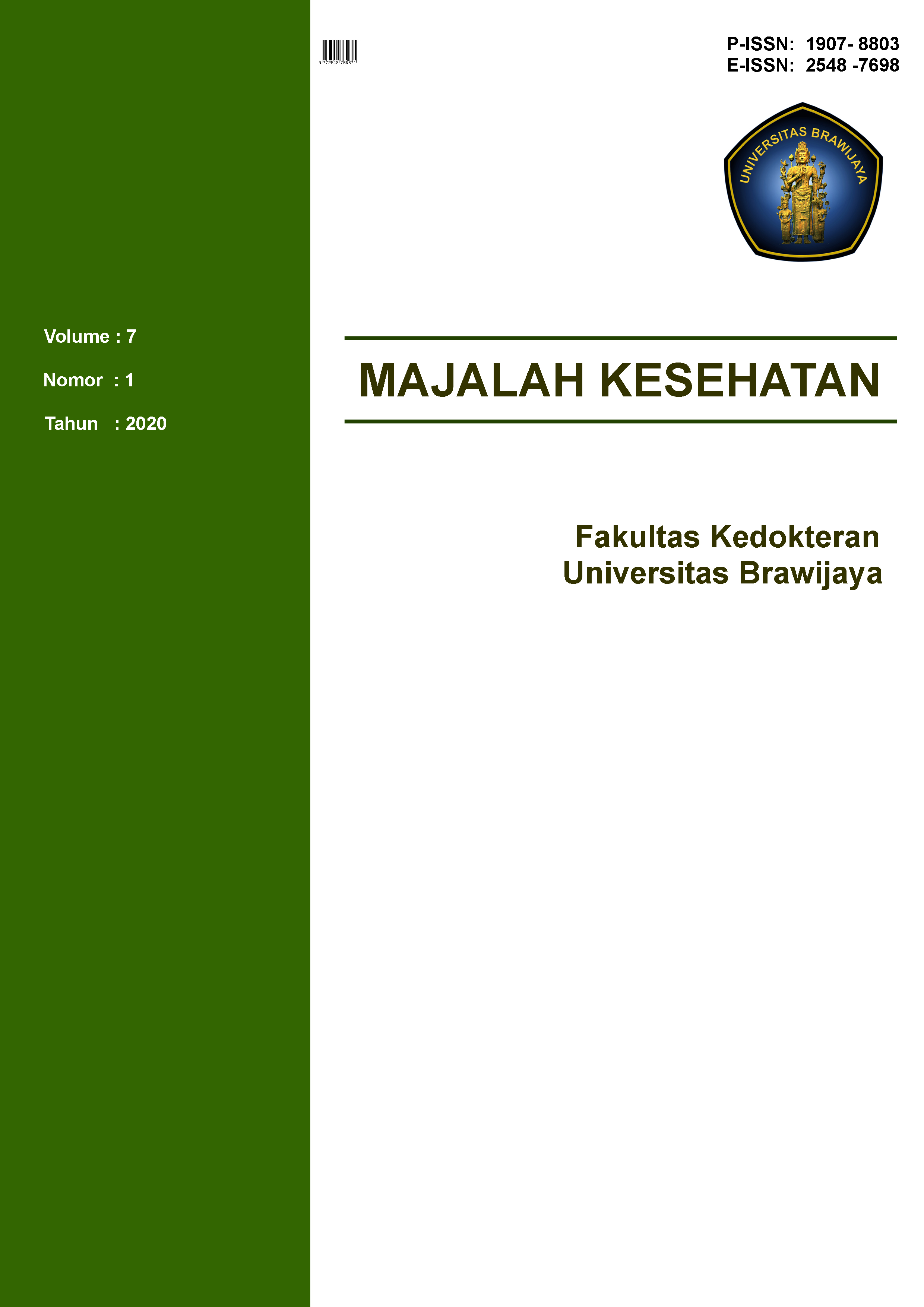 Downloads
How to Cite
Dewi, R. K., Hardika, A. S., Retnani, D. P., & Rasyid, H. A. (2020). EKSPRESI BCL-2 PADA NEOPLASMA EPITELIAL OVARIUM JINAK, BORDERLINE, DAN GANAS SERTA KORELASINYA DENGAN DERAJAT HISTOPATOLOGIK. Majalah Kesehatan, 7(1), pp.1–10. https://doi.org/10.21776/ub.majalahkesehatan.2020.007.01.1
Section
Original Research Article