Laporan Kasus : PSEUDOHYPERKALEMIA DAN PSEUDOHYPOKALEMIA AKIBAT HIPERLEUKOSITOSIS YANG EKSTRIM PADA KEGANASAN HEMATOLOGI
Keywords:
hiperleukositosis, leukemia, pseudohyperkalemia, pseudohypokalemia
Abstract
Pseudohyperkalemia dan pseudohypokalemia mengacu pada peningkatan ataupun penurunan kadar kalium serum yang tidak sesuai dengan kondisi sistemik pasien yang sebenarnya. Ketika klinisi dihadapkan pada kasus-kasus hiperkalemia atau hipokalemia, pertanyaan pertama yang seharusnya muncul adalah apakah hasil tersebut sesuai dengan kondisi klinis pasien. Beberapa faktor dapat menyebabkan timbulnya pseudohyperkalemia ataupun pseudohypokalemia, di antaranya adalah hiperleukositosis yang sering muncul pada kasus-kasus keganasan hematologi. Hiperleukositosis sangat berpengaruh pada hasil pemeriksaan laboratorium seperti kalium, fosfat, dan tekanan oksigen arterial. Kami menyajikan dua kasus dengan hasil kalium serum yang palsu pada pasien leukemia myeloid dengan jumlah leukosit yang sangat tinggi. Satu sampel pemeriksaan darah awal dari satu pasien menunjukkan hipokalemia dan pasien lainnya menunjukkan hiperkalemia tanpa keluhan yang sesuai. Sampel darah berikutnya yang diambil dari pasien pertama segera diperiksa setelah dilakukan sentrifugasi, yang memperlihatkan hasil elektrolit yang normal. Ketidaksesuaian dari hasil laboratorium ini kemungkinan disebabkan oleh aktivitas metabolisme leukosit secara in vitro pada kasus-kasus hiperleukositosis. Hasil laboratorium yang tidak sesuai ini dapat menyebabkan pengambilan keputusan yang salah baik dalam hal penegakan diagnosis dan pemberian terapi. Penemuan mengenai ketidaksesuaian hasil elektrolit dengan kondisi klinis pasien pada keganasan hematologi yang disertai dengan hiperleukositosis dapat mencegah intervensi terapeutik yang tidak tepat. Ke-simpulannya, hiperleukositosis dapat menyebabkan pseudohyperkalemia dan pseudohypokalemia yang dapat dicegah dengan pengambilan sampel yang benar dan analisis serum atau plasma dengan segera setelah proses sentrifugasi.
 
References
Islamiah A, Wardhani SO. A 44 Year Old Man with Chronic Myeloid Leukemia and Mass at Right Lower Leg. Jurnal Kedokteran Brawijaya. 2017; 29(4):383-6.
Röllig C, Ehninger G. How I Treat Hyperleukocytosis in Acute Myeloid Leukemia. Blood. 2015; 125(21):3246-52.
Horr S, Roberson R, Hollingsworth JW. Pseudohypoxemia in a Patient with Chro-nic Lymphocytic Leukemia. Respiratory Care. 2013; 58(3):e31-3.
Prasad KN, Manjunath P, Priya L, Sasikumar S. Overcoming The Problem of Pseudohypoxemia in Myeloproliferative Disorders: Another Trick in The Bag. Indian Journal Of Critical Care Medicine. 2012; 16(4):210.
Polak R, Huisman A, Sikma MA, Kersting S. Spurious Hypokalaemia and Hypophosphataemia due to Extreme Hyperleukocytosis in A Patient with A Haematological Malignancy. Ann Clin Biochem. 2010; 47:179–181.
Lehnhardt A, Kemper MJ. Pathogenesis, Diagnosis and Management of Hyperkalemia. Pediatric Nephrology. 2011; 26(3):377-84.
Kotera A, Irie H, Iwashita S, Taniguchi J, Kasaoka S, Sagishima K, et al. Electrocardiogram Findings of Patients with Serum Potassium Levels of Nearly 10.0 Mmol/L: A Report of Two Cases. Acute Medicine & Surgery. 2014; 1(4):234-7.
Kellerman PS, Thornbery JM. Pseudohyperkalemia due to Pneumatic Tube Transport in A Leukemic Patient. American Journal of Kidney Diseases. 2005; 46(4):746-8.
Thurlow V, Ozevlat H, Jones SA, Bailey IR. Establishing a Practical Blood Platelet Threshold to Avoid Reporting Spurious Potassium Results due to Thrombocytosis. Annals of Clinical Biochemistry. 2005; 42(3):196-9.
Jacobsz M, Frantzen L. Pseudohyperkalemia in a Patient with Chronic Myeloid Leukaemia. South African Family Practice. 2007; 49(7):50-50.
Sevastos N, Theodossiades G, Archimandritis AJ. Pseudohyperkalemia in Serum: A New Insight into An Old Phenomenon. Clinical Medicine & Research. 2008; 6(1):30-2.
Liamis G, Liberopoulos E, Barkas F, Elisaf M. Spurious Electrolyte Disorders: A Diagnostic Challenge for Clinicians. American Journal of Nephrology. 2013; 38(1):50-7.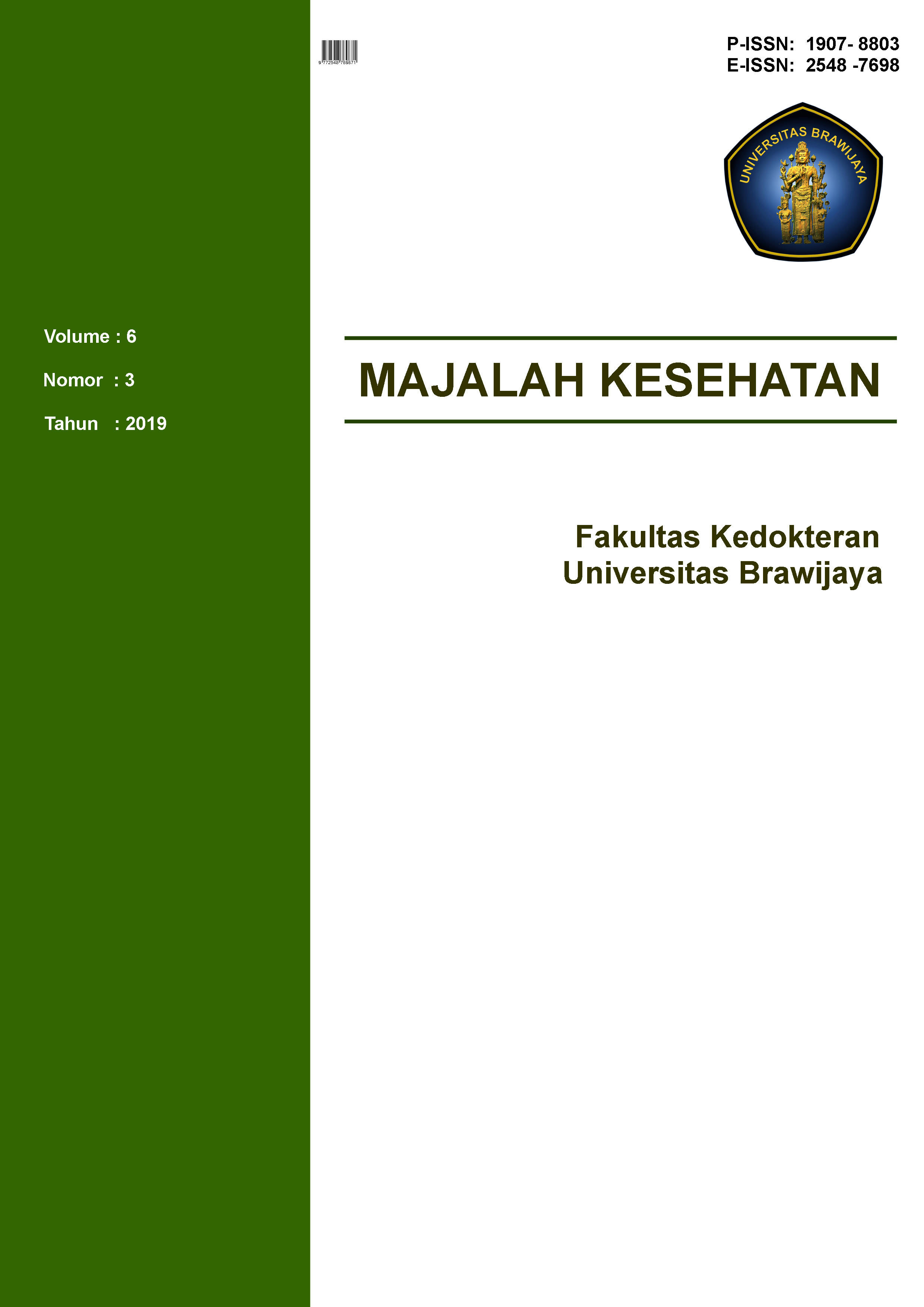 Downloads
How to Cite
Hanggara, D. S., & Indrawati, Y. (2019). Laporan Kasus : PSEUDOHYPERKALEMIA DAN PSEUDOHYPOKALEMIA AKIBAT HIPERLEUKOSITOSIS YANG EKSTRIM PADA KEGANASAN HEMATOLOGI. Majalah Kesehatan, 6(3), pp.206–215. https://doi.org/10.21776/ub.majalahkesehatan.2019.006.03.6
Section
Original Research Article