EKSPRESI β4 INTEGRIN DAN COX-2 PADA OSTEOSARKOMA STADIUM ENNEKING IIB DAN IIIB
Keywords:
β4 integrin, COX-2, osteosarkoma, stadium Enneking.
Abstract
Osteosarkoma adalah keganasan primer pada tulang yang paling sering ditemukan, memiliki distribusi usia bersifat bimodal dengan kecenderungan metastasis yang tinggi dan di RSUD Dr.Soetomo paling banyak ditemukan pada stadium Enneking IIB dan IIIB. Hal ini menunjukkan pentingnya faktor prognosis dalam meningkatkan angka ketahanan hidup penderita. β4 integrin dan COX-2 terkait dalam menilai prognosis suatu osteosarkoma. Penelitian ini bertujuan untuk membuktikan ekspresi β4 integrin dan COX-2 sebagai marker prognostik pada  osteosarkoma stadium Enneking IIB dan IIIB. Desain penelitian adalah analitik observasional dengan pendekatan cross sectional. Sampel penelitian dengan total sampling didapatkan 39 blok parafin penderita osteosarkoma stadium Enneking IIB dan IIIB di RSUD Dr. Soetomo Surabaya periode 1 Januari 2013 hingga 31 Desember 2017. Ekspresi β4 integrin dan COX-2 dideteksi dengan pewarnaan  imununohistokimia menggunakan antibodi monoklonal β4 integrin dan COX-2, evaluasi ekspresi  berdasarkan nilai scoring semikuantitatif. Perbedaan ekspresi β4 integrin dan COX-2 dianalisis secara  statistik dengan Mann Whitney dan hubungannya dianalisis menggunakan uji Spearman. Hasil penelitian menunjukkan tidak didapatkan perbedaan ekspresi β4 integrin dan COX-2 terhadap osteosarkoma stadium Enneking IIB dan IIIB (p > 0,05). Tidak didapatkan hubungan ekspresi β4 integrin dan COX-2 terhadap osteosarkoma stadium Enneking IIB dan IIIB (p > 0,05). Didapatkan hubungan bermakna antara ekspresi β4 integrin dan COX-2 (p = 0,008 dan r = 0,41). Kesimpulan penelitian ini adalah tidak didapatkan perbedaan dan hubungan antara ekspresi β4 integrin serta COX-2 terhadap stadium Enneking IIB dan IIIB, sehingga  kedua protein tersebut tidak  dapat digunakan sebagai marker prognostik.
 
References
Komite Penanggulangan Kanker Nasional. Pedoman Nasional Pelayanan Kedokteran, Osteosarkoma. Kementerian kesehatan. 2010.
Fletcher C, Bridge J. WHO Classification of tumors of Soft Tissue and Bone. 4th Edition. Sanders Elsevier. 2013. P. 281-295.
Samardziski M, Zanevska V, Gamokanin S,. Osteosarcoma: Diagnosis and Treatment. Journal of Pediatric Science. 2010; 2(e27).
Ata R and Antonescu CN. Integrins and Cell Metabolism : An Intimate Relationship Impacting Cancer. Int J Mol Sci. 2017; 18(1):E189. doi: 10.3390/ijms18010189
Stewart RL, Connor KLO. Pathobiology in Focus: Clinical Significance of the Integrin α6β4 in Human Malignancies. Lab Invest. 2015; 95:976–86.
Pang LY, Hurst EA, Argyle DJ. Cyclooxygenase-2 : A Role in Cancer Stem Cell Survival and Repopulation of Cancer Cells during Therapy. Stem Cell Int. 2016;2016:2048731.
Wan X, Kim SY, Guenther LM, Mendoza A, Briggs J, Yeung C, et al. HHS Public Access. 2010;28(38):3401–11.
Kundu ZS. Classification, Imaging, Biopsy and Staging of Osteosarcoma. Indian J Orthop. 2014; 48(3):238–246. doi: 10.4103/0019-5413.132491.
Shaw LM. Identification of Insulin Receptor Substrate (IRS-1) and IRS-2 as Signalling Intermediates in the a 6 b4 Integrin-Dependent Activation of Phosphoinositide 3-OH Kinase and Promotion of Invasion. Mol Cell Biol. 2001; 21(15):5082-93.
Li X, Liu L, Li D, He Y, Guo L, Sun L, et al. Integrin β4 Promotes Cell Invasion and Epithelial-Mesenchymal Transition Through The Modulation of Slug Expression in Hepatocellular Carcinoma. Sci Rep. 2017; 7:40464. doi: 10.1038/srep40464.
Nagata M, Noman AA, Suzuki K, Kurita H, Ohnishi M, Ohyama T, et al. ITGA3 and ITGB4 Expression Biomarkers Estimate the Risks of Locoregional and Hematogenous Dissemination of Oral Squamous Cell Carcinoma. BMC Cancer. 2013; 13:410. doi: 10.1186/1471-2407-13-410.
Gleason B, Adley B, Rao MS, Diaz LK. Immunohistochemical Detection of the ⤠4 Integrin Subunit in Pancreatic Adenocarcinoma. Semin Oncol. 2005;53(6):799–801.
Bacci G, Longhi A, Versari M, Mercuri M, Briccoli A, Picci P. Prognostic Factors for Osteosarcoma of the Extremity Treated with Neoadjuvant Chemotherapy: 15-Year Experience in 789 Patients Treated at a Single Institution Cancer. American Cancer Society Wiley InterScience. 2006; 106(5):1154–1161. doi: 10.1002/cncr.21724.
Chui MH, Kandel RA, Wong M, Griffin AM, Bell RS, Blackstein ME, et al. Histopathologic Features of Prognostic Significance in High-Grade Osteosarcoma. Arch Pathol Lab Med. 2016; 140.
Bottini A, Berruti A, Bersiga A, Brizzi MP, Bruzzi P, Aguggini S, et al. Relationship between Tumour Shrinkage and Reduction in Ki67 Expression after Primary Chemotherapy in Human Breast Cancer. Br J Cancer. 2001; 85(8):1106–1112.
Fang Y, Zhang Z, Wang Q, Zhao J. Expression and Clinical Significance of Cyclooxygenase-2 and MicroRNA-143 in Osteosarcoma. Exp Ther Med. 2015; 9(6):2374–2378.
Urakawa H, Nishida Y, Naruse T, Nakashima H, Ishiguro N. Cyclooxygenase-2 Overexpression Predicts Poor Survival in Patients with High-grade Extremity Osteosarcoma. Clin Orthop Relat Res. 2009; 467(11):2932-8. doi: 10.1007/s11999-009-0814-x.
Dickens DS, Kozielski R, Khan PJ. Cyclooxygenase-2 Expression in Pediatric Sarcomas. Pediatr Dev Pathol. 2002; 5:356–364.
Rodriguez NI, Hoots WK, Koshkina NV, Morales-Arias JA, Arndt CA. Inwards CY, Hawkins DS, Munsell MF, Kleinerman ES. COX-2 Expression Correlates with Survival in Patients with Osteosarcoma Lung Metastases. J Pediatr Hematol Oncol. 2008; 30(7): 507–512.
Song BIN, Du J, Feng YE, Gao YJ, Zhao JIS. Co-expressed Differentially Expressed Genes and Long Non-Coding RNAs Involved in the Celecoxib Treatment of Gastric Cancer : An RNA Sequencing Analysis. Experimental and Therapeutic Medicine. 2016; 12(4):2455-2468.
Ganguly KK, Pal S, Moulik S, Chatterjee A. Integrins and Metastasis. Cell Adhes Migr 2013; 7(3):251–61:251–61.
Giancotti FG, Ruoslahti E. Integrin Signaling. Science. 1999; 285:1028-32; PMID:10446041; http://dx.doi. org/10.1126/science.285.5430.1028.
Mercurio AM, Rabinovitz I, Shaw LM. The α6β4 Integrin and Epithelial Cell Migration. Curr Opin Cell Biol. 2001; 13(5):541-5.
Mariotti A, Kedeshian PA, Dans M, Curatola AM, Gagnoux-Palacios L, Giancotti FG. EGF-R Signalling Through Fyn Kinase Disrupts the Function of Integrin a 6 b4 at Hemidesmosome. J Cell Biol. 2001; 155(3):447-58.
Guo W, Pylayeva Y, Pepe A, Yoshioka T, William JM, Inghirami G, Filippo GG. ß4 Integrin Amplifies ErbB2 Signalling to Promote Mammary Tumorigenesis. Cell. 2006; 126(3):489-502.
Trusolino L, Bertotti A, Comoglio PM. A Signalling Adapter Function for a 6 ß4 Integrin in the Control of HGF-Dependent Invasive Growth. Cell. 2001; 107(5):643-654.
Nikulopoulos SN, Blaikie P, Yoshioka T, Guo W, Giancotti FG. Integrin b4 Signalling Promotes Tumor Angiogenesis. Cancer Cell. 2004; 6(5):471-83.
28. Qu L, Liu B. Cyclooxygeanse-2 Promotes Metastasis in Osteosarcoma. Cancer Cell. 2015;2–5. http://dx.doi.org/10.1186/s12935-015-0220-2.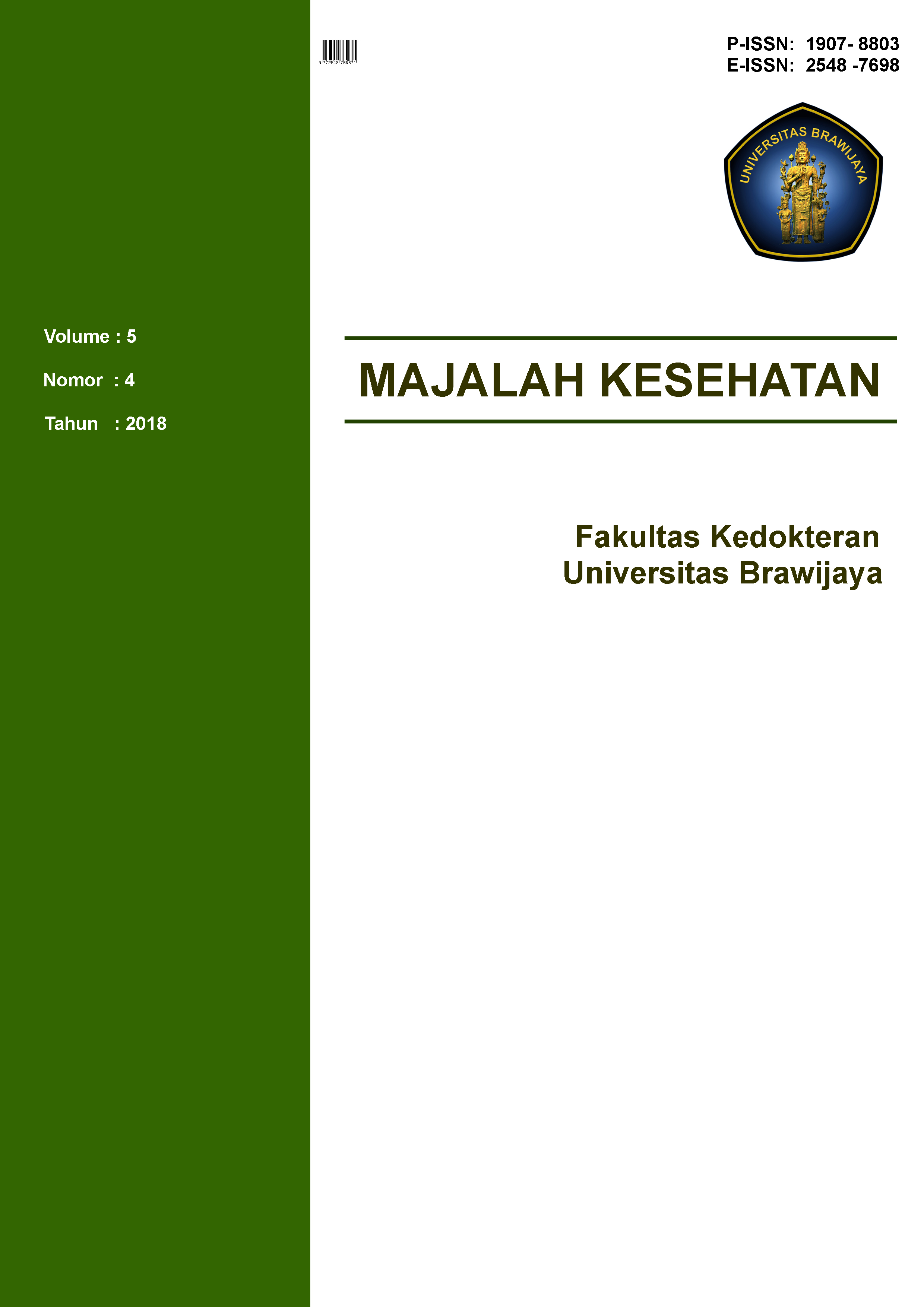 Downloads
How to Cite
Widyanti, S. R., Mustokoweni, S., & Heriyawati, H. (2019). EKSPRESI β4 INTEGRIN DAN COX-2 PADA OSTEOSARKOMA STADIUM ENNEKING IIB DAN IIIB. Majalah Kesehatan, 5(4), pp.207–219. https://doi.org/10.21776/ub.majalahkesehatan.005.04.3
Section
Original Research Article