EFEK PAPARAN PROFILIN Toxoplasma gondii TERHADAP KADAR CHEMERIN PADA TIKUS Rattus norvegicus STRAIN WISTAR
Keywords:
chemerin, obesitas, profilin, Toxoplasma gondii.
Abstract
 Obesitas merupakan masalah kesehatan masyarakat global yang terkait dengan morbiditas, mortalitas, dan keterbatasan fungsional.  Di saat yang bersamaan, prevalensi penyakit menular karena infeksi juga menunjukkan adanya peningkatan. Hal ini menimbulkan dugaan adanya keterkaitan antara infeksi dengan obesitas. Profilin merupakan bagian dari parasit Toxoplsma gondii yang dapat berikatan dengan TLR-11 dan  memicu ekspresi IL-12 serta sitokin proinflamasi lain, yang diduga dapat menyebabkan obesitas. Penelitian ini bertujuan untuk mengetahui efek paparan profilin T. gondii terhadap kadar chemerin sebagai adipositokin proinflamasi. Penelitian ini merupakan penelitian eksperimental laboratorium dengan rancangan true eksperimental-post test only control group design, menggunakan tikus (Rattus norvegicus) strain Wistar, yang diberi dua perlakuan yakni diet normal dan diet hiperkalori. Kemudian diinjeksi profilin dosis 15, 30, 45 mcg/mL.  Hasil penelitian menunjukkan adanya perbedaan kadar chemerin yang signifikan (p = 0,038; ). Hasil uji post-hoc Tukey  didapatkan perbedaan bermakna pada kelompok profilin dengan dosis 30 mcg/mL yang diberi diet hiperkalori. Uji kolerasi dan regresi linier pada kelompok diet normal menunjukkan hubungan yang kuat antara dosis profilin dengan kadar chemerin (r = 0,600) dan R2 = 0,360 yang dapat diartikan bahwa ada pengaruh dosis profilin pada kenaikan kadar chemerin yaitu sebesar 36%. Pada kelompok diet hiperkalori didapatkan hubungan sangat kuat antara dosis profilin dengan kadar chemerin (r = 0,078) dan R2 = 0,609 yang berarti  bahwa pengaruh dosis profilin pada kenaikan kadar chemerin sebesar 60,9%. Kesimpulan penelitian ini adalah paparan profilin Toxoplasma gondii menyebabkan peningkatan kadar chemerin pada tikus strain Wistar. 
References
(Riskesdas) Riset Kesehatan Dasar. Badan Penelitian dan Pengembangan Kesehatan Kementerian RI tahun. (Online). 2013. http://www.depkes.go.id/resources/download/general/Hasil%20Riskesdas%202013.pdf . Diakses: 2 Oktober 2016.
Lyons MJ, Faust IM, Hemmes RB, Buskirk,DR, Hirsch J & Zabriskie JB. A Virally Induced Obesity Syndrome in Mice. Science. 1982; 216:82–85.
Backhed F, Ding H, Wang T, Hooper LV, et al. The Gut Microbiota as An Environmental Factor that Regulates Fat Storage. Proceedings of the National Academy of Science of United States of America. 2014; 01(44):15718-15723.
Ley RE et al. Obesity Alters Gut Microbial Ecology. Proceedings of the National Academy of Sciences of the United States of America. 2005; 102(31):11070–11075.
Reeves GM, Mazaheri S, Snitker S, Langenberg P, Giegling I, Hartmann AM, et al. A Positive Association between T. gondii Seropositivity and Obesity. Front Public Health. 2013; 1:73.
Iskandar A, et al. The Level of Profilin and Interleukin-12 in Obese Patients Infected by Toxoplasma gondii: A Correlation Study Between Toxoplasma gondii Infection and Obesity. International Journal of Infectious Diseases. 2011; 45:361.
Iskandar A, Indra MR, Satuman, Firani NK, Wihastuti TA. The Levels of Toxoplasma gondii Profilin and Adiponectin in Obese Patients Complicated with or without Metabolic Syndrome as Compared to Non-Obese Patients. Asian Pacific Journal of Tropical Disease. 2016; 6(4):265-268.
Iskandar A., et al. The Level of Chemerin and Adipocyte Fatty Acid Binding Protein in Toxoplasma gondii Seropositive Obese Individuals. Asian Pacific Journal of Tropical Disease. 2017; 7(2).
Bozaoglu K, Bolton K, McMillan J, Zimmet P, Jowett J, Collier G, Walder K, Segal D. Chemerin Is a Novel Adipokine Associated with Obesity and Metabolic Syndrome. Endocrinology. 2007; 148(10): 4687–4694.
Nascimento AF, et al. A Hypercaloric Pellet-Diet Cycle Induces Obesity and Comorbities in Wistar Rats. Arq Bras Endocrinol Metabol. 2008; 52(6):968-974.
Olgica D and Vladimir M. Murine Model of Drug-induced Reactivation of Toxoplasma gondii. Acta Protozool. 2001; 40:99–106.
Li Y, Shi B, Li S. Association between Serum Chemerin Concentrations and Clinical Indices in Obesity or Metabolic Syndrome: A Meta-Analysis. PLoS ONE. 2014; 9(12):e11391.
Mattern A, Zellmann T, Beck-sickinger AG. Processing, Signaling, and Physiological Function of Chemerin. International Union of Biochemistry and Molecular Biology Journal. 2014; 66 (1):19-26.
Yarovinsky F. Innate Immunity to Toxoplasma gondii Infection. Nature Reviews Immunology. 2014; 109–121.
Zabel BA, Kwitnewski M, Banas M, Zabieglo K., et al. Chemerin Regulation and Role in Host Defense. American Journal of Clinical and Experimental Immunology. 2014; 3(1):1-19.
Shin HY, Lee DC, Chu SH, Jeon JY, Lee MK, Im JA, Lee JW. Chemerin Levels are Positively Correlated with Abdominal Visceral Fat Accumulation. Clin Endocrinol. 2012; 77(1):47-50. doi: 10.1111/j.1365-2265.2011.04217.x.
Rourke JL, Dranse HJ, Sinal CJ. Towards An Integrative Approach to Understanding the Role of Chemerin in Human Health and Disease. Obes Rev. 2013; 14(3):245-62. doi: 10.1111/obr.12009.
Ernst MC, Sinal CJ. Chemerin: at the Crossroads of Inflammation and Obesity. Trends in Endocrinology and Metabolism. 2010; 21(11):660-667.
Du XY, Zabel BA, Myles T, et al. Regulation of Chemerin Bioactivity by Plasma Carboxypeptidase N, Carboxypeptidase B (Activated Thrombin-Activable Fibrinolysis Inhibitor), and Platelets. J Biol Chem. 2009; 284:751–758.
Weng C, Shen Z, Li X, et al. Effects of Chemerin/CMKLR1 in Obesity-Induced Hypertension and Potential Mechanism. American Journal of Translational Research. 2017; 9(6):3096–3104.
Hill D, JP Dubey. Toxoplasma gondii: Transmission, Diagnosis and Prevention. Clinical Microbiology and Infection. 2002; 8(10):634 – 640.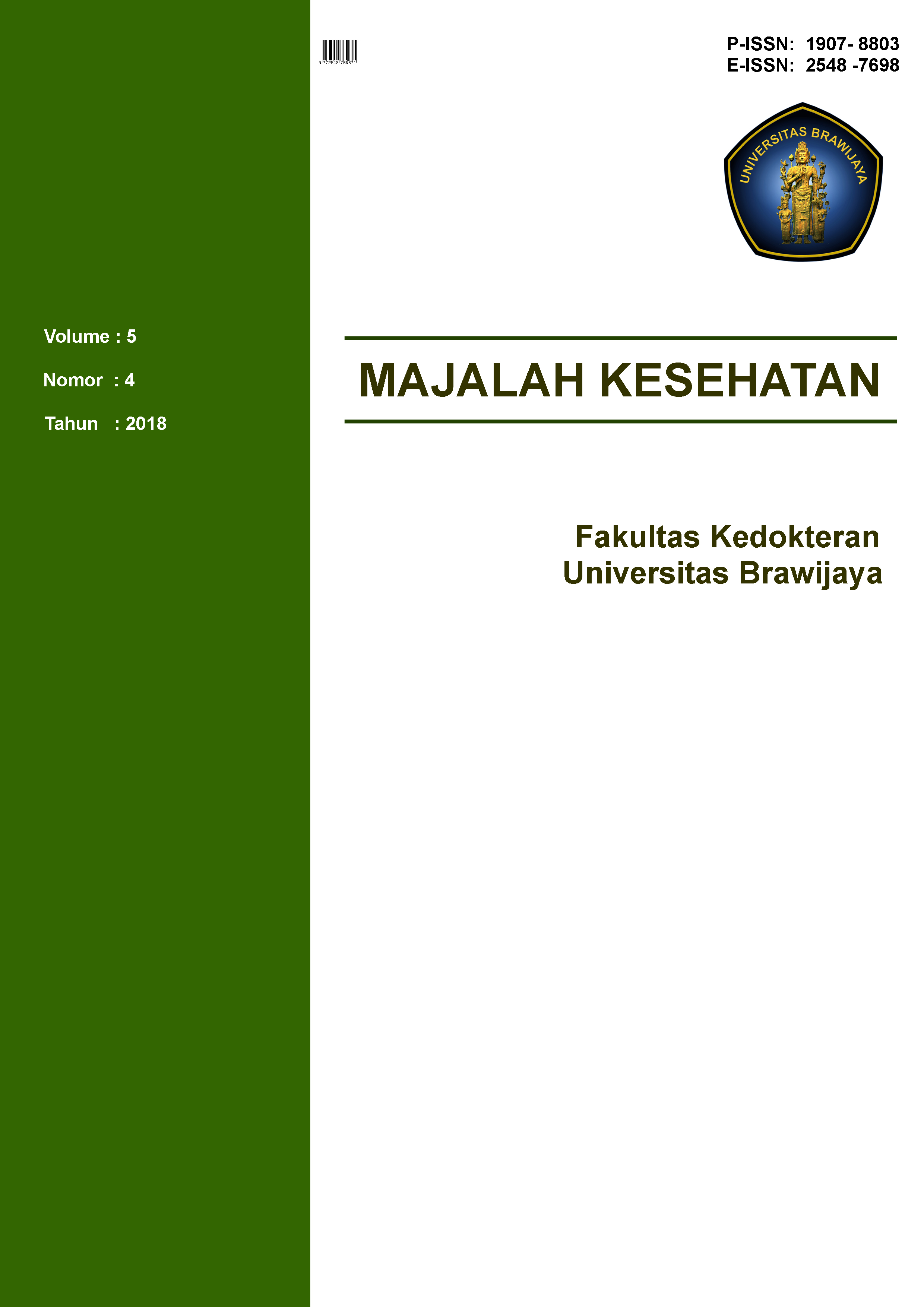 Downloads
License
This work is licensed under a
Creative Commons Attribution-NonCommercial 4.0 International License