HUBUNGAN ANTARA FAKTOR RISIKO DENGAN MASA PERAWATAN SERTA OUTCOME PASIEN STROKE ISKEMIK
Keywords:
faktor risiko, hipertensi, defisit neurologis, outcome, stroke
Abstract
Stroke umumnya didasari suatu faktor risiko seperti hipertensi atau diabetes, dan pasien stroke akan memerlukan rawat inap di rumah sakit. Terapi stroke serta faktor risikonya akan berdampak pada outcome pasien. Penelitian ini bertujuan untuk menilai hubungan antara faktor risiko dengan masa perawatan serta outcome pasien stroke iskemik. Penelitian retrospektif ini mengevaluasi faktor risiko, kesadaran, masa perawatan, serta outcome pasien berdasarkan data rekam medis pasien stroke iskemik yang dirawat tahun 2019-2020 di Rumah Sakit Universitas Kristen Indonesia dengan kriteria pasien dirawat lebih dari 24 jam. Data kesadaran pasien diuji dengan uji t berpasangan, sementara hubungan antara faktor risiko dengan masa perawatan dan outcome diuji dengan Chi-square. Hasil penelitian menunjukkan sebagian besar pasien adalah laki-laki yaitu 63 (63,64%) dari 99 orang, dan terbanyak berusia 61-70 tahun yaitu 37 (37,37%) pasien. Hipertensi didapatkan pada 52 (52,53%) pasien dan masa rawat inap rata-rata 5,7 hari, namun pasien dengan penyakit jantung sampai 8,4 hari. Tingkat kesadaran berdasarkan Glasgow Coma Scale menunjukkan sebagian besar pasien adalah 15, dan hasil uji t tidak menunjukkan perbedaan antara saat masuk dan keluar rumah sakit (p > 0,05). Pada 58 (58,9%) pasien didapatkan defisit neurologis moderate atau moderate-severe, sembuh total 10 (10,10%) pasien, dan 3 (3,03%) pasien meninggal. Hasil uji Chi-square menunjukkan hubungan tidak bermakna antara faktor risiko dengan masa perawatan serta outcome (p > 0,05).  Penelitian menyimpulkan hubungan faktor risiko dengan masa perawatan serta outcome pasien stroke iskemik tidak bermakna, namun bila memiliki faktor risiko penyakit jantung maka perawatan akan lebih lama.
References
World Stroke Organization (WSO). WSO Global Stroke Fact Sheet 2022. [Internet]. 2022. Available from: https://www.world-stroke.org/news-and-blog/news/wso-global-stroke-fact-sheet-2022
Badan Penelitian dan Pengembangan Kesehatan Kementerian Kesehatan Republik Indonesia. Hasil utama RISKEDAS 2018. [Internet]. 2018. Available from: https://www.litbang.kemkes.go.id/laporan-riset-kesehatan-dasar-riskesdas/.
Chen X, Zhou L, Zhang Y, Yi D, Liu L, Rao W, et al. Risk Factors of Stroke in Western and Asian Countries: a Systematic Review and Meta-Analysis of Prospective Cohort Studies. BMC Public Health. 2014;14, Article number: 776.
Göz E, Kahraman T, Genc A, Kaya Ö, Öztürk V, Kutluk K. Factors Affecting Hospital Length of Stay Among Patients with Acute Stroke. J Neurol Sci. 2017; 34:143-52.
Dabilgou AA, Drave A, Kyelem JMA, Ouedraogo S, Napon C, Kabore J. Frequency and Mortality Risk Factors of Acute Ischemic Stroke in Emergency Department in Burkina Faso. Stroke Res Treat. 2020 Jun 11;2020:9745206. doi: 10.1155/2020/9745206.
Saxena A, Prasad RN, Verma K, Saxena S. Factors Predicting Length of Hospital Stay in Acute Stroke Patients Admitted in a Rural Tertiary Care Hospital. J Gerontol Geriatr Res. J Gerontol Geriatr Res 2016, S5:003
http://dx.doi.org/10.4172/2167-7182.S5-003.
Curtain JP, Yu M, Clark AB, Gollop ND, Bettencourt-Silva JH, Metcalf AK, et al. Determinants of Length of Stay Following Total Anterior Circulatory Stroke. Geriatrics (Basel). 2017; 2(3): 26. doi: 10.3390/geriatrics2030026.
Vidista SH, Fauziyati A, Gofir A. Correlation between Grade of Hypertension and Length of Stay of Stroke Patients in Sleman General Hospital. The 2nd International Conference on Cardiovascular Disease: from Genes to Novel Therapy. Yogyakarta, 21-22 Maret 2018: P. 41-50.
Rost NS, Bottle A, Lee JM, Randall M, Middleton S, Shaw L, et al. Stroke Severity is a Crucial Predictor of Outcome: an International Prospective Validation Study. J Am Heart Assoc. 2016; 5(1): e002433.
Ramphul K, Ramphul Y, Sombans S, Lohana P, Verma R, Kumar N, et al. Incidence and Mortality Rates of Acute Ischemic Stroke in Hospitalized Patients in the United States. Arch Med Sci Atheroscler Dis. 2021; 6: e132–e134. doi: 10.5114/amsad.2021.107820.
Johnson CO, Nguyen M, Roth GA, Nichols M, Alam T, Abate D, et al. Global, Regional, and National Burden of Stroke, 1990-2016: a Systematic Analysis for the Global Burden of Disease Study 2016. Lancet Neurol. 2019 May;18(5):439-458. doi: 10.1016/S1474-4422(19)30034-1.
Cipolla MJ, Liebeskind DS, Chan SL. The Importance of Comorbidities in Ischemic Stroke: Impact of Hypertension on the Cerebral Circulation. J Cereb Blood Flow Metab. 2018; 38(2):2129-49. doi: 10.1177/0271678X18800589.
Chen CH, Tang SC, Chen YW, Chen CH, Tsai LK, Sung SF, et al. Effectiveness of Standard-Dose vs. Low-Dose Alteplase for Acute Ischemic Stroke Within 3-4,5 Hours. Front Neurol. 2022;13: 763963. https://doi.org/10.3389/fneur.2022.763963.
Kasemsap N, Vorasoot N, Kongbunkiat K, Peansukwech U, Tiamkao S, Sawanyawisuth K. Impact of Intravenous Thrombolysis on Length of Hospital Stay in Cases of Acute Ischemic Stroke. Neuropsychiatr Dis Treat. 2018: 14:259-64. doi: 10.2147/ndt.s151836.
Lambrinos A, Schaink AK, Dhalla I, Krings T, Casaubon LK, Sikich N, et al. Mechanical Thrombectomy in Acute Ischemic Stroke: A Systematic Review. Can J Neurol Sci. 2016; 43(4):455-60. doi: 10.1017/cjn.2016.30.
Zhao W, Ma P, Zhang P, Yue X. Mechanical Thrombectomy for Acute Ischemic Stroke in Octogenarians: a Systematic Review and Meta-Analysis. Front Neurol. 2020;10: 1355. doi: 10.3389/fneur.2019.01355.
Boehme AK, Esenwa C, Elkind MSV. Stroke Risk Factors, Genetics, and Prevention. Circ Res. 2017;120(3): 472-95. doi: 10.1161/CIRCRESAHA.116.308398.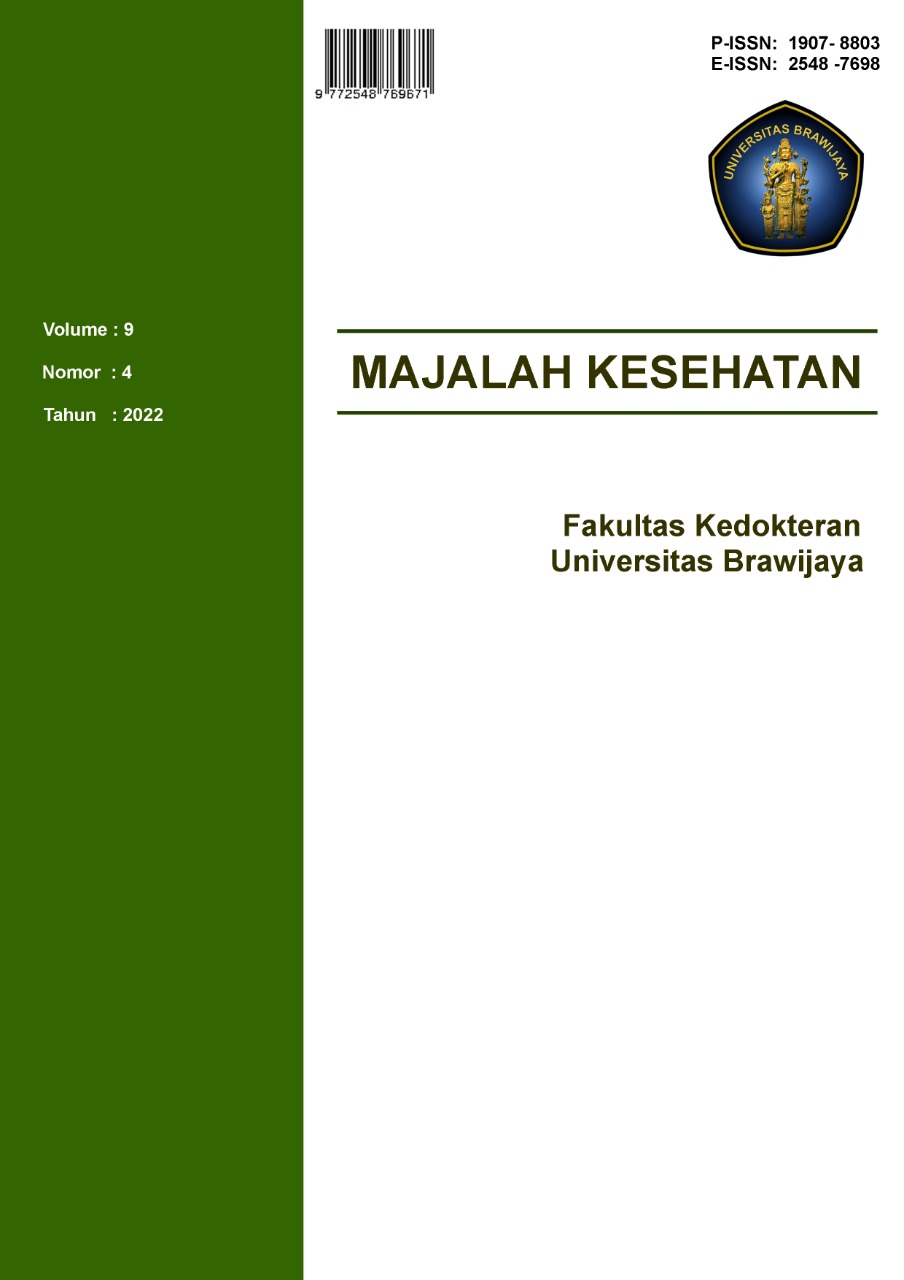 Downloads
Section
Original Research Article
License
Copyright (c) 2023 Majalah Kesehatan FKUB
This work is licensed under a Creative Commons Attribution-NonCommercial 4.0 International License.