Tinjauan Literatur: KEFIR: MIKROBIOLOGI, SENYAWA BIOAKTIF, DAN MANFAATNYA PADA PENYAKIT NONINFEKSI
Keywords:
bioaktif peptida, kefir, kesehatan, mikrobiota
Abstract
Kefir semakin populer sebagai produk makanan fermentasi. Secara makroskopis butiran kefir memiliki struktur warna yang ireguler, multilobular, lengket dan berwarna kekuningan. Simbiosis mikrobiota antara bakteri dan khamir merupakan komponen utama dalam biji kefir. Bakteri yang paling banyak ditemukan pada butir kefir adalah Lactobaccilus sp. dan Lactococcus sp. sedangkan khamirnya didominasi oleh Saccharomyces sp. dan Kluveromyces sp. Kefir mengandung senyawa bioaktif seperti eksopolisakarida, bioaktif peptida, bacteriocin dan biosurfaktan yang berpotensi meningkatkan manfaat kesehatan dari kefir. Tinjauan literatur ini bertujuan untuk mengulas kefir dari aspek mikrobiologi, kandungan senyawa bioaktif kefir dan pengaruhnya sebagai agen imunomodulator atau imunostimulan pada artritis, antialergi, antikolesterol dan penyakit noninfeksi lain. Kefir berpotensi untuk dikembangkan sebagai produk kesehatan dan nutraseutikal sesuai dengan pengaruhnya terhadap stimulasi respons imun, antiartritis, aktivasi imunitas mukosa intestinal, perlindungan dari ulkus peptikum, antikanker, antimutagenesis, antialergi, menurunkan kadar kolesterol, mengurangi obesitas, dan antihipertensi. Oleh karena itu, kefir sangat potensial untuk dieksplorasi lebih lanjut dalam penelitian translasional sebagai salah satu bahan aditif dalam produk pangan fungsional yang memberikan manfaat untuk kesehatan.
References
Rosa DD, Dias MMS, Grześkowiak ŁM, Reis SA, Conceição LL, Peluzio MDCG. Milk kefir: Nutritional, microbiological and health benefits. Nutr Res Rev. 2017; 30(1):82–96.
Schwan RF, Magalhães-Guedes KT, Dias DR. Kefir - Grains and Beverages: A Review. Sci Agrar Parana. 2015; 14(1):1–9.
Garrote GL, Abraham AG, De Antoni GL. Microbial Interactions in Kefir: A Natural Probiotic Drink. Biotechnol Lact Acid Bact Nov Appl. 2010; (1980):327–40.
Nejati F, Junne S, Neubauer P. A Big World in Small Grain: A Review of Natural Milk Kefir Starters. Microorganisms. 2020; 8(2).
Tamime AY. Fermented Milks: A Historical Food with Modern Applications–a Review. Eur J Clin Nutr. 2002; 56:S2–15.
Marsh AJ, O'Sullivan O, Hill C, Ross RP, Cotter PD. Sequencing-Based Analysis of the Bacterial and Fungal Composition of Kefir Grains and Milks from Multiple Sources. PLoS One. 2013; 8(7).
Rimada PS, Abraham AG. Polysaccharide Production by Kefir Grains During Whey Fermentation. J Dairy Res. 2001; 68(4):653–61.
Güzel-Seydim ZB, Seydim AC, Greene AK, Bodine AB. Determination of Organic Acids and Volatile Flavor Substances in Kefir during Fermentation. J Food Compos Anal. 2000; 13(1):35–43.
Rattray FP, O'Connell MJ. Fermented Milks: Kefir. Encycl Dairy Sci Second Ed. 2011; 518–24.
Ötles S, Çagındı Ö, Akçiçek E. Probiotics and Health. 2003; 4:369–72.
Singh RK, Chang HW, Yan D, Lee KM, Ucmak D, Wong K, et al. Influence of Diet on the Gut Microbiome and Implications for Human Health. J Transl Med. 2017; 15(1):1–17.
Maldonado Galdeano C, Perdigón G. The Probiotic Bacterium Lactobacillus casei Induces Activation of the Gut Mucosal Immune System through Innate Immunity. Clin Vaccine Immunol. 2006; 13(2):219–26.
Kim DH, Jeong D, Kim H, Kang IB, Chon JW, Song KY, et al. Antimicrobial Activity of Kefir against Various Food Pathogens and Spoilage Bacteria. Korean J Food Sci Anim Resour. 2016; 36(6):787–90.
Rodrigues KL, Carvalho JCT, Schneedorf JM. Anti-Inflammatory Properties of Kefir and Its Polysaccharide Extract. Inflammopharmacology. 2005; 13(5–6):485–92.
Marques VD, Franzolin MR, Sanabani SS, Vigerelli H, Piazza RMF, Pimenta DC, et al. A New Class of Antimicrobial Molecules Derived from Kefir, Effective against Pseudomonas aeruginosa and Methicillin Resistant Staphylococcus aureus (MRSA) strains. Sci Rep. 2020; 10(1):1–13.
Gao J, Gu F, Ruan H, Chen Q, He J, He G. Induction of Apoptosis of Gastric Cancer Cells SGC7901 In Vitro by a Cell-Free Fraction of Tibetan kefir. Int Dairy J . 2013; 30(1):14–8.
Lai Y, Ko C, Chen H, Chen C. Anti‐Inflammatory Effect and Bone Protection of Kefir Peptides in a Rat Model of Adjuvant‐Induced Rheumatoid Arthritis. FASEB J. 2019; 33(S1).
Dębińska A, Sozańska B. Fermented Food in Asthma and Respiratory Allergies—Chance or Failure?. Nutrients. 2022; 14(7):1420.
Peluzio M do CG, Dias M de M e., Martinez JA, Milagro FI. Kefir and Intestinal Microbiota Modulation: Implications in Human Health. Front Nutr. 2021; 8(February):1–15.
Bell V, Ferrão J, Pimentel L, Pintado M, Fernandes T. One Health, Fermented Foods, and Gut Microbiota. Foods. 2018; 7(12).
Sirirat D, Jelena P. Bacterial Inhibition and Antioxidant Activity of Kefir Produced from Thai Jasmine Rice Milk. Biotechnology. 2010; 9(3):332–7.
Dobson A, O'Sullivan O, Cotter PD, Ross P, Hill C. High-Throughput Sequence-Based Analysis of the Bacterial Composition of Kefir and an Associated Kefir Grain. FEMS Microbiol Lett. 2011; 320(1):56–62.
Garofalo C, Osimani A, Milanović V, Aquilanti L, De Filippis F, Stellato G, et al. Bacteria and Yeast Microbiota in Milk Kefir Grains from Different Italian Regions. Food Microbiol. 2015; 49(1):123–33.
Korsak N, Taminiau B, Leclercq M, Nezer C, Crevecoeur S, Ferauche C, et al. Short Communication: Evaluation of the Microbiota of Kefir Samples using Metagenetic Analysis Targeting the 16S and 26S Ribosomal DNA Fragments. J Dairy Sci. 2015; 98(6):3684–9.
Pintado J, Ruiz P, Cremades J, Masaló I, Jiménez P, Oca J. Experimental Colonization of Ulva spp. with Algal-Epiphytic Antagonistic Bacteria as a Strategy for Pathogen Control in Integrated Multi-Trophic Aquaculture Recirculating Systems. In: Aquaculture Europe "Book of abstracts Aquaculture '16 20-23 2016 Edimburgh". 2016. p. 788–9.
Witthuhn RC, Schoeman T, Britz TJ. Characterisation of the Microbial Population at Different Stages of Kefir Production and Kefir Grain Mass Cultivation. Int Dairy J. 2005; 15(4):383–9.
Plessas S, Nouska C, Mantzourani I, Kourkoutas Y, Alexopoulos A, Bezirtzoglou E. Microbiological Exploration of Different Types of Kefir Grains. Fermentation. 2017; 3(1):1–10.
Marquina D, Santos A, Corpas I, Muñoz J, Zazo J, Peinado JM. Dietary Influence of Kefir on Microbial Activities in the Mouse Bowel. Lett Appl Microbiol. 2002; 35(2):136–40.
Latorre-García L, Del Castillo-Agudo L, Polaina J. Taxonomical Classification of Yeasts Isolated from Kefir Based on the Sequence of Their Ribosomal RNA Genes. World J Microbiol Biotechnol. 2007; 23(6):785–91.
Diosma G, Romanin DE, Rey-Burusco MF, Londero A, Garrote GL. Yeasts from Kefir Grains: Isolation, Identification, and Probiotic Characterization. World J Microbiol Biotechnol. 2014; 30(1):43–53.
Simova E, Beshkova D, Angelov A, Hristozova T, Frengova G, Spasov Z. Lactic Acid Bacteria and Yeasts in Kefir Grains and Kefir Made from Them. J Ind Microbiol Biotechnol. 2002; 28(1):1–6.
Abraham AG, De Antoni GL. Characterization of Kefir Grains Grown in Cows' Milk and in Soya Milk. J Dairy Res. 1999; 66(2):327–33.
Wang SY, Chen HC, Liu JR, Lin YC, Chen MJ. Identification of Yeasts and Evaluation of Their Distribution in Taiwanese Kefir and Viili Starters. J Dairy Sci. 2008; 91(10):3798–805.
Miguel MG da CP, Cardoso PG, Magalhães KT, Schwan RF. Profile of Microbial Communities Present in Tibico (Sugary Kefir) Grains from Different Brazilian States. World J Microbiol Biotechnol. 2011; 27(8):1875–84.
Ruas-Madiedo P, Hugenholtz J, Zoon P. An Overview of the Functionality of Exopolysaccharides Produced by Lactic Acid Bacteria. Int Dairy J. 2002; 12(2–3):163–71.
Ismaiel AA, Ghaly MF, El-Naggar AK. Some Physicochemical Analyses of Kefir Produced under Different Fermentation Conditions. J Sci Ind Res. 2011; 70(5):365–72.
Guérin M, Robert-Da Silva C, Garcia C, Remize F. Lactic Acid Bacterial Production of Exopolysaccharides from Fruit and Vegetables and Associated Benefits. Fermentation. 2020; 6(4).
Kumar AS, Mody K, Jha B. Bacterial Exopolysaccharides - A Perception. J Basic Microbiol. 2007; 47(2):103–17.
Korhonen H, Pihlanto A. Bioactive Peptides: Production and Functionality. Int Dairy J. 2006;16(9):945–60.
Zaky AA, Simal-Gandara J, Eun JB, Shim JH, Abd El-Aty AM. Bioactivities, Applications, Safety, and Health Benefits of Bioactive Peptides From Food and By-Products: A Review. Front Nutr. 2022; 8(January):1–18.
Vieira CP, Rosario AILS, Lelis CA, Rekowsky BSS, Carvalho APA, Rosário DKA, et al. Bioactive Compounds from Kefir and Their Potential Benefits on Health: A Systematic Review and Meta-Analysis. Oxid Med Cell Longev. 2021; 2021.
Liu Y, Pischetsrieder M. Identification and Relative Quantification of Bioactive Peptides Sequentially Released during Simulated Gastrointestinal Digestion of Commercial Kefir. J Agric Food Chem. 2017; 65(9):1865–73.
Bermudez-Brito M, Plaza-Díaz J, Muñoz-Quezada S, Gómez-Llorente C, Gil A. Probiotic Mechanisms of Action. Ann Nutr Metab. 2012; 61(2):160–74.
Russell JB, Diez-Gonzalez F. The Effects of Fermentation Acids on Bacterial Growth. Adv Microb Physiol. 1998; 39:228–34.
Nielsen DS, Cho GS, Hanak A, Huch M, Franz CMAP, Arneborg N. The Effect of Bacteriocin-Producing Lactobacillus plantarum Strains on the Intracellular pH of Sessile and Planktonic Listeria monocytogenes Single Cells. Int J Food Microbiol. 2010; 141(SUPPL.):S53–59.
Mulligan C, Gibbs B. Types, Production and Applications of Biosurfactants. Vol. 70, Proceedings-Indian National Science Academy Part B. 2004. p. 31–56.
Satpute SK, Płaza GA, Banpurkar AG. Biosurfactants' Production from Renewable Natural Resources: Example of Innovativeand Smart Technology in Circular Bioeconomy. Manag Syst Prod Eng. 2017; 25(1):46–54.
Satpute SK, Kulkarni GR, Banpurkar AG, Banat IM, Mone NS, Patil RH, et al. Biosurfactant/s from Lactobacilli species: Properties, Challenges and Potential Biomedical Applications. J Basic Microbiol. 2016; 56(11):1140–58.
Voltan S, Castagliuolo I, Elli M, Longo S, Brun P, D'Incà R, et al. Aggregating Phenotype in Lactobacillus crispatus Determines Intestinal Colonization and TLR2 and TLR4 Modulation in Murine Colonic Mucosa. Clin Vaccine Immunol. 2007; 14(9):1138–48.
Azizah N, Qonitun U, Raras TYM, Prawiro SR. Probiotics Lactobacillus Reuteri Increase Levels of β-Defensin1, sIgA and Decrease Number of Staphylococcus aureus Bacteria Colonies in Vaginal Mucosa on Puerperal Mice Model Infected with Staphylococcus aureus. J Kebidanan. 2020; 9(1):71.
Rodrigues LR, Teixeira JA, van der Mei HC, Oliveira R. Physicochemical and Functional Characterization of a Biosurfactant Produced by Lactococcus lactis 53. Colloids Surfaces B Biointerfaces. 2006; 49(1):79–86.
Hong WS, Chen HC, Chen YP, Chen MJ. Effects of Kefir Supernatant and Lactic Acid Bacteria Isolated from Kefir Grain on Cytokine Production by Macrophage. Int Dairy J. 2009; 19(4):244–51.
CG Vinderola, Duartei J, Thangavel D, Pergidon G, Farnworth E, Matar C. Distal Mucosal Site Stimulation by Kefir and Duration of The Immune Response. Eur J Inflamm. 2005; 3(2):15–24.
Vinderola CG, Duarte J, Thangavel D, Perdigón G, Farnworth E, Matar C. Immunomodulating Capacity of Kefir. J Dairy Res. 2005; 72(2):195–202.
Adiloglu AK, Gonulates N, Isler M, Senol A. The Effect of Kefir Consumption on Human Immune System: A Cytokine Study. Mikrobiol Bul. 2013; 47(2):273–81.
Berenbaum F. Osteoarthritis as an Inflammatory Disease (Osteoarthritis is not Osteoarthrosis!). Osteoarthr Cartil. 2013; 21(1):16–21.
Bullock J, Rizvi SAA, Saleh AM, Ahmed SS, Do DP, Ansari RA, et al. Rheumatoid Arthritis: A Brief Overview of the Treatment. Med Princ Pract. 2019; 27(6):501–7.
Saigal R, Agrawal A. Pathogenesis and Clinical Management of Gouty Arthritis. J Assoc Physicians India. 2015; 63(DECEMBER2015):56–63.
Leung BP, Conacher M, Hunter D, McInnes IB, Liew FY, Brewer JM. A Novel Dendritic Cell-Induced Model of Erosive Inflammatory Arthritis: Distinct Roles for Dendritic Cells in T Cell Activation and Induction of Local Inflammation. J Immunol. 2002;169(12):7071–7.
Chen CF, Li HP, Chao YH, Tu MY, Yen CC, Lan YW, et al. Suppression of Dendritic Cell Maturation by Kefir Peptides Alleviates Collagen-Induced Arthritis in Mice. Front Pharmacol. 2021; 12(October):1–14.
Silverthorn DU. Human Physiology An Integrated Approach. England. 2016.
Mörbe UM, Jørgensen PB, Fenton TM, von Burg N, Riis LB, Spencer J, et al. Human Gut-Associated Lymphoid Tissues (GALT); Diversity, Structure, and Function. Mucosal Immunol. 2021; 14(4):793–802.
Britti MS, Roselli M, Finamore A, Merendino N, Mengheri E. Regulation of Immune Response at Intestinal and Peripheral Sites by Probiotics. Biologia. 2006; 61(6):735–40.
Carasi P, Racedo SM, Jacquot C, Romanin DE, Serradell MA, Urdaci MC. Impact of Kefir Derived Lactobacillus kefiri on the Mucosal Immune Response and Gut Microbiota. J Immunol Res. 2015; 2015.
Thoreux K, Schmucker DL. Kefir Milk Enhances Intestinal Immunity in Young but Not Old Rats. J Nutr. 2001; 131(3):807–12.
Medrano M, Racedo SM, Rolny IS, Abraham AG, Pérez PF. Oral Administration of Kefiran Induces Changes in the Balance of Immune Cells in a Murine Model. J Agric Food Chem. 2011; 59(10):5299–304.
Kuna L, Jakab J, Smolic R, Raguz-Lucic N, Vcev A, Smolic M. Peptic Ulcer Disease: A Brief Review of Conventional Therapy and Herbal Treatment Options. J Clin Med. 2019; 8(2).
Orhan YT, Karagözlü C, Sarioǧlu S, Yilmaz O, Murat N, Gidener S. A Study on the Protective Activity of Kefir against Gastric Ulcer. Turkish J Gastroenterol. 2012; 23(4):333–8.
Fahmy HA, Ismail AFM. Gastroprotective Effect of Kefir on Ulcer Induced in Irradiated Rats. J Photochem Photobiol B Biol. 2015; 144:85–93.
Barboza KRM, Coco LZ, Alves GM, Peters B, Vasquez EC, Pereira TMC, et al. Gastroprotective Effect of Oral Kefir on Indomethacin-Induced Acute Gastric Lesions in Mice: Impact on Oxidative Stress. Life Sci. 2018; 209(May):370–6.
Bourrie BCT, Willing BP, Cotter PD. The Microbiota and Health Promoting Characteristics of the Fermented Beverage Kefir. Front Microbiol. 2016; 7(MAY):1–17.
Badr El-Din NK, Shabana SM, Abdulmajeed BA, Ghoneum M. A Novel Kefir Product (Pft) Inhibits Ehrlich Ascites Carcinoma in Mice via Induction of Apoptosis and Immunomodulation. BMC Complement Med Ther. 2020; 20(1):1–12.
Fatahi A, Soleimani N, Afrough P. Anticancer Activity of Kefir on Glioblastoma Cancer Cell as a New Treatment. International Journal of Food Science. 2021;2021.
Hatmal MM, Nuirat A, Zihlif MA, Taha MO. Exploring the Influence of Culture Conditions on Kefir ' S Anticancer Properties. J Dairy Sci . 2018; 101(5):3771–7.
Sarkar S. Potential of Kefir as a Dietetic Beverage – a Review. Br Food J. 2007; 109(4):280–90.
Sharifi M, Moridnia A, Mortazavi D, Salehi M, Bagheri M, Sheikhi A. Kefir: a Powerful Probiotics with Anticancer Properties. Med Oncol. 2017; 34(11):1–7.
Theodorakis CW. Mutagenesis. In: Encyclopedia of Physical Science and Technology. 3rd Edition. 2003.
Liu JR, Chen MJ, Lin CW. Antimutagenic and Antioxidant Properties of Milk-Kefir and Soymilk-Kefir. J Agric Food Chem. 2005; 53(7):2467–74.
Grishina A, Kulikova I, Alieva L, Dodson A, Rowland I, Jin J. Antigenotoxic Effect of Kefir and Ayran Supernatants on Fecal Water-Induced DNA Damage in Human Colon Cells. Nutr Cancer. 2011; 63(1):73–9.
Guzel-Seydim ZB, Seydim AC, Greene AK, Taş T. Determination of antimutagenic Properties of Acetone Extracted Fermented Milks and Changes in Their Total Fatty Acid Profiles Including Conjugated Linoleic Acids. Int J Dairy Technol. 2006; 59(3):209–15.
Matsuu M, Shichijo K, Okaichi K, Wen CY, Fukuda E, Nakashima M, et al. The Protective Effect of Fermented Milk Kefir on Radiation-Induced Apoptosis in Colonic Crypt Cells of Rats. J Radiat Res. 2003; 44(2):111–5.
Teruya K, Myojin-Maekawa Y, Shimamoto F, Watanabe H, Nakamichi N, Tokumaru K, et al. Protective Effects of the Fermented Milk Kefir on X-Ray Irradiation-Induced Intestinal Damage in B6C3F1 Mice. Biol Pharm Bull. 2013; 36(3):352–9.
Griana TP, Raras TYM, Mintaroem K, Chozin IN, Wilujeng CS. Immunosuppressive Activity of Goat Kefir in a Rat Model with Bleomycin-Induced Pulmonary Fibrosis. Pharmacogn J. 2020; 12(6):1594–9.
Raras TYM, Hidayati N, Wardhani SO. High Doses of Kefir Accelerate Lung-Injury Progression in Bleomycin-Induced Pneumonitis in Rats. Jundishapur J Nat Pharm Prod. 2021; 16(3).
Hong WS, Chen YP, Chen MJ. The Antiallergic Effect of Kefir Lactobacilli. J Food Sci. 2010; 75(8):244–53.
Liu J-R, Wang S-Y, Chen M-J, Yueh P-Y, Chin-Wen Lin. The Anti-Allergenic Properties of Milk Kefir and Soymilk Kefir and Their Beneficial Effects on the Intestinal Microflora. J Sci of Food Agric. 2006; 86:2527–33.
Lee MY, Ahn KS, Kwon OK, Kim MJ, Kim MK, Lee IY, et al. Anti-Inflammatory and Anti-Allergic Effects of Kefir in a Mouse Asthma Model. Immunobiology. 2007; 212(8):647–54.
Chen HC, Wang SY, Chen MJ. Microbiological Study of Lactic Acid Bacteria in Kefir Grains by Culture-Dependent and Culture-Independent Methods. Food Microbiol. 2008; 25(3):492–501.
Wang Y, Xu N, Xi A, Ahmed Z, Zhang B, Bai X. Effects of Lactobacillus plantarum MA2 Isolated from Tibet Kefir on Lipid Metabolism and Intestinal Microflora of Rats Fed on High-Cholesterol Diet. Appl Microbiol Biotechnol. 2009; 84(2):341–7.
Liu J-R, Wang S-Y, Chen M-J, Chen H-L, Yueh P-Y, Lin C-W. Hypo-cholesterolaemic Effects of Milk-Kefir and Soyamilk-Kefir in Cholesterol-Fed Hamsters. Br J Nutr. 2006; 95(5):939–46.
St-Onge MP, Farnworth ER, Savard T, Chabot D, Mafu A, Jones PJH. Kefir Consumption does not alter Plasma Lipid Levels or Cholesterol Fractional Synthesis Rates Relative to Milk in Hyperlipidemic Men: A Randomized Controlled Trial. BMC Complement Altern Med. 2002; 2:1–7.
Zhuang L, Chen H, Zhang S, Zhuang J, Li Q, Feng Z. Intestinal Microbiota in Early Life and Its Implications on Childhood Health. Genomics, Proteomics Bioinforma. 2019; 17(1):13–25.
Bourrie BCT, Richard C, Willing BP. Kefir in the Prevention and Treatment of Obesity and Metabolic Disorders. Curr Nutr Rep. 2020; 9(3):184–92.
Kim DH, Kim H, Jeong D, Kang IB, Chon JW, Kim HS, et al. Kefir Alleviates Obesity and Hepatic Steatosis in High-Fat Diet-Fed Mice by Modulation of Gut Microbiota and Mycobiota: Targeted and Untargeted Community Analysis with Correlation of Biomarkers. J Nutr Biochem. 2017; 44:35–43.
Tung MC, Lan YW, Li HH, Chen HL, Chen SY, Chen YH, et al. Kefir Peptides Alleviate High-Fat Diet-Induced Atherosclerosis by Attenuating Macrophage Accumulation and Oxidative Stress in ApoE Knockout Mice. Sci Rep. 2020; 10(1):1–15.
Fathi Y, Ghodrati N, Zibaeenezhad MJ, Faghih S. Kefir Drink Causes a Significant Yet Similar Improvement in Serum Lipid Profile, Compared with Low-Fat Milk, in a Dairy-Rich Diet in Overweight or Obese Premenopausal Women: A Randomized Controlled Trial. J Clin Lipidol. 2017; 11(1):136–46.
Mohammadi H, Ghavami A, Faghihimani Z, Sharifi S, Nattagh-Eshtivani E, Ziaei R, et al. Effects of Probiotics Fermented Milk Products on Obesity Measure Among Adults: A Systematic Review and Meta-Analysis of Clinical Trials. J Funct Foods . 2021; 82(April):104494.
Silva-Cutini MA, Almeida SA, Nascimento AM, Abreu GR, Bissoli NS, Lenz D, et al. Long-Term Treatment with Kefir Probiotics Ameliorates Cardiac Function in Spontaneously Hypertensive Rats. J Nutr Biochem. 2019; 66:79–85.
de Almeida Silva M, Mowry FE, Peaden SC, Andrade TU, Biancardi VC. Kefir Ameliorates Hypertension via Gut–Brain Mechanisms in Spontaneously Hypertensive Rats. J Nutr Biochem. 2020; 77:108318.
de Andrade TU, Schumacker KS, Coutinho G, Rezende MS, Ronchi SN, et al. Chronic and Acute Effects of Kefir: The Role of Angiotensin Converting Enzyme Inhibition Instead of Nitric Oxide Balance. Brazilian J Pharm Sci. 2021; 57:1–8.
Leite AM de O, Miguel MAL, Peixoto RS, Rosado AS, Silva JT, Paschoalin VMF. Microbiological, Technological and Therapeutic Properties of Kefir: A Natural Probiotic Beverage. Brazilian J Microbiol. 2013; 44(2):341–9.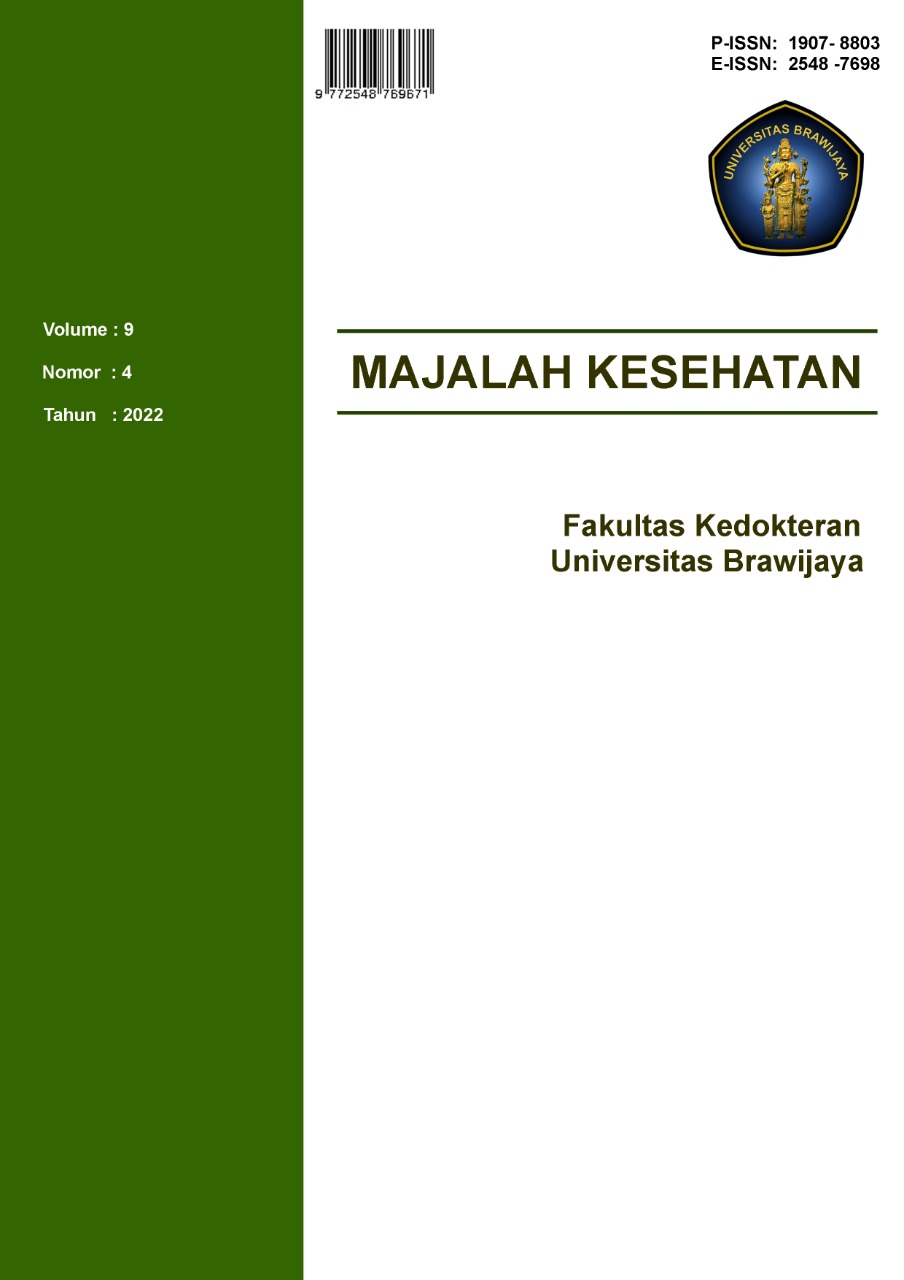 Downloads
License
Copyright (c) 2023 Majalah Kesehatan FKUB
This work is licensed under a Creative Commons Attribution-NonCommercial 4.0 International License.
This work is licensed under a
Creative Commons Attribution-NonCommercial 4.0 International License