KORELASI ANTARA TEKANAN DARAH DENGAN KADAR MIKROALBUMINURIA PADA PENDERITA DIABETES MELITUS TIPE 2 ETNIS JAWA
Keywords:
diabetes mellitus tipe 2, etnis Jawa, kadar mikroalbuminuria, tekanan darah
Abstract
Kasus diabetes melitus tipe 2 (DMT2) pada etnis Jawa selalu meningkat. Peningkatan tekanan darah pada pasien DMT2 dapat menyebabkan kerusakan endotel glomerulus, bila dibiarkan dapat menyebabkan komplikasi berupa nefropati diabetik dan gagal ginjal. American Diabetes Association (ADA) merekomendasikan pasien DMT2 dengan hipertensi untuk melakukan cek rutin kadar mikroalbuminuria guna mencegah timbulnya komplikasi berupa nefropati diabetika. Penelitian ini bertujuan untuk mengetahui korelasi antara tekanan darah dengan kadar mikroalbuminuria pada pasien DMT2 etnis Jawa. Penelitian ini merupakan penelitian cross-sectional menggunakan data rekam medis dari 31 subjek pada periode penelitian Desember 2021 di Puskesmas Pandanaran, Puskesmas Purwoyoso, dan Puskesmas Gunungpati Kota Semarang. Hasil penelitian menunjukkan rerata kadar mikroalbuminuria pasien adalah 283,166 g/dl, rerata tekanan darah sistolik 134,39 mmHg, dan rerata tekanan darah diastolik 79,54 mmHg. Hasil analisis diperoleh adanya korelasi lemah antara tekanan darah sistolik dengan kadar mikroalbuminuria (p = 0,001, r = 0,567) dengan pola korelasi positif, namun tidak terdapat korelasi antara tekanan darah diastolik dengan kadar mikroalbuminuria (p = 0,463, r = 0,137). Disimpulkan bahwa peningkatan tekanan darah sistolik akan diikuti dengan peningkatan kadar mikroalbuminuria pada penderita DM tipe 2 etnis Jawa.
References
International Diabetes Federation. IDF Diabetes Atlas. 9th Edition. Brussels: International Diabetes Federation. 2019. P 168.
Pangribowo S. Infodatin: Tetap Produktif, Cegah, dan Atasi Diabetes Melitus. Jakarta: Pusat Data dan Informasi Kementerian Kesehatan RI. 2020.
Handayani OWK, Nugroho E, Hermawati B. Determinant of Diabetes Mellitus Focusing on Differences of Indonesian Culture: Case Studies in the Java and Outer Java Region in Indonesia. Open Public Health J. 2020; 13(1):323–40.
Tursinawati Y, Hakim RF, Rohmani A, Kartikadewi A, Sandra F. CAPN10 SNP-19 is Associated with Susceptibility of Type 2 Diabetes Mellitus: A Javanese Case-Control Study. Indones Biomed J. 2020; 12(2):109–14.
Ishak AR, Puspitaningrum R, Utari RD, Ferania MF, Adhiyanto C, Nitta T, Susanto AB, Yukio H, Yamashiro H. Mutation of mtDNA ND1 Gene in 20 Type 2 Diabetes Mellitus Patients of Gorontalonese and Javanese Ethnicity. Hayati J Biosci. 2014; 21(4):159–65.
Soelistijo SA, Lindarto D, Decroli E, Permana H, Sucipto KW, Kusnadi Y, Budiman, Ikhsan R, Sasiarini L, Sanusi H. Pedoman Pengelolaan dan Pencegahan Diabetes Melitus Tipe 2 Dewasa di Indonesia 2019. PB Perkeni. 2019. Hlm. 1–117.
Naseri MW, Esmat HA, Bahee MD. Prevalence of Hypertension in Type-2 Diabetes Mellitus. Ann Med Surg (Lond). 2022; 78:103758. doi: 10.1016/j.amsu.2022.103758.
Verdiansyah. Pemeriksaan Fungsi Ginjal. CDK-237. 2016; 43(2):148–54.
Komariah K, Rahayu S. Hubungan Usia, Jenis Kelamin dan Indeks Massa Tubuh dengan Kadar Gula Darah Puasa pada Pasien Diabetes Melitus Tipe 2 di Klinik Pratama Rawat Jalan Proklamasi, Depok, Jawa Barat. J Kesehat Kusuma Husada. 2020; Januari:41–50.
De Paoli M, Werstuck GH. Role of Estrogen in Type 1 and Type 2 Diabetes Mellitus: A Review of Clinical and Preclinical Data. Can J Diabetes. 2020; 44(5):448–52.
Alicic RZ, Rooney MT, Tuttle KR. Diabetic Kidney Disease. Clin J Am Soc Nephrol. 2017; 12(12):2032–45.
Pudota PN, Vedamanickam R. Prevalence of Microalbuminuria in Hypertension Patients and Its Correlation with the Severity of Hypertension and End Organ Damage. J Res Med Dent Sci. 2021; 9(5):227–33.
Kitagawa N, Kitagawa N, Ushigome E, Ushigome H, Yokota I, Nakanishi N, Hamaguchi M, Asano M, Yamazaki M, Fukui M. Impact of Isolated High Home Systolic Blood Pressure and Diabetic Nephropathy in Patients with Type 2 Diabetes Mellitus: A 5-Year Prospective Cohort Study. J Clin Med. 2021; 10(9): 1929. doi: 10.3390/jcm10091929.
Azam M, Hidayati FN, Fibriana AI, Bahrudin U, Aljunid SM. Prevalence of Isolated Systolic Hypertension among People with Diabetes in Indonesia. medRxiv. 2020; (Dm):2020.11.25.20238683.
Setiati S, Alwi I, Sudoyono, AW, Simadibrata K, Bambang S, Syam AF. Ilmu Penyakit Dalam. 6th Edition. Interna Publishing. 2014. Hlm. 4125–4129.
van Buren PN, Toto R. Hypertension in Diabetic Nephropathy: Epidemiology, Mechanisms, and Management. Adv Chronic Kidney Dis. 2011; 18(1):28–41.
Nazar CMJ. Mechanism of Hypertension in Diabetic Nephropathy. J Nephropharmacology. 2014; 3(2):49–55.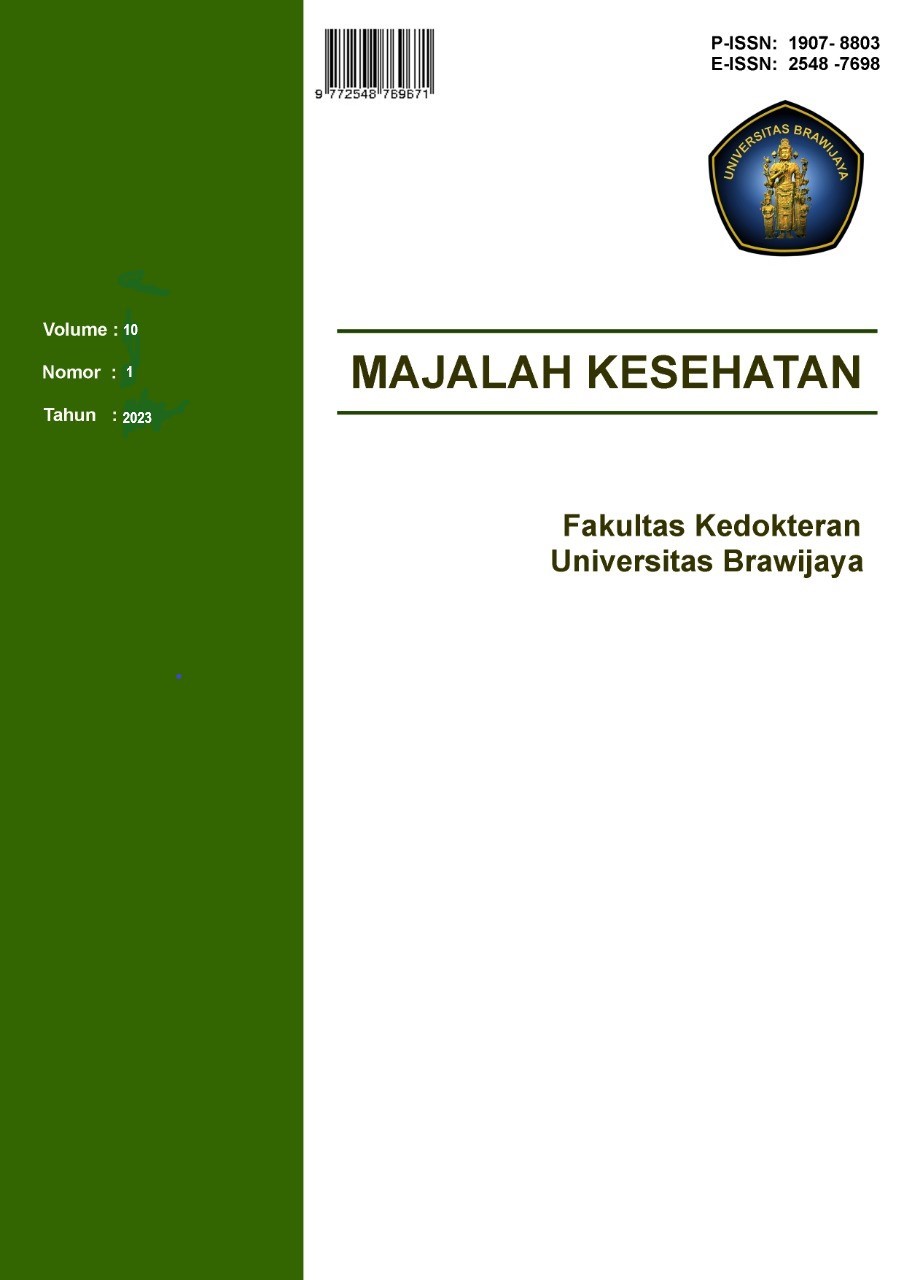 Downloads
How to Cite
Nurdiana, R. H., Setyoko, & Yanuarita Tursinawati. (2023). KORELASI ANTARA TEKANAN DARAH DENGAN KADAR MIKROALBUMINURIA PADA PENDERITA DIABETES MELITUS TIPE 2 ETNIS JAWA. Majalah Kesehatan, 10(1), 11–16. https://doi.org/10.21776/majalahkesehatan.2022.010.01.2
Section
Original Research Article
License
Copyright (c) 2023 Majalah Kesehatan
This work is licensed under a Creative Commons Attribution-NonCommercial 4.0 International License.