FAKTOR YANG BERHUBUNGAN DENGAN LAMA RAWAT INAP PADA BALITA DENGAN DIARE AKUT DI RSUD ABDOEL WAHAB SJAHRANIE SAMARINDA
Keywords:
balita, diare akut, lendir/darah feses, leukosit feses, lama rawat inap
Abstract
Diare akut merupakan masalah kesehatan masyarakat global maupun lokal karena angka mortalitasnya yang tinggi khususnya pada anak di bawah lima tahun (balita). Terdapat berbagai faktor yang memengaruhi proses penyembuhan balita dengan diare akut dan jika tidak ditangani dengan tepat dapat memperpanjang lama rawat inap pasien. Hal ini dapat menurunkan efisiensi pelayanan rawat inap serta menambah beban biaya perawatan yang harus ditanggung pasien dan rumah sakit. Penelitian ini bertujuan untuk mengetahui faktor yang berhubungan dengan lama rawat inap pada balita dengan diare akut di RSUD Abdoel Wahab Sjahranie, Samarinda. Desain penelitian adalah analitik observasional dengan pendekatan studi potong-lintang. Pengumpulan data dari rekam medis pasien RSUD Abdoel Wahab Sjahranie Samarinda periode 2019-2021 secara purposive sampling. Sampel penelitian sebanyak 64 pasien berusia 6-59 bulan dengan diagnosis diare akut dan dirawat inap <14 hari serta memiliki catatan rekam medis yang lengkap sesuai variabel penelitian. Mayoritas sampel pada kelompok usia 6-23 bulan, status gizi normal, dengan derajat dehidrasi ringan-sedang, tidak anemia, feses tanpa lendir/darah, leukosit feses dalam ambang normal, mendapatkan terapi zink saja, serta mengalami pemanjangan lama rawat inap. Hasil analisis bivariat menggunakan uji Chi-Square menunjukkan adanya hubungan yang bermakna antara status gizi (p = 0,041), kadar hemoglobin (p = 0,011), lendir/darah pada feses (p = 0,002) dan leukosit pada feses (p = 0,004) dengan lama rawat inap pada balita dengan diare akut. Kesimpulannya, status gizi, kadar hemoglobin, lendir/darah pada feses, serta leukosit pada feses berhubungan dengan lama rawat inap pada balita dengan diare akut.
References
Ikatan Dokter Anak Indonesia (IDAI). Buku Ajar Gastroenterologi-Hepatologi. Edisi ke-1. Jakarta: Badan Penerbit IDAI. 2015. Hlm. 87–120.
World Health Organisation (WHO). Diarrhoeal Disease. (Online). 2017. P. 1–4. Available from: https://www.who.int/news-room/fact-sheets/detail/diarrhoeal-disease. [cited 2022 Mar 8].
Kementerian Kesehatan RI. Profil Kesehatan Indonesia Tahun 2019. Jakarta: Kementerian Kesehatan RI. 2019. Hlm. 119–122.
Dinas Kesehatan Provinsi Kalimantan Timur. Profil Kesehatan Provinsi Kalimantan Timur 2019. Samarinda: Dinas Kesehatan Provinsi Kalimantan Timur. 2020. Hlm. 31–32.
Dipasquale V, Cucinotta U, Romano C. Acute Malnutrition in Children: Pathophysiology, Clinical Effects and Treatment. Nutrients. 2020; 12(8):1–9.
Budihardjo SN, Suryawan IWB, Sucipta AAM. The Relationship between Nutritional Status with Length of Stay in 1-5 Years Old Children with Diarrhea at Wangaya General Hospital Denpasar. Indones J Biomed Sci. 2020; 14(2):113. doi: https://doi.org/10.15562/ijbs.v14i2.274
Vega R, Avva U. Pediatric Dehydration. (Online). StatPearls. 2022 Available from: https://www.ncbi.nlm.nih.gov/books/NBK436022/. [cited 2022 Mar 30].
Anigilaje EA. Management of Diarrhoeal Dehydration in Childhood: A Review for Clinicians in Developing Countries. Front Pediatr. 2018; 6:28. doi: 10.3389/fped.2018.00028. eCollection 2018.
dos Santos RF, Gonzalez ESC, de Albuquerque EC, de Arruda IKG, Diniz A da S, Figueroa JN, et al. Prevalence of Anemia in Under Five-Year-Old Children in a Children's Hospital in Recife, Brazil. Rev Bras Hematol Hemoter. 2011; 33(2):100-4. doi: 10.5581/1516-8484.20110028.
Latif HA. Terapi Suplementasi Zink dan Probiotik pada Pasien Diare. J Agromed Unila. 2015; 2(4):1–5.
Amin LZ. Tatalaksana Diare Akut. CDK-230. 2015; 42(7):504–8.
Barr W, Smith A. Acute Diarrhea in Adults. Am Fam Physician. 2014; 89(3):180–9.
Mahendradhata Y, Trisnantoro L, Lis-tyadewi S, Soewondo P, MArthias T, Harimurti P, et al. The Republic of Indonesia Health System Review. Health System in Transition. 2017. Vol 7. Nomor 1. https://apps.who.int/iris/bitstream/handle/10665/254716/9789290225164-eng.pdf?sequence=1&isAllowed=y.
Widiantari GAD, Widarsa KT. Lama Rawat Inap Penderita Diare Akut Pada Anak Usia di Bawah Lima Tahun dan Faktor yang Berpengaruh di Badan Rumah Sakit Umum Tabanan Tahun 2011. Community Health (Bristol). 2013; I(1):18–28.
Poerwati E. Determinan Lama Rawat Inap Pasien Balita dengan Diare. J Kedokt Brawijaya. 2013; 27(4):241–4.
Moraes-Pinto MI de, Suano-Souza F, Aranda CS. Immune System: Development and Acquisition of Immunological Competence. J Pediatr (Rio J). 2021; 97:S59–66.
Fischer H-T, Elliot L, Bertrand SL. Guidance Note: Protection of Children During Infectious. (Online). 2018. Alliance Child Prot Humanit Action. Available from: https://resourcecentre.savethechildren.net/node/13328/pdf/protection_of_children_during_infectious_disease_outbreak_guidance_note.pdf.
Strand TA, Sharma PR, Gjessing HK, Ulak M, Chandyo RK, Adhikari RK, et al. Risk Factors for Extended Duration of Acute Diarrhea in Young Children. PLoS One. 2012; 7(5):3–8. doi: https://doi.org/10.1371/journal.pone.0036436.
Wijaya D, Dhamayanti M, Gondodiputro S. Pola Pemberian ASI dan Diare pada Anak Usia 6–24 Bulan. Maj Kedokt Bandung. 2017; 49(3):165–71. doi: https://doi.org/10.15395/mkb.v49n3.1118
Yitayih G, Belay K, Tsegaye M. Assessment of Hygienic Practice on Complementary Food among Mothers Assessment of Hygienic Practice on Complementary Food among Mothers with 6 – 24 Months Age Living Young Children in Mohoni Town , North Eastern Ethiopia , 2015. Res Rev Immunol. 2016;6(1):1-6.
Iskandar WJ, Sukardi I wayan, Soenarto Y. Risk of Nutritional Status on Diarrhea among Under Five Children. Paediatr Indones. 2015; 55(4):235. doi: https://doi.org/10.14238/pi55.4.2015.235-8
World Health Organization. Nutritional Anaemias : Tools for Effective Prevention. World Health Organization. 2017. P. 1–83.
Ganz T. Anemia of Inflammation. N Engl J Med. 2019;381(12):1148–57. doi: 10.1056/NEJMra1804281.
Kliegman R, Stanton B, St.Geme J, Schor N. Nelson Textbook of Pediatrics. 20th ed. Philadelphia: Elsevier; 2015.
Duah HO, Amankwa CE, Adomako I, Owusu B, Agbadi P. Comorbid Patterns of Anaemia and Diarrhoea among Children Aged Under 5 Years in Ghana: a Multivariate Complex Sample Logistic Regression Analysis and Spatial Mapping Visualisation. Int Health. 2021; 13(6):562–72. doi: 10.1093/inthealth/ihaa099.
Herman P, Sari P. Correlation Between Hematocrite and Hemoglobin Count with Hospitalisazion Duration of Acute Diarrheal Children Patients in Undata General Hospital Year 2014. Med Tadulako. 2016;3(3):20–30.
Joo EY, Kim KY, Kim DH, Lee JE, Kim SK. Iron Deficiency Anemia in Infants and Toddlers. Blood Res. 2016; 51(4):268–73. doi: 10.5045/br.2016.51.4.268
Reynaldo IGMF. Faktor-Faktor yang Berhubungan dengan Lama Rawat Inap pada Pasien Anak yang Mengalami Diare Akut di RS Kristen Mojowarno Jombang Jawa Timur. Skripsi. Yogyakarta: Universitas Kristen Duta Wacana. 2018.
Imanadhia A, Ranuh IRG, Nuswantoro D. Etiology Based on Clinical Manifestation of Acute Diarrhea Incidence of Children Hospitalized in Dr. Soetomo General Hospital Surabaya Period 2011-2013. Biomol Heal Sci J. 2019; 2(1):31. doi: https://doi.org/10.20473/bhsj.v2i1.12744
Ikatan Dokter Indonesia. Panduan Praktik Klinis Bagi Dokter di Fasilitas Pelayanan Kesehatan Primer. Jakarta: Pengurus Besar IDI. 2017.
Hegar B. Performance of Fecal Leucocyte Test in Predicting Infection in the Gastrointestinal Tract of Children. Indones J Gastroenterol Hepatol Dig Endosc. 2017; 18(2):65.
Shane AL, Mody RK, Crump JA, Tarr PI, Steiner TS, Kotloff K, et al. 2017 Infectious Diseases Society of America Clinical Practice Guidelines for the Diagnosis and Management of Infectious Diarrhea. Clin Infect Dis. 2017; 65(12):e45–80. doi: 10.1093/cid/cix669.
Kuşkonmaz B, Yurdakök K, Yalçin SS, Özmert E. Comparison of Acute Bloody and Watery Diarrhea: A Case Control Study. Turk J Pediatr. 2009; 51(2):133–40.
Azim MA, Doza B, Iqbal S, Chowdhury F, Biswas SK. Comparative Evaluation on the Effect of Zinc-Probiotic and Zinc The-rapy in Pediatric Acute Gastroenteritis. Chattagram Maa-O-Shishu Hosp Med Coll J. 2020; 19(1):74–7. doi: https://doi.org/10.3329/cmoshmcj.v19i1.48809
Rahmayani, Salwan H, Bakri A, Husin S. Efek Pemberian Kombinasi Zinc dan Probiotik Terhadap Lama dan Frekuensi Diare Pada Penderita Diare Akut. Maj Kedokt Sriwij. 2014;(3):181–5. doi: https://doi.org/10.36706/mks.v46i3.2702.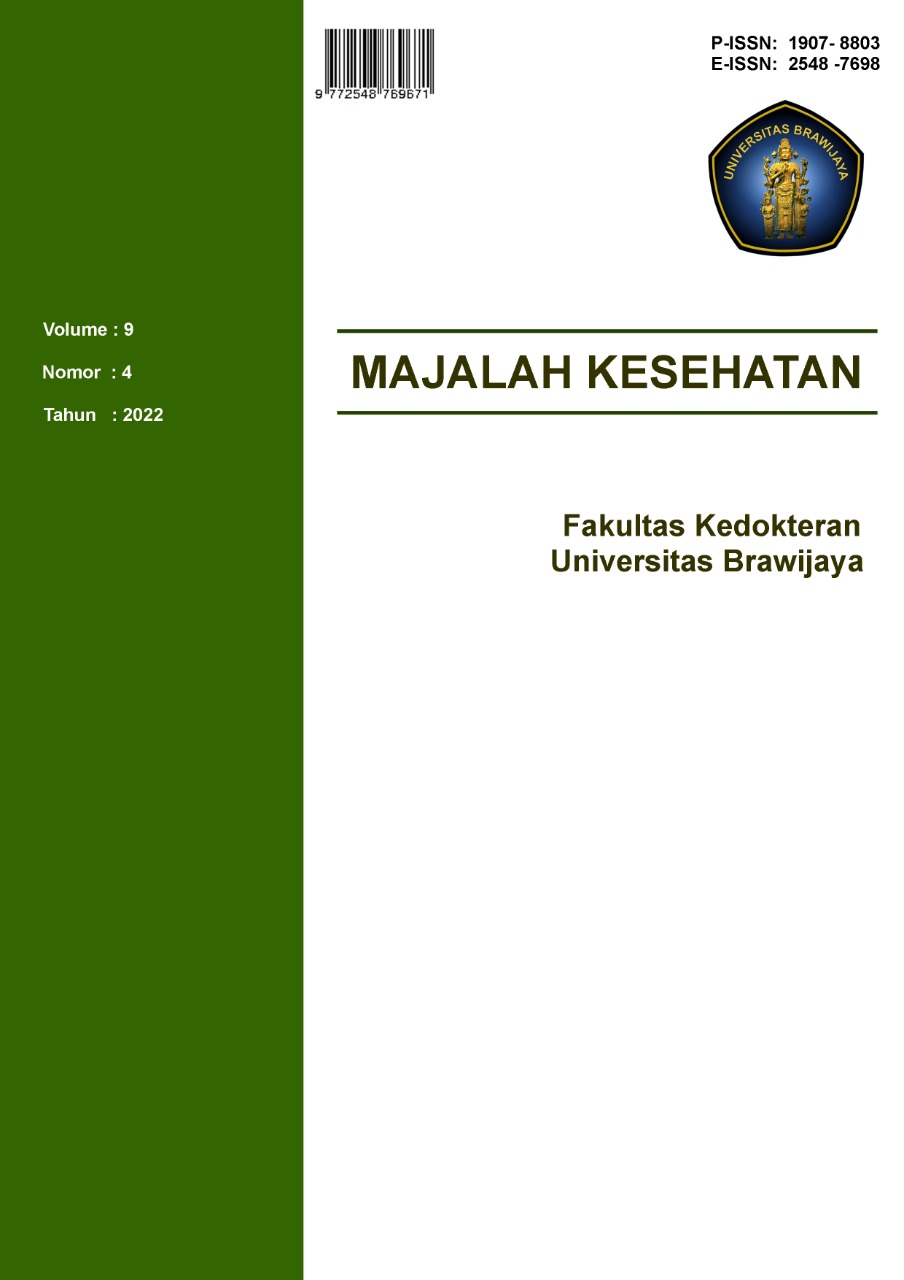 Downloads
Section
Original Research Article
License
Copyright (c) 2023 Majalah Kesehatan FKUB
This work is licensed under a Creative Commons Attribution-NonCommercial 4.0 International License.