HUBUNGAN TUMOR INFILTRATING LYMPHOCYTE CD8+ DENGAN USIA, GRADING, EKSPRESI HER2 DAN Ki67 PADA INVASIVE BREAST CARCINOMA OF NO SPECIAL TYPE DI RSUD dr. SAIFUL ANWAR MALANG
Keywords:
grading histopatologi, HER2, invasive breast carcinoma of no special type (IBC of NST), Ki67, tumor infiltrating lymphocytes (TIL) CD8
Abstract
Invasive breast carcinoma of no special type (IBC of NST) merupakan kelompok neoplasma epitelial ganas kelenjar payudara dengan angka kejadian kanker tertinggi pada wanita. Tumor infiltrating lymphocytes (TIL) CD8+ dianggap sebagai kelompok sel T yang berperan dalam reaktifitas imun spesifik melawan sel kanker. Kelompok TIL CD8+ merupakan komponen yang berperan dalam imunitas adaptif spesifik. Infiltrasi TIL CD8+ pada stroma tumor berkaitan dengan prognosis yang menguntungkan dan dapat memprediksi hasil terapi pada pasien. Infiltrasi limfosit sangat berkaitan dengan prognosis ekspresi human epidermal growth factor receptor 2 (HER2) serta terkait dengan jumlah total TIL CD8+. Penelitian ini bertujuan untuk membuktikan hubungan antara TIL CD8+ dengan usia penderita, grading histopatologi, ekspresi HER2, dan ekspresi Ki67 pada IBC of NST. Desain penelitian adalah observasional analitik menggunakan 44 sampel blok parafin pada penderita IBC of NST di Instalasi Patologi Anatomi RSUD Dr. Saiful Anwar Malang dengan mengukur ekspresi TIL CD8+ pada stromal dan intumoral, dihubungkan dengan usia, grading histopatologi, ekspresi HER2 dan ekspresi Ki67. Hasil penelitian menunjukkan tidak didapatkan hubungan yang bermakna antara usia dengan ekspresi TIL CD8+ (TIL CD8+ stromal p = 0,052, TIL CD8+ intratumoral p = 0,371), grading histopatologi (TIL CD8+ stromal p = 0,264, TIL CD8+ intratumoral p = 0,820), ekspresi HER2 (TIL CD8+ stromal p = 0,228, TIL CD8+ intratumoral p = 0,526), dan ekspresi Ki67 (TIL CD8+ stromal p = 0,490, TIL CD8+ intratumoral p = 0,829).  Kesimpulannya, tidak didapatkan hubungan antara TIL CD8+ dengan usia penderita, grading histopatologi, ekspresi HER2 dan ekspresi Ki67 pada penderita IBC of NST.  
References
Makki J. Diversity of Breast Carcinoma: Histological Subtypes and Clinical Relevance. Clin Med Insights Pathol. 2015; 8: 23–31.
Kumar, Abbas, Aster. Robbins and Cotran: Pathologic Basic of Disease. Ninth Edition. Elsevier Sounders. 2015. P. 1043-1070.
Koriawan MACN, Susraini AAAN, Sriwidyani NP. Tidak Terdapat Hubungan Negatif Tumor Infiltrating Lymphocytes dengan Derajat Histopatologi Karsinoma Invasif Tipe Tidak Spesifik pada Payudara di RSUP Sanglah Tahun 2016. Jurnal Medika Udayana. 2019; 8(7).
Mahmoud SMA, Paish EC, Powe DG, Macmillan RD, Grainge MJ, Lee AHS, Ellis IO, and Green AR. Tumor-Infiltrating CD8 Lymphocytes Predict Clinical Outcome in Breast Cancer. Journal of Clinical Oncology. 2011; 29(29): 1949-1955
Ravelli A, Roviello G, Cretella D, Cavazzoni A, Biondi A, Cappelletti MR, Zanotti L et al. Tumor-Infiltrating Lymphocite and Breast Cancer: Beyond the Prognostic and Predictive utility. Review: Tumor Bio-logy. 2017: 1-8. https://doi.org/10.1177%2F1010428317695023.
Aleskandarany MA, Green AR, Benhasouna AA, Barros FF, Neal K, Reis-Filho JS, Ellis IO, Rakha EA. Prognostic Value of Proliferation Assay in the Luminal, HER2-Positive, and Triple-Negative Biologic Classes of Breast Cancer. Breast Cancer Res. 2012; 14(1): R3. doi: 10.1186/bcr3084
Tan PH, Ellis I, Allison K, Brogi E, Fox SB, Lakhani S et al. The 2019 World Health Organization Classification of Tumours of the Breast. Histopathology. 2020; 77(2):181-185. doi: 10.1111/his.14091.
Nishimura R, Osako T, Okumura Y, Hayashi M, Toyozumi Y, Arima N. Ki-67 as a Prognostic Marker According to Breast Cancer Subtype and a Predictor of Recurrence Time in Primary Breast Cancer. Exp Ther Med. 2010; 1(5):747-754. doi: 10.3892/etm.2010.133.
Yerushalmi R, Woods R, Ravdin PM, Hayes MM, Gelmon KA. Ki67 in Breast Cancer: Prognostic and Predictive Potential. Lancet Oncol. 2010; 11:174–83. doi: 10.1016/S1470-2045(09)70262-1.
Nahed AS, Shaimaa MY. Ki-67 as a Prognostic Marker According to Breast Cancer Molecular Subtype. Cancer Biol Med. 2016; 13(4): 496–504. doi: 10.20892/j.issn.2095-3941.2016.0066.
Fajri MS. Immunosenescence: Penuaan pada Sel Makrofag. Jurnal Ilmu Kedokteran. 2019; 13(1): 11-19.
Chen Z, Chen X, Zhou E, Chen G, Qian K,Xia W et al. Intratumoral CD8+ Cytotoxic Lymphocyte Is a Favorable Prognostic Marker in Node-Negative Breast Cancer. PLoS ONE. 2014; 17;9(4):e95475. doi: 10.1371/journal.pone.0095475. eCollection 2014.
Macchetti AH, Marana HR, Silva JS et al. Tumor-Infiltrating CD4+ T Lymphocytes in Early Breast Cancer Reflect Lymph Node Involvement. Clinics (Sao Paulo). 2006; 61(3):203-8. doi: 10.1590/s1807-59322006000300004.
Gede T, Ida B, I Ketut W. Hubungan Ekspresi Tumor Infiltrating Lymphocytes dengan Klinikopatologi pada Subtipe Luminal A dan Triple Negative Kanker Payudara di Bali . Jurnal Bedah Nasional (JBN). 2020; 4(2): 43-54.
Blessin NC, Li W, Mandelkow T, Jansen HL, Yang C, Raedler JB. Prognostic Role of Proliferating CD8+ Cytotoxic T Cells in Human Cancers. Cellular Oncology. 2021; 44:793–803. https://doi.org/10.1007/s13402-021-00601-4
Gunawan IPA. Hubungan Antara Tumor Infiltrating Lymphocytes dengan Gambaran Klinikopatologis pada Pasien Triple Negative Breast Cancer di Bali. Skripsi. Denpasar: Universitas Udayana. 2015.
Barnes TA, Amir E. Hype or Hope: the Prognostic Value of Infiltrating Immune Cells in Cancer. British Journal of Cancer. 2017; 117: 451–460.
Loi S. Host Antitumor Immunity Plays a Role in the Survival of Patients with Newly Diagnosed Triple-Negative Breast Cancer. J Clin Oncol. 2014; 32(27):2935-7. doi: 10.1200/JCO.2014.56.7677.
Jing Z, Jane M, Yi G, Rita N, Kung L, Limin P et al . Evaluation of PD‑L1, Tumor‑Infltrating Lymphocytes, and CD8+ and FOXP3+ Immune Cells in HER2‑positive Breast Cancer Treated with Neoadjuvant Therapies. Breast Cancer Research and Treatment. 2020. https://doi.org/10.1007/s10549-020-05819-8
Song Q, Shi F, Adair M, Chang H, Guan X, Zhao Y et al. Cell Counts, Rather Than Proportion, of CD8/PD-1 Tumor Infiltra-ting Lymphocytes in a Tumor Microenvironment Associated with Pathological Characteristics of Chinese Invasive Ductal Breast Cancer. Journal of Immunology Research. 2019; Article ID 8505021: 8 pages. https://doi.org/10.1155/2019/8505021
Rosa FD, Cossarizza A, Hayday AC. 2021. To Ki or Not to Ki: Re-Evaluating the Use and Potentials of Ki-67 for T Cell Analysis. Front Immunol. 2021; 12:653974. doi: 10.3389/fimmu.2021.653974. eCollection 2021.
Kim ST, Jeong H, Woo OH, Seo JH, Kim A, Lee ES, et al. Tumour-Infiltrating Lymphocytes, Tumour Characteristics, and Recurrence in Patients with Early Breast Cancer. Am J Clin Oncol. 2013; 36(3):224-31. doi: 10.1097/COC.0b013e3182467d90.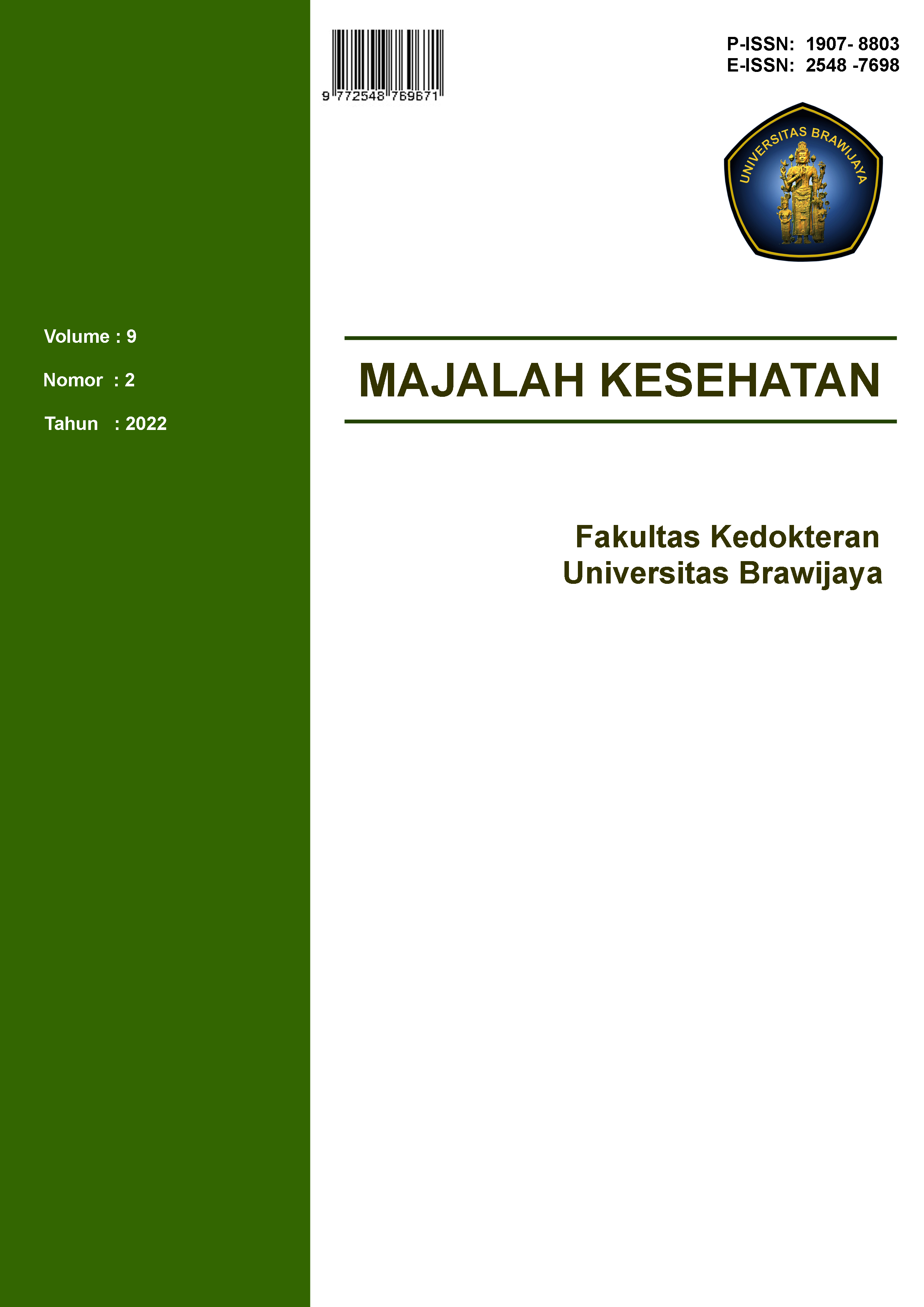 Downloads
License
Copyright (c) 2022 Majalah Kesehatan FKUB
This work is licensed under a Creative Commons Attribution-NonCommercial 4.0 International License.
This work is licensed under a
Creative Commons Attribution-NonCommercial 4.0 International License