PERBANDINGAN TRIAGE EARLY WARNING SCORE, NATIONAL EARLY WARNING SCORE, RAPID EMERGENCY MEDICINE SCORE, DAN MODIFIED EARLY WARNING SCORE DALAM MEMPREDIKSI TINGKAT KEMATIAN PASIEN TRAUMA DI IGD RSUD DR. SAIFUL ANWAR MALANG
Keywords:
early warning score, pasien trauma, prediksi mortalitas, Instalasi Gawat Darurat
Abstract
Pasien dengan kondisi kritis yang datang ke Instalasi Gawat Darurat (IGD) seringkali menunjukkan tanda penurunan kondisi klinis  yang jelas dan 80% dari tanda tersebut dapat dikenali lebih awal dalam 24 jam sebelum kondisi pasien semakin memburuk. Trauma merupakan penyebab kematian utama pada pasien dengan usia  di bawah 45 tahun yang datang ke IGD. Penggunaan early warning scoring seperti Triage Early Warning Score (TREWS), National Early Warning Score (NEWS), Rapid Emergency Early Warning Score (REMS) dan Modified Early Warning Score (MEWS) dilakukan untuk memprediksi risiko perburukan yang terjadi pada pasien yang datang ke IGD. Penelitian ini bertujuan untuk menganalisis perbedaan kemampuan TREWS, NEWS, MEWS, dan REMS dalam memprediksi risiko kematian pasien trauma dewasa di ruang triase IGD RSUD dr. Saiful Anwar (RSSA), Malang. Rancangan penelitian adalah observasional analitik dengan pendekatan cross-sectional. Nilai area under curve (AUC) dari skor TREWS, NEWS, REMS, dan MEWS dihitung dengan mengolah data yang didapatkan dari 428 pasien dewasa (≥ 17 tahun) yang datang ke IGD RSSA dengan kondisi trauma pada periode bulan Juli - September 2021.  Hasil penelitian menunjukkan bahwa nilai AUC dari keempat skoring mempunyai nilai yang tidak jauh berbeda satu sama lain (p < 0,001) dengan interpretasi sangat baik. Nilai AUC tertinggi didapatkan pada skoring TREWS, namun skoring REMS lebih aplikatif karena parameter yang digunakan merupakan parameter rutin yang dilakukan di ruang triase IGD RSSA Malang. Dapat disimpulkan bahwa keempat skoring memiliki kemampuan yang hampir sama dalam memprediksi mortalitas pasien trauma dewasa di ruang triase IGD RSSA Malang dengan skoring yang memiliki nilai AUC tertinggi yaitu TREWS.  
References
Hidayati AN, Akbar MIA, dan Rosyid AN (Editor). Gawat Darurat Medis dan Bedah. Surabaya: Airlangga University Press. 2018. Tersedia pada: adm@aup.unair.ac.id.
Dinas Kependudukan dan Pencatatan Sipil Provinsi DKI Jakarta. Kelahiran dan Kematian di Provinsi DKI Jakarta Tahun 2015. (Online). 2015. Tersedia pada: data.jakarta.go.id/dataset/angkakelahirankematiandanharapanhidupdidkijakarta.
Dahliana N dan Widaryanti. Pasien Trauma dan Non Trauma di IGD RS PKU Muhammadiyah. 2015. Hlm 1.
Zafar H. Rehmani A, Raja A, Ahmed M. Registry Based Trauma Outcome: Perspective of A Developing Country. Emerg Med J. 2002; 19(5):391–394. doi: 10.1136/emj.19.5.391.
Rocha TF, da Neves JG, Viegas K. Modified Early Warning Score: Evaluation of Trauma Patients. Revista Brasileira de Enfermagem. 2016; 69(5):906–911. doi: 10.1590/0034-7167-2015-0145.
Gerry S, Birks J, Bonnici T, Watkinson PJ, Kirtley S, Collins GS. Early Warning Scores for Detecting Deterioration in Adult Hospital Patients: A Systematic Review Protocol. BMJ Open. 2017; 7(12):1–6. doi: 10.1136/bmjopen-2017-019268.
Lee SB, Kim DH, Kim T, Kang C. Triage in Emergency Department Early Warning Score (TREWS) is Predicting In-Hospital Mortality in The Emergency Department. American Journal of Emergency Medicine. 2019; 38(2):203–210. doi: 10.1016/j.ajem.2019.02.004.
Royal College of Physicians. National Early Warning Score (NEWS) Standardising the Assessment of Acute-Illness Severity in The NHS Updated Report of A Working Party Executive Summary and Recommendations. (Online). 2017. P. 1–15. Tersedia pada: www.rcplondon.ac.uk.
Abdelwahab R, Yang H, Teka HG. A Quality Improvement Study of The Emergency Centre Triage in A Tertiary Teaching Hospital in Northern Ethiopia. African Journal of Emergency Medicine. 2017; 7(4):160–166. doi: 10.1016/j.afjem.2017.05.009.
Torun G dan Durak VA. The Predictive Value of Triage Early Warning Score (TEWS) on Mortality of Trauma Patients Presenting to The Emergency Department. Annali Italiani di Chirurgia. 2019; 90:152–156.
Jiang X, Jiang P. Mao Y. Performance of Modified Early Warning Score (MEWS) and Circulation, Respiration, Abdomen, Motor, and Speech (CRAMS) Score in Trauma Severity and in-Hospital Mortality Prediction in Multiple Trauma Patients: A Comparison Study. PeerJ, 2019; 25;7:e7227. doi: 10.7717/peerj.7227. eCollection 2019.
Imhoff BF. Thompson NJ, Hastings MA, Nazir N, Moncure M, Cannon CM. Rapid Emergency Medicine Score (REMS) in The Trauma Population: A Retrospective Study. BMJ Open. 2014; 4(5):1–7. doi: 10.1136/bmjopen-2013-004738.
Bulut M, Cebicci H, Sigirli D, Sak A, Durmus O, Top AA, Kaya S, Uz K. The Comparison of Modified Early Warning Score with Rapid Emergency Medicine Score: A Prospective Multicentre Observational Cohort Study on Medical and Surgical Patients Presenting to Emergency Department. Emergency Medicine Journal. 2014; 31(6):476–481. doi: 10.1136/emermed-2013-202444.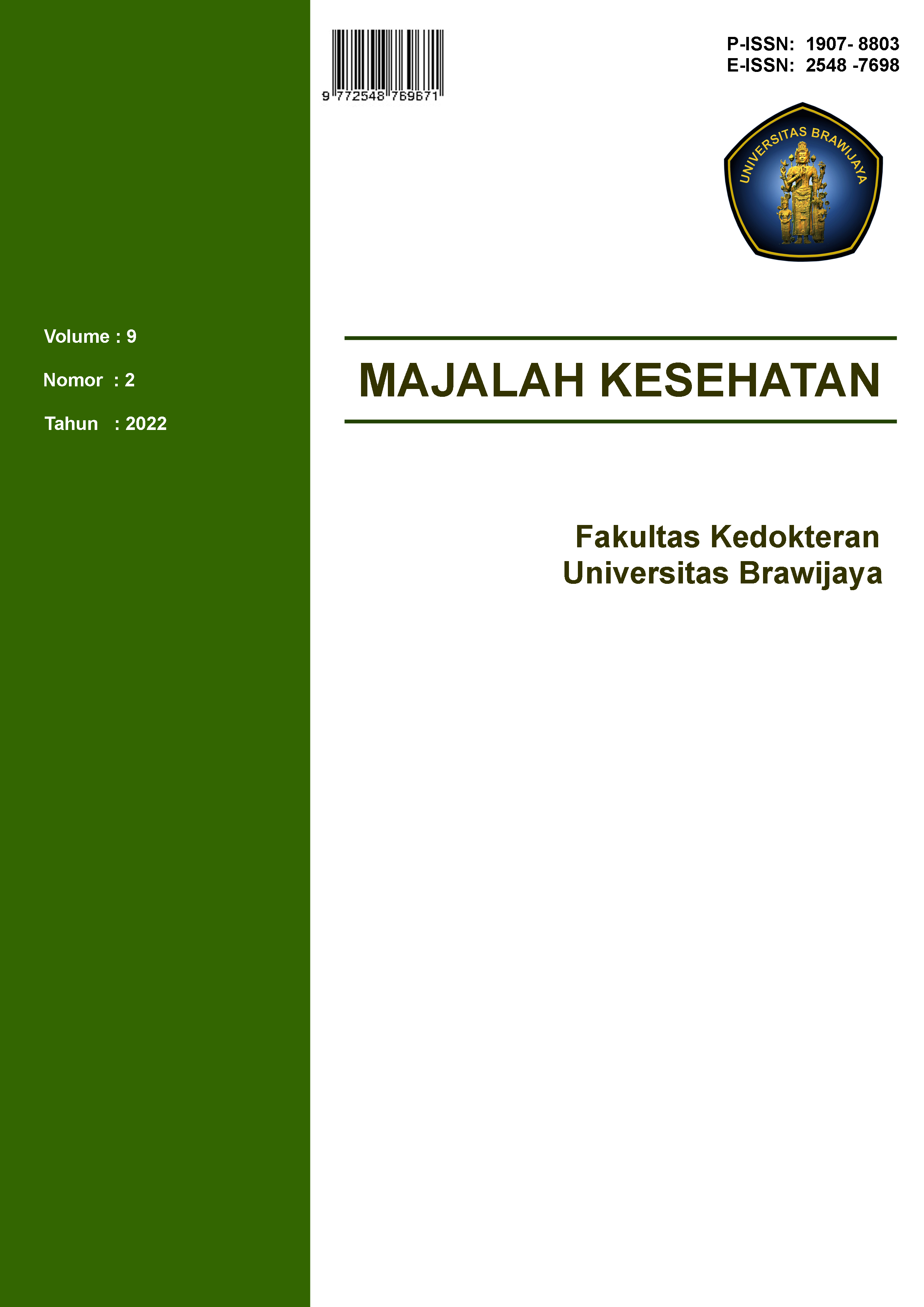 Downloads
License
Copyright (c) 2022 Majalah Kesehatan FKUB
This work is licensed under a Creative Commons Attribution-NonCommercial 4.0 International License.
This work is licensed under a
Creative Commons Attribution-NonCommercial 4.0 International License