ANALISIS FAKTOR-FAKTOR YANG BERPENGARUH TERHADAP PEMBENTUKAN IgG ANTI-SARS-CoV-2 PASCAVAKSINASI CoronaVac PADA MASYARAKAT KOTA CIMAHI
Keywords:
CoronaVac, COVID-19, SARS-CoV-2, vaksinasi
Abstract
Pemerintah Indonesia mewajibkan seluruh masyarakat termasuk penduduk kota Cimahi untuk melakukan vaksinasi dalam menurunkan angka kasus COVID-19 yang disebabkan oleh infeksi SARS-CoV-2. Respons imun pascavaksinasi dapat dipengaruhi oleh usia, indeks massa tubuh (IMT), dan riwayat infeksi. Penelitian ini bertujuan untuk mengetahui pengaruh usia, jenis kelamin, pekerjaan, IMT, riwayat infeksi, durasi vaksinasi, kejadian ikutan pascaimunisasi (KIPI) dan pola hidup terhadap pembentukan IgG anti-SARS-CoV-2 pascavaksinasi CoronaVac pada masyarakat Kota Cimahi. Sampel yang digunakan adalah 83 orang warga Kota Cimahi yang sudah mendapatkan vaksinasi CoronaVac dosis kedua. Titer IgG anti-SARS-CoV-2 dalam serum diukur menggunakan metode ELISA kuantitatif jenis sandwich. Data dianalisis menggunakan metode regresi linear berganda. Hasil menunjukkan bahwa kenaikan usia sebesar satu tahun menurunkan titer IgG anti-SARS-CoV-2 sebesar 0,08 U/ml. Kenaikan IMT sebesar satu poin menurunkan titer sebesar 0,2 U/ml. Riwayat infeksi meningkatkan titer sebesar 1,96 U/ml. Kenaikan durasi vaksinasi sebesar satu bulan menurunkan titer sebanyak 2,85 U/ml. Rutin berolah raga, mengonsumsi protein, vitamin C, dan D meningkatkan titer sebesar 0,88 U/ml, 0,68 U/ml, 0,17 U/ml, dan 0,34 U/ml. Usia, IMT, riwayat infeksi, durasi vaksinasi, dan pola hidup yang baik memiliki p-value ≤ 0,05. Dapat disimpulkan bahwa usia, IMT, riwayat infeksi, durasi vaksinasi, dan pola hidup yang baik memberikan pengaruh signifikan, sedangkan jenis kelamin, pekerjaan, dan KIPI tidak berpengaruh terhadap pembentukan IgG anti-SARS-CoV-2 pascavaksinasi CoronaVac pada sampel penelitian.
References
Huang C, Wang Y, Li X, Ren L, Zhao J, Hu Y, et al. Clinical Features of Patients Infected with 2019 Novel Coronavirus in Wuhan, China. The Lancet. 2020; 395(10223):497–506.
van Doremalen N, Bushmaker T, Morris DH, Holbrook MG, Gamble A, Williamson BN, et al. Aerosol and Surface Stability of SARS-CoV-2 as Compared with SARS-CoV-1. N Engl J Med. 2020; 382(16):1564–7.
Badan Litbangkes, Pusdatin dan Paskhas. Laporan Mingguan 24-30 Juli 2021. Jakarta: Kementerian Kesehatan Republik Indonesia; 2021.
Wong RSY. COVID-19 Vaccines and Herd Immunity: Perspectives, Challenges and Prospects. Malays J Pathol. 2021; 43(2):203–17.
Ophinni Y, Hasibuan AS, Widhani A, Maria S, Koesnoe S, Yunihastuti E, et al. COVID-19 Vaccines: Current Status and Implication for Use in Indonesia. Acta Medica Indonesiana The Indonesian Journal of Internal Medicine. 2020; 52(4):26.
Zhang Y, Zeng G, Pan H, Li C, Hu Y, Chu K, et al. Safety, Tolerability, and Immunogenicity of an INACTIvated SARS-CoV-2 Vaccine in Healthy Adults Aged 18–59 Years: a Randomised, Double-Blind, Placebo-Controlled, Phase 1/2 Clinical Trial. The Lancet Infectious Diseases. 2021; 21(2):181–92.
World Health Organization. Interim Recommendations for Use of the Inactivated COVID-19 Vaccine, CoronaVac, Developed by Sinovac. Jenewa: World Health Organization. 2021.
Jara A, Undurraga EA, González C, Paredes F, Fontecilla T, Jara G, et al. Effectiveness of an Inactivated SARS-CoV-2 Vaccine in Chile. N Engl J Med. 2021; 385(10):875–84.
Ranzani OT, Hitchings MDT, Dorion M, D'Agostini TL, Paula RC de, Paula OFP de, et al. Effectiveness of the CoronaVac Vaccine in Older Adults During a Gamma Variant Associated Epidemic of Covid-19 in Brazil: Test Negative Case-Control Study. BMJ. 2021; 374:n2015.
Uysal EB, Gümüş S, Bektöre B, Bozkurt H, Gözalan A. Evaluation of Antibody Response after COVID-19 Vaccination of Healthcare Workers. Journal of Medical Virology. 2022; 94(3):1060–6.
Cheng ZJ, Xue M, Zheng P, Lyu J, Zhan Z, Hu H, et al. Factors Affecting the Antibody Immunogenicity of Vaccines against SARS-CoV-2: A Focused Review. Vaccines. 2021; 9(8):869.
Heriyanto RS, Kurniawan A, Wijovi F, Halim DA, Jodhinata C, Marcella E, et al. The Role of COVID‐19 Survivor Status and Gender Towards Neutralizing Antibody Titers 1, 2, 3 Months after Sinovac Vaccine Administration on Clinical‐Year Medical Students in Indonesia. International Journal of Infectious Diseases. 2021; 113:336–8.
Santi T, Samakto BD, Kamarga L, Hidayat FK, Hidayat F. Factors Associated with SARS-CoV-2 Antibody Titer After Sinovac Vaccination Among Health Care Workers. Acta Medica Indonesiana. 2022; 53(4):374.
Cimahi City Statistics Center. Cimahi Municipality in Figure. Cimahi: Cimahi City Statistics Center. 2021.
Nugraha R. Cimahi Klaim Angka Vaksinasi Sentuh Lebih dari 50 Persen, Kasus Covid-19 Menurun. Ayo Bandung. (Online). 2021. https://www.ayobandung.com/bandung-raya/pr-79990065/cimahi-klaim-angka-vaksinasi-sentuh-lebih-dari-50-persen-kasus-covid-19-menurun [Diakses 1 Maret 2022].
Lidiana EH, Mustikasari H, Pradana KA, Permatasari A. Gambaran Karakteristik Kejadian Ikutan Pasca Vaksinasi Covid-19 pada Tenaga Kesehatan Alumni Universitas 'Aisyiyah Surakarta. Jurnal Ilmiah Kesehatan. 2021; 11(1):11–7.
Romlah SN, Darmayanti D. Kejadian ikutan Pasca Imunisasi (KIPI) Vaksin Covid-19. Holistik Jurnal Kesehatan. 2021; 15(4):700–12.
Wantai Biopharm. Quantitative ELISA for IgG Antibody to COVID-19. Beijing Wantai Biological Pharmacy Enterprise Co Ltd. Cat. WS-1396.
Chiu S-K, Tsai K-W, Wu C-C, Zheng C-M, Yang C-H, Hu W-C, et al. Putative Role of Vitamin D for COVID-19 Vaccination. IJMS. 2021; 22(16):8988.
Collier DA, Ferreira IATM, Kotagiri P, Datir RP, Lim EY, Touizer E, et al. Age-related Immune Response Heterogeneity to SARS-CoV-2 Vaccine BNT162b2. Nature. 2021; 596(7872):417–22.
Butsch WS, Hajduk A, Cardel MI, Donahoo WT, Kyle TK, Stanford FC, et al. COVID-19 Vaccines are Effective in People with Obesity: A Position Statement from The Obesity Society. Obesity. 2021;29(10):1575–9.
Pellini R, Venuti A, Pimpinelli F, Abril E, Blandino G, Campo F, et al. Initial Observations on Age, Gender, BMI and Hypertension in Antibody Responses to SARS-CoV-2 BNT162b2 Vaccine. EClinicalMedicine. 2021 Jun;36:100928.
Liu F, Guo Z, Dong C. Influences of Obesity on the Immunogenicity of Hepatitis B Vaccine. Hum Vaccin Immunother. 2017; 13(5):1014–7.
Frieman M, Harris AD, Herati RS, Krammer F, Mantovani A, Rescigno M, et al. SARS-CoV-2 Vaccines for All but a Single Dose for COVID-19 Survivors. EBioMedicine. 2021; 68:103401. doi: 10.1016/j.ebiom.2021.103401.
Xiao K, Yang H, Liu B, Pang X, Du J, Liu M, et al. Antibodies can Last for More Than 1 Year after SARS-CoV-2 Infection: A Follow-Up Study from Survivors of COVID-19. Front Med. 2021; 8:684864.
Chastin SFM, Abaraogu U, Bourgois JG, Dall PM, Darnborough J, Duncan E, et al. Effects of Regular Physical Activity on the Immune System, Vaccination and Risk of Community-Acquired Infectious Disease in the General Population: Systematic Review and Meta-Analysis. Sports Med. 2021; 51(8):1673–86.
Nieman DC, Wentz LM. The Compelling Link between Physical Activity and the Body's Defense System. Journal of Sport and Health Science. 2019; 8(3):201–17.
Sumarmi S. Harmonity of Nutrients to Improve Immunity Against Covid-19: A Mini Review. AMNT. 2020; 4(3):250.
Wu M, He M, Kang Y. Vitamin C Supplementation Improved the Efficacy of Foot-and-Mouth Disease Vaccine. Food and Agricultural Immunology. 2018; 29(1):470–83.
Remy KE, Mazer M, Striker DA, Ellebedy AH, Walton AH, Unsinger J, et al. Severe Immunosuppression and Not a Cytokine Storm Characterizes COVID-19 Infections. JCI Insight. 2020 Sep 3; 5(17):e140329. doi: 10.1172/jci.insight.140329.
Small AG, Harvey S, Kaur J, Putty T, Quach A, Munawara U, et al. Vitamin D Upregulates the Macrophage Complement Receptor Immunoglobulin in Innate Immunity to Microbial Pathogens. Commun Biol. 2021; 4(1):1–7.
Al Kaabi N, Zhang Y, Xia S, Yang Y, Al Qahtani MM, Abdulrazzaq N, et al. Effect of 2 Inactivated SARS-CoV-2 Vaccines on Symptomatic COVID-19 Infection in Adults: A Randomized Clinical Trial. JAMA. 2021; 326(1):35–45.
Lombardi A, Bozzi G, Ungaro R, Villa S, Castelli V, Mangioni D, et al. Mini Review Immunological Consequences of Immunization With COVID-19 mRNA Vaccines: Preliminary Results. Front Immunol. 2021; 12:657711.
Bollinger T, Bollinger A, Skrum L, Dimitrov S, Lange T, Solbach W. Sleep-Dependent Activity of T Cells and Regulatory T Cells. Clin Exp Immunol. 2009; 155(2):231–8.
Prather AA, Hall M, Fury JM, Ross DC, Muldoon MF, Cohen S, et al. Sleep and Antibody Response to Hepatitis B Vaccination. Sleep. 2012; 35(8):1063–9.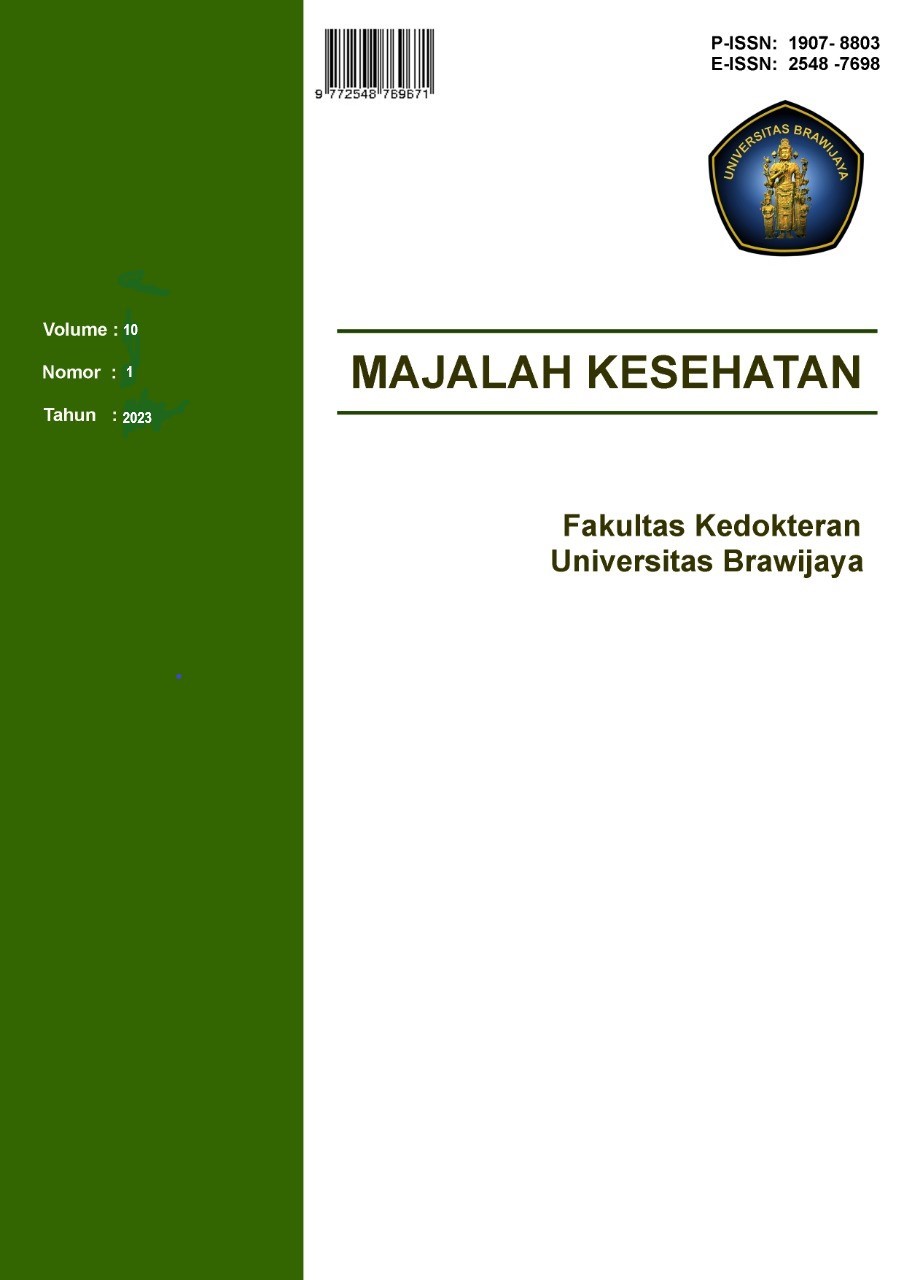 Downloads
How to Cite
Naully, P. G., Rachmawati, F., & Septriliyana, R. N. (2023). ANALISIS FAKTOR-FAKTOR YANG BERPENGARUH TERHADAP PEMBENTUKAN IgG ANTI-SARS-CoV-2 PASCAVAKSINASI CoronaVac PADA MASYARAKAT KOTA CIMAHI . Majalah Kesehatan, 10(1), 1–10. https://doi.org/10.21776/majalahkesehatan.2022.010.01.1
Section
Original Research Article
License
Copyright (c) 2023 Majalah Kesehatan
This work is licensed under a Creative Commons Attribution-NonCommercial 4.0 International License.