LOMBA KAMPUNG TANGGAP DBD DENGAN KALENDER PEMANTAUAN JENTIK MANDIRI SEBAGAI MODEL PEMBERDAYAAN MASYARAKAT UNTUK PENGENDALIAN VEKTOR DENGUE DI KOTA MALANG
Keywords:
Kalender Pemantauan Jentik Mandiri (KPJM), pengetahuan, perilaku, promosi kesehatan, quasi-experimental
Abstract
Model pemberdayaan masyarakat yang inovatif dan sesuai dengan nilai budaya lokal diperlukan dalam pengendalian vektor Dengue. Ketertarikan masyarakat terhadap penghargaan daripada hukuman ditunjukkan dengan antusiamenya pada penghargaan Adipura. Tujuan penelitian ini adalah menjajaki peluang Lomba Kampung Tanggap DBD dengan pengisian Kalender Pemantauan Jentik Mandiri (KPJM), yang dapat menjadi salah satu cara dalam memperbaiki pengetahuan, perilaku, dan kontainer positif jentik. Penelitian quasi experimental nonrandomized with control group ini dilakukan di 15 RT dari 2 kelurahan di wilayah kerja Puskesmas Sukun kota Malang. Sebanyak 52 rumah tangga kontrol dari 7 RT dan 45 rumah tangga intervensi dari 8 RT dibandingkan dalam hal pengetahuan, perilaku, dan persentase kontainer positif jentik. Intervensi yang diberikan berupa pengikutsertaan dalam lomba Kampung Tanggap DBD, dimana RT peserta diberikan sejumlah KPJM yang harus diisi secara mandiri oleh keluarga terpilih seminggu sekali selama 2 bulan.  Uji statistik yang digunakan pada penelitian ini adalah uji Wilcoxon, dan uji Mann Whitney. Hasil menunjukkan perbedaan yang signifikan dalam hal perilaku sebelum-sesudah baik pada kelompok kontrol (p = 0,039) maupun kelompok perlakuan (p = 0,003), sedangkan untuk pengetahuan dan persentase kontainer positif jentik tidak signifikan (p > 0,05). Namun demikian, secara deskriptif angka persentase kontainer positif jentik  yang ditunjukkan pada kelompok perlakuan lebih baik dibandingkan kelompok kontrol. Dapat disimpulkan, Lomba Kampung Tanggap DBD dengan pengisian KPJM berpotensi untuk diangkat sebagai model  pengendalian DBD.  
References
Dinas Kesehatan Jawa Timur. Profil Kesehatan Provinsi Jawa Timur Tahun 2016 [East Java Health Profile 2016]. Surabaya: Dinkes Jatim. 2016.
Dinas Kesehatan Kota Malang. Laporan Tahunan DBD Kota Malang. Malang: Dinkes. 2017.
Dinas Kesehatan Jawa Timur Profil Kesehatan Provinsi Jawa Timur 2019. Dinas Kesehatan Provinsi Jawa Timur [Internet]. 2020; 1–73. Available from: www.dinkesjatengprov.go.id
Pusat Data dan Informasi- Kementerian Kesehatan RI. Infodatin DBD 2016. Jakarta. 2016.
Priesley F, Reza M, Rusdji SR. Hubungan Perilaku Pemberantasan Sarang Nyamuk dengan Menutup, Menguras dan Mendaur Ulang Plus (PSN M Plus) terhadap Kejadian Demam Berdarah Dengue (DBD) di Kelurahan Andalas. J Kesehat Andalas. 2018; 7(1):124.
Nuryanti E. Perilaku Pemberantasan Sarang Nyamuk di Masyarakat. J Kesehat Masy. 2013;9(1):15–23.
Andersson N, Nava-Aguilera E, Arosteguí J, Morales-Perez A, Suazo-Laguna H, Legorreta-Soberanis J, et al. Evidence Based Community Mobilization for Dengue Prevention in Nicaragua and Mexico (Camino Verde, the Green Way): Cluster Randomized Controlled Trial. BMJ. 2015;351:h3267.
Caprara A, Lima JWDO, Peixoto ACR, Motta CMV, Nobre JMS, Sommerfeld J, et al. Entomological Impact and Social Participation in Dengue Control: A Cluster Randomized Trial in Fortaleza, Brazil. Trans R Soc Trop Med Hyg. 2015; 109(2):99–105.
George LS, S. A, Paul N, Leelamoni K. Community Based Interventional Study on Dengue Awareness and Vector Control in a Rural Population in Ernakulam, Kerala. Int J Community Med Public Heal. 2017; 4(4):962.
Caballero-Anthony M, Cook ADB, Amul GGH, Sharma A. Health Governance and Dengue in Indonesia. JSTOR. [Internet]. 2015; (2):23–31. Available from: http://www.jstor.org/stable/resrep05931.6.
Pandie A. Pengelolaan Persampahan dalam Mendukung Perolehan Adipura di Kota Semarang. J Pembang Wil Kota. 2013; 9(1):11.
Schmidt WP. Randomised and Non-Randomised Studies to Estimate the Effect of Community-Level Public Health Interventions: Definitions and Metho-dological Considerations. Emerg Themes Epidemiol. 2017; 14(1):1–11.
Fernández EA, Leontsini E, Sherman C, Chan AST, Reyes CE, Lozano RC, et al. Trial of a Community-Based Intervention to Decrease Infestation of Aedes aegypti Mosquitoes in Cement Washbasins in El Progreso, Honduras. Acta Trop. 1998; 70(2):171–83.
Rakhmani AN, Limpanont Y, Kaewkungwal J, Okanurak K. Factors Associated with Dengue Prevention Behaviour in Lowokwaru, Malang, Indonesia: A Cross-Sectional Study. BMC Public Health. 2018; 18(1):1–6.
Faizah A, Suryawati C, Fatmasari EY. Evaluasi Pelaksanaan Program Pengendalian Penyakit Demam Berdarah Dengue (P2DBD) di Puskesmas Mojosongo Kabupaten Boyolali Tahun 2018. J Kesehat Masy. 2018; 6(5):13–25.
Porogoi VD, Kaunang WPJ, Mantjoro EM. Hubungan antara Peran Juru Pemantau Jentik dengan Perilaku Keluarga dalam Pemberantasan Sarang Nyamuk Demam Berdarah Dengue di Kelurahan Ranotana Weru. Kesmas. 2019; 8(6):560–7.
Sukayuni NPE, Prihandhani IS, Artana IW. Peran Jumantik pada Kejadian Demam Berdarah Dengue: Studi Potong Lintang di UPTD Puskesmas Kuta Selatan. J Ilmu Keperawatan Komunitas. 2021; 4(1):1–5.
Ehlers DK, Fanning J, Awick EA, Kramer AF, McAuley E. Contamination by an Active Control Condition in a Randomized Exercise Trial. PLoS One. 2016; 11(10):1–13.
Pantouw RG. Hubungan Pengetahuan dan Sikap Masyarakat dengan Tindakan Pencegahan Penyakit Demam Berdarah Dengue di Kelurahan Tuminting. J Kedokt Komunitas dan Trop. 2017; 5(1):217–21.
Kwureh HN. Determinan yang Berhubungan dengan Pencegahan Demam Berdarah Dengue (DBD) di Puskesmas Sungai Durian. J Ilm Kesehat Masy Determ. 2020; 1:1–7.
Verawaty SJ, Simanjuntak NH, Simaremare AP. Tindakan Pencegahan Demam Berdarah Dengue dengan Meningkatkan Pengetahuan dan Sikap Masyarakat di Kecamatan Medan Deli. Media Penelit dan Pengemb Kesehat. 2020; 29(4):305–12.
Respati T, Nurhayati E, Feriandi Y, Yulianto F, Sakinah K. Pemanfaatan Kalender 4M sebagai Alat Bantu Meningkatkan Peran serta Masyarakat dalam Pemberantasan dan Pencegahan Demam Berdarah. Glob Med Heal Commun. 2016; 4(2):121–8.
Prasetya WA, Kurniati DPY. Pengaruh Pemicuan Masalah Demam Berdarah Berbasis Masyarakat terhadap Pengetahuan, Sikap, dan Perilaku Pencegahan DBD pada Kader PKK di Kelurahan Sesetan Tahun 2013. Community Health. 2014; 2(1):63–73.
Sitorus H, Taviv Y, Budiyanto A, Ambarita LP, Salim M, Mayasari R. Perbandingan Indeks Larva Vektor Demam Berdarah Dengue Pra dan Paska-Intervensi di Kota Prabumulih. J Litbang Pengendali Penyakit Bersumber Binatang Banjarnegara. 2018; 55–64. https://doi.org/10.22435/blb.v13i1.25.
Trapsilowati W, Mardihusodo SJ, Prabandari YS, Mardikanto T. Developing Community Empowerment for Dengue Hemorrhagic Fever Vector Control in Semarang City, Central Java Province. Bul Penelit Sist Kesehat. 2015; 18(1):95–103.
Parks W, Lloyd L. Planning Social Mobilization and Communication for Dengue Fever Prevention and Control: A Step-by-Step Guide. WHO. 2004. P.138.
Nørgaard H, Thuesen AA. Rural Community Development through Competitions, Prizes, and Campaigns: The Villagers' Perspective. J Rural Stud. 2021; 87(January 2020):465–73.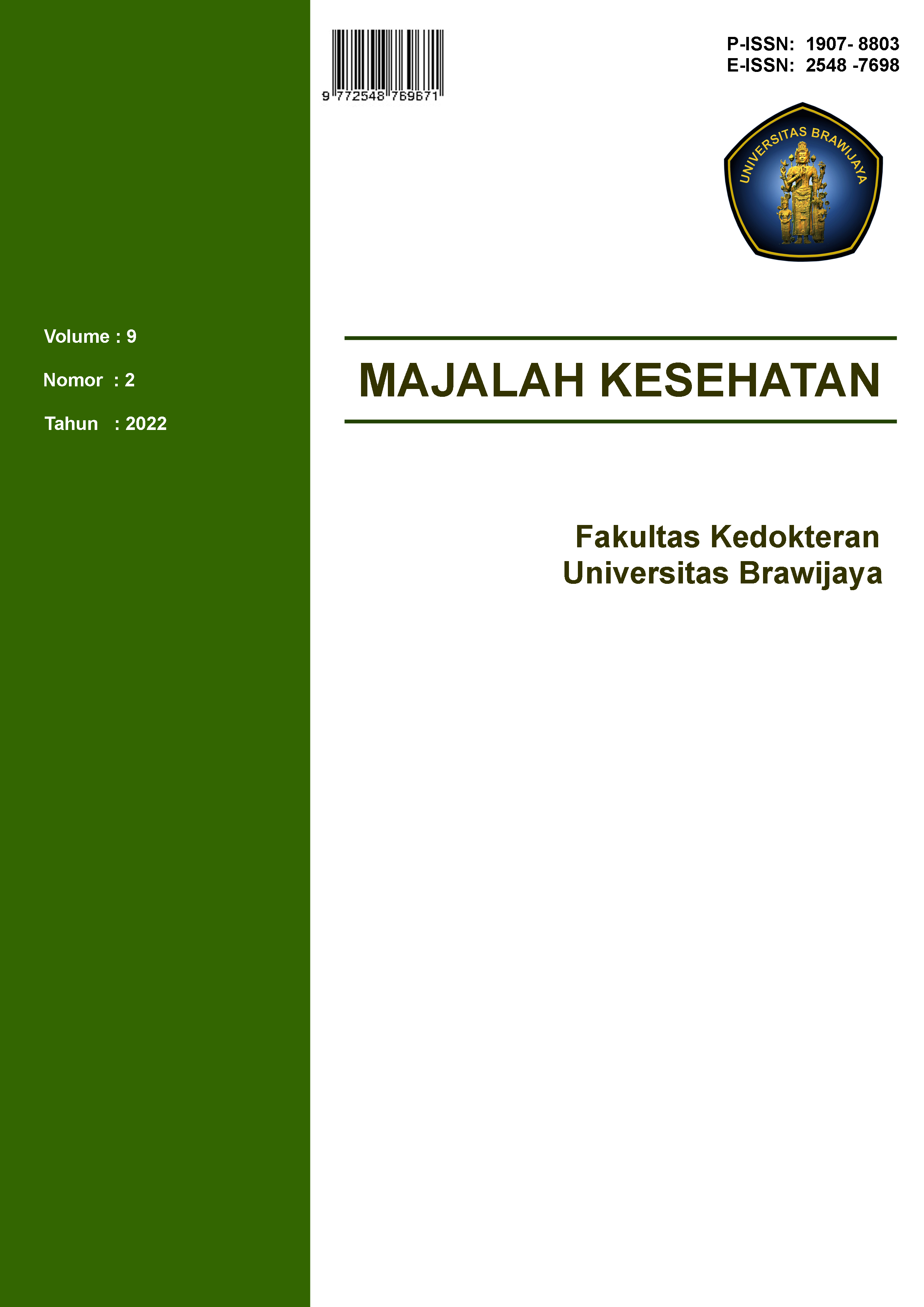 Downloads
License
Copyright (c) 2022 Majalah Kesehatan FKUB
This work is licensed under a Creative Commons Attribution-NonCommercial 4.0 International License.
This work is licensed under a
Creative Commons Attribution-NonCommercial 4.0 International License