Tinjauan Literatur: MIKROBIOM PADA KULIT DALAM PERSPEKTIF DERMATOLOGI
Keywords:
kulit, mikrobiom, penyakit kulit, respons imun
Abstract
Kulit merupakan organ terbesar pada tubuh manusia. Sebagai pertahanan fisik terluar, kulit bertugas untuk mencegah invasi dari berbagai patogen. Kolonisasi dari berbagai bakteri, jamur, dan virus yang disebut mikrobiom pada kulit berperan esensial dalam proteksi tubuh terhadap patogen yang menyerang, perkembangan dari sistem imun, maturasi dan homeostasis dari imunitas kulit, serta pembersihan sisa-sisa produk alami tubuh. Sebagian besar mikroba yang hidup pada kulit bersifat komensal atau mutualistik pada kondisi normal. Gangguan dan ketidakseimbangan pada komposisi normal mikrobiom, atau disbiosis, dapat menyebabkan pergeseran mikrobiota komensal pada kulit menjadi komunitas mikrobiota yang berbahaya pada penyakit kulit noninfeksi seperti dermatitis atopik, psoriasis, dan akne. Tinjauan literatur ini bertujuan untuk mendeskripsikan peran mikrobioma secara fisiologis pada kulit serta pada beberapa penyakit kulit yang umum dijumpai, seperti dermatitis atopik, akne vulgaris, dan psoriasis. Berbagai studi telah menunjukkan adanya pengaruh perubahan komposisi mikrobiota dapat memicu munculnya penyakit kulit, merangsang eksaserbasi, dan berkontribusi pada progresivitas penyakit kulit. Meningkatnya minat pada penelitian mengenai mikrobiom pada kulit diharapkan dapat membantu para ahli dermatologi untuk lebih banyak mengembangkan alat diagnostik, meningkatkan pehamaman terhadap patogenesis penyakit kulit, serta mengembangkan berbagai modalitas terapi untuk tata laksana pasien yang lebih terpersonalisasi, bahkan dapat disesuaikan dengan karakteristik mikrobiom pada masing-masing individu. Ruang gerak pengembangan dalam hal mikrobiom pada kulit masih sangat luas dan akan memiliki implikasi yang signifikan baik dalam konteks preventif, klinis, maupun terapeutik.
References
Byrd A, Belkaid Y, Segre J. The Human Skin Mikrobiom. Nat Rev Microbiol. 2018; 16(3):143–155. https://doi.org/10.1038/nrmicro.2017.157.
Prescott SL, Larcombe DL, Logan AC, West C, Burks W, Caraballo L, Levin M, Etten EV, Horwitz P, Kozyrskyj A, Campbell DE. The Skin Mikrobiom: Impact of Modern Environments on Skin Ecology, Barrier Integrity, and Systemic Immune Programming. World Allergy Organ J. 2017; 10(1):29. doi: 10.1186/s40413-017-0160-5. PMID: 28855974; PMCID: PMC5568566.
Schommer NN and Gallo RL. Structure and Function of the Human Skin Mikrobiom. Trends Microbiol. 2013; 21(12):660-8. doi: 10.1016/j.tim.2013.10.001. Epub 2013 Nov 12. PMID: 24238601; PMCID: PMC4744460.
Schoch JJ, Monir RL, Satcher KG, Harris J, Triplett E, Neu J. The Infantile Cutaneous Mikrobiom: A Review. Pediatric Dermatology. 2019; 36(5):574-580. doi: 10.1111/pde.13870. Epub 2019 Jul 23.
Chen Y, Fischbach M, Belkaid Y. Skin Mikrobiota–Hospes Interactions. Nature. 2018; 553:427–436. https://doi.org/10.1038/nature25177.
Catinean A, Neag MA, Mitre AO, Bocsan CI, Buzoianu AD. Mikrobiota and Immune-Mediated Skin Diseases-An Overview. Microorganisms. 2019; 7(9):279. doi: 10.3390/microorganisms7090279. PMID: 31438634; PMCID: PMC6781142.
Nakatsuji T, Gallo RL. The Role of the Skin Mikrobiom in Atopic Dermatitis. Ann Allergy Asthma Immunol. 2019; 122(3):263-269. doi: 10.1016/j.anai.2018.12.003. Epub 2018 Dec 11. Erratum in: Ann Allergy Asthma Immunol. 2019; 123(5):529.
Ramasamy S, Barnard E, Dawson TL, Li H. The Role of the Skin Mikrobiota in Acne Pathophysiology. British Journal of Dermatology. 2019; 181(4):691-699. doi: 10.1111/bjd.18230.
Wang WM and Jin HZ. Skin Microbiome: An Actor in the Patogenesis of Psoriasis. Chinese Medical Journal. 2018 ;131(1):95–98. https://doi.org/10.4103/0366-6999.221269.
Codoñer FM, Ramírez-Bosca A, Climent E, Carrión-Gutierrez M, Guerrero M, Pérez-Orquín JM, Horga De La Parte J, Genovés S, Ramón D, Navarro-López V et al. Gut Microbial Composition in Patients with Psoriasis. Sci Rep. 2018; 8(article number 3812):1-7.
Stehlikova Z, Kostovcik M, Kostovcikova K, Kverka M, Juzlova K, Rob F, Hercogova J, Bohac P, Pinto Y, Uzan A, Koren O, Tlaskalova-Hogenova H and Jiraskova Zakostelska Z Disbiosis of Skin Mikrobiota in Psoriatic Patients: Co-Occurrence of Fungal and Bacterial Communities. Front Microbiol. 2019; 10:438. doi: 10.3389/fmicb.2019.00438.
Sander MA, Sander MS, Isaac-Renton JL, Croxen MA. The Cutaneous Mikrobiom: Implications for Dermatology Practice. J Cutan Med Surg. 2019; 23(4):436-441. doi: 10.1177/1203475419839939.
Johnson CL and Versalovic J. The Human Mikrobiom and Its Potential Importance to Pediatrics. Pediatrics. 2012; 129(5):950–960. https://doi.org/10.1542/peds.2011-2736.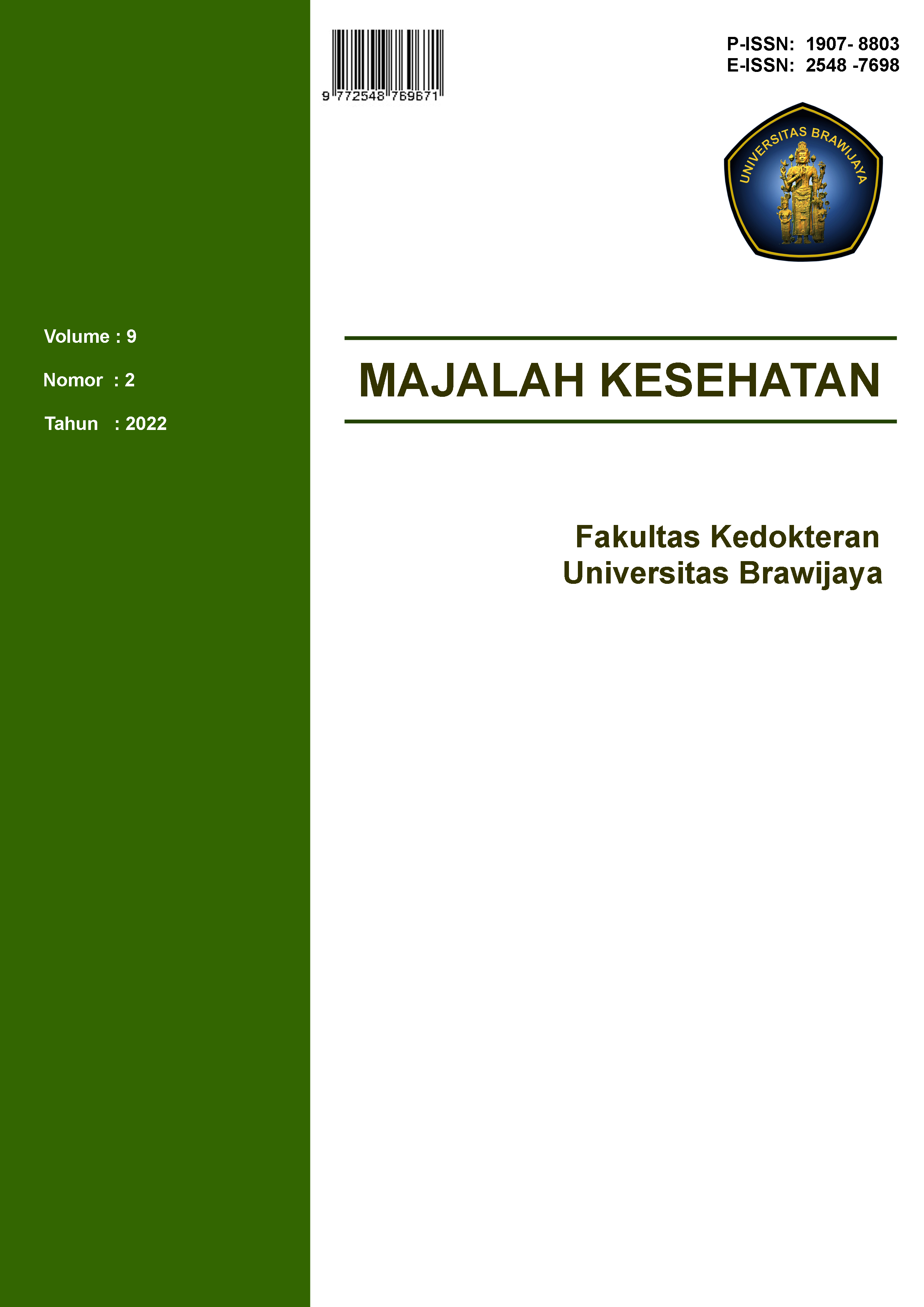 Downloads
How to Cite
Fitriyani, N. W., & Sinta Murlistyarini. (2022). Tinjauan Literatur: MIKROBIOM PADA KULIT DALAM PERSPEKTIF DERMATOLOGI. Majalah Kesehatan, 9(2), 109–120. https://doi.org/10.21776/majalahkesehatan.2022.009.02.7
Section
Original Research Article
License
Copyright (c) 2022 Majalah Kesehatan FKUB
This work is licensed under a Creative Commons Attribution-NonCommercial 4.0 International License.