PENGETAHUAN DAN PERILAKU PASIEN DIABETES MELLITUS YANG MENJALANKAN PUASA RAMADAN
Keywords:
diabetes mellitus, puasa ramadan
Abstract
Perkembangan pesat prevalensi diabetes mellitus (DM) telah ditunjukkan oleh negara-negara ekonomi rendah dan menengah. Bagi seorang muslim dengan diabetes, adanya kewajiban puasa saat bulan Ramadan tentunya akan menjadi tantangan. Penelitian terakhir oleh sejumlah peneliti dari beberapa negara menyebutkan bahwa muslim dengan diabetes rata-rata tetap melaksanakan puasa terlepas dari risiko yang dihadapi, dan perlunya pemberian pengetahuan untuk mengurangi atau menghindari terjadinya komplikasi. Penelitian ini adalah penelitian diskriptif analitik yang menelaah gambaran umum pengetahuan dan perilaku pasien diabetes yang menjalankan puasa Ramadan. Penelitian ini adalah penelitian pilot survey dan belum pernah ada penelitian yang serupa yang telah dilakukan di Indonesia. Target populasi yang menjadi sasaran adalah pasien diabetes yang menjalankan puasa Ramadan, baik tipe 1 maupun tipe 2. Penetapan sampel menggunakan metode purposive sampling. Pengumpulan data dilakukan dengan menggunakan Google form selama satu bulan Ramadan dalam bulan Juni hingga Juli 2021. Hasil penelitian ini menunjukkan bahwa pasien DM telah mengetahui bagaimana menjalankan puasa sekaligus tetap menjaga kondisi. Walaupun hasil tidak secara signifikan menunjukkan adanya hubungan antara indikator-indikator DM dengan variabel bebas dari pasien (p > 0,001), namun hasil ini tetap dapat menggambarkan bahwa pasien tetap membutuhkan pendampingan untuk lebih memaksimalkan pengendalian DM selama menjalankan puasa Ramadan.
References
World Health Organization (WHO). Diabetes: Key Facts. (Online). 2021. Available from: https://www.who.int/news-room/fact-sheets/detail/diabetes. [cited 2021 May 30].
International Diabetes Federation (IDF). IDF Diabetes Atlas. (online). 2019. Available from: https://www.diabetesatlas.org/en/sections/worldwide-toll-of-diabetes.html. [cited 2021 August 05].
Kementerian Kesehatan RI. Tetap Produktif, Cegah, dan Atasi Diabetes Mellitus. Jakarta: Pusat Data dan Informasi Kemenkes RI. 2020. Hlm. 1-6.
Badan Pusat Statistik (BPS). Penduduk Menurut Wilayah dan Agama yang Dianut. Online. 2013. Available from: https://www.bps.go.id.
Hassanein M, Hussein Z, Shaltout I, Wan Seman WJ, Tong CV, Mohd Noor N, et al. The DAR 2020 Global Survey: Ramadan Fasting during COVID 19 Pandemic and the Impact of Older Age on Fasting among Adults with Type 2 Diabetes. Diabetes Res Clin Pract. 2021; 173:108674.
Albosta M, Bakke J. Intermittent Fasting: is There a Role in the Treatment of Diabetes? A Review of the Literature and Guide for Primary Care Physicians. Clin Diabetes Endocrinol. 2021; 7(1):3. doi: 10.1186/s40842-020-00116-1.
Grajower MM, Horne BD. Clinical Management of Intermittent Fasting in Patients with Diabetes Mellitus. Nutrients. 2019; 11(4): 873.
Babineaux SM, Toaima D, Boye KS, Zagar A, Tahbaz A, Jabbar A, et al. Multi-Country Retrospective Observational Study of the Management and Outcomes of Patients with Type 2 Diabetes during Ramadan in 2010 (CREED). Diabet Med. 2015; 32(6):819-28. doi: 10.1111/dme.12685.
Al-Arouj M, Assaad-Khalil S, Buse J, Fahdil I, Fahmy M, Hafez S, et al. Recommendations for Management of Diabetes during Ramadan: Update 2010. Diabetes Care. 2010; 33(8):1895-902. https://doi.org/10.2337/dc10-0896
Sattar N, Rawshani A, Franzen S, Rawshani A, Svensson AM, Rosengren A, et al. Age at Diagnosis of Type 2 Diabetes Mellitus and Associations with Cardiovascular and Mortality Risks. Circulation. 2019; 139(19):2228-37. doi: 10.1161/CIRCULATIONAHA.118.037885.
Khan MAB, Hashim MJ, King JK, Govender RD, Mustafa H, Al Kaabi J. Epidemiology of Type 2 Diabetes - Global Burden of Disease and Forecasted Trends. J Epidemiol Glob Health. 2020;10(1):107-111. doi: 10.2991/jegh.k.191028.001
Al Mansour MA. The Prevalence and Risk Factors of Type 2 Diabetes Mellitus (DMT2) in a Semi-Urban Saudi Population. Int J Environ Res Public Health. 2019; 17(1): 7. doi: 10.3390/ijerph17010007
Huebschmann AG, Huxley RR, Kohrt WM, Zeitler P, Regensteiner JG, Reusch JEB. Sex Differences in the Burden of Type 2 Diabetes and Cardiovascular Risk Across the Life Course. Diabetologia. 2019; 62(10):1761-72. doi: 10.1007/s00125-019-4939-5.
Tramunt B, Smati S, Grandgeorge N, Lenfant F, Arnal JF, Montagner A, et al. Sex Differences in Metabolic Regulation and Diabetes Susceptibility. Diabetologia. 2020; 63(3):453-461. doi: 10.1007/s00125-019-05040-3
Seiglie JA, Marcus ME, Ebert C, Prodromidis N, Geldsetzer P, Theilmann M, et al. Diabetes Prevalence and Its Relationship with Education, Wealth, and BMI in 29 Low- and Middle-Income Countries. Diabetes Care. 2020;43(4):767-775. DOI: 10.2337/dc19-1782.
Braverman-Bronstein A, Hessel P, Gonzalez-Uribe C, Kroker MF, Diez-Canseco F, Langellier B, et al. Association of Education Level with Diabetes Prevalence in Latin American Cities and Its Modification by City Social Environment. J Epidemiol Community Health. 2021; 75(9):874-880. doi: 10.1136/jech-2020-216116.
Indrahadi D, Wardana A, Pierewan AC. The Prevalence of Diabetes Mellitus and Relationship with Socioeconomic Status in the Indonesian Population. Jurnal Gizi Klinik Indonesia. 2021;17(3):103-112. DOI: https://doi.org/10.22146/ijcn.55003.
Soewondo P, Ferrario A, Tahapary DL. Challenges in Diabetes Management in Indonesia: a Literature Review. Globalization and Health. 2013; 9(63):1-17.
Sulistijo SA, Novida H, Rudijanto A, Soewondo P, Suastika K et al. Konsensus Pengelolaan dan Pencegahan Diabetes Mellitus Tipe 2 di Indonesia 2015. PB Perkeni. 2015.
Chaudhury A, Duvoor C, Reddy Dendi VS, Kraleti S, Chada A, Ravilla R, et al. Clinical Review of Antidiabetic Drugs: Implications for Type 2 Diabetes Mellitus Management. Front Endocrinol. 2017; 8:6. DOI: 10.3389/fendo.2017.00006.
Jelinek HF, Osman WM, Khandoker AH, Khalaf K, Lee S, Almahmeed W, et al. Clinical Profiles, Comorbidities and Complications of Type 2 Diabetes Mellitus in Patients from United Arab Emirates. Diabetes Res Care. 2017; 5(1):e000427.
Nowakowska M, Zghebi SS, Ashcroft DM, Buchan I, Chew-Graham C, Holt T, et al. The Comorbidity Burden of Type 2 Diabetes Mellitus: Patterns, Clusters and Predictions from a Large English Primary Care Cohort. BMC Med. 2019; 17(145:1-10. DOI: https://doi.org/10.1186/s12916-019-1373-y.
Wexler DJ, Meigs JB, Cagliero E, Nathan DM, Grant RW. Prevalence of Hyper- and Hypoglycemia among Inpatients with Diabetes: a National Survey of 44 U.S. Hospitals. Diabetes Care. 2007; 30(2):367-9.
Garcia UG, Vicente AB, Jebari S, Sebal AL, Siddiqi H, Uribe KB, et al. Pathophysiology of Type 2 Diabetes Mellitus. Int J Mol Sci. 2020; 21(17), 6275. DOI: https://doi.org/10.3390/ijms21176275
Kalantzi S, Kostagiolas P, Kechagias G, Niakas D, Makrilakis K. Information Seeking Behavior of Patients with Diabetes Mellitus: a Cross-Sectional Study in an Outpatient Clinic of a University-Affiliated Hospital in Athens, Greece. BMC Res Notes. 2015; 8(48)1-7. DOI 10.1186/s13104-015-1005-3
Hansen D, De Strijcker D, Calders P. Impact of Endurance Exercise Training in the Fasted State on Muscle Biochemistry and Metabolism in Healthy Subjects: Can These Effects be of Particular Clinical Benefit to Type 2 Diabetes Mellitus and Insulin-Resistant Patients?. Sports Med. 2017; 47(3):415-428. doi: 10.1007/s40279-016-0594-x.
Putri M, Persariningrat RTI, Surialaga S, Syamsunarno MrAA. Physical Activities Decrease Fasting Blood Glucose Level in Diabetes Mellitus Type 2 Patients: Use of International Physical Activity Questionnaire (IPAQ) in Rural Area. Majalah Kedokteran Bandung. 2019; 51(4):201-5.
Fajriyah N, Sudianan IK, Wahyuni ED. The Effects from Physical Exercise on the Blood Glucose Levels, HbA1c and Quality of Life of Type 2 Diabetes Mellitus Patients: A Systematic Review. Jurnal Ners. 2020;15(1Sp):486-96. DOI: https://doi.org/10.20473/jn.v15i1Sp.20517
Wu L, Lin H, Gao J, Li X, Xia M, Wang D, et al. Effect of Age on the Diagnostic Efficiency of HbA1c for Diabetes in a Chinese Middle-Aged and Elderly Population: The Shanghai Changfeng Study. PLoS One. 2017; 12(9):e0184607. DOI: https://doi.org/10.1371/journal.pone.0184607
Sami W, Ansari T, Butt NS, Hamid MRA. Effect of Diet on Type 2 Diabetes Mellitus: a Review. International Journal of Health Sciences. 2017;11(2):65-71.
Chia CW, Egan JM, Ferrucci L. Age-Related Changes in Glucose Metabolism, Hyperglycemia, and Cardiovascular Risk. Circ Res. 2018; 123(7):886-904. DOI: 10.1161/CIRCRESAHA.118.312806.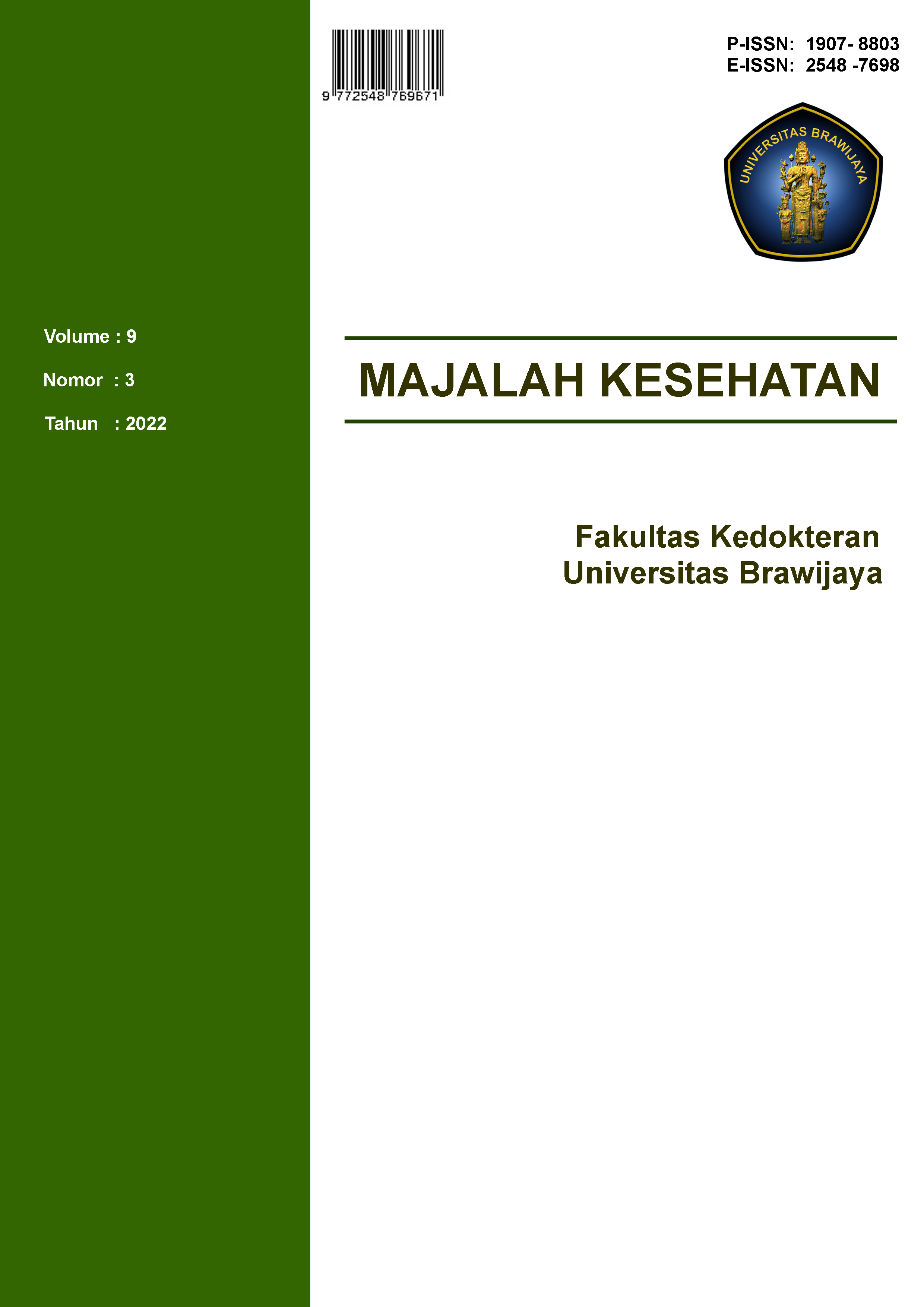 Downloads
How to Cite
Nugroho, F. A., Wilujeng, C. S., Handayani, D., Kusumastuty, I., & Mohd Yusof, B. N. (2022). PENGETAHUAN DAN PERILAKU PASIEN DIABETES MELLITUS YANG MENJALANKAN PUASA RAMADAN. Majalah Kesehatan, 9(3), 159–170. https://doi.org/10.21776/majalahkesehatan.2022.009.03.5
Section
Original Research Article
License
Copyright (c) 2022 Majalah Kesehatan FKUB
This work is licensed under a Creative Commons Attribution-NonCommercial 4.0 International License.