PERBEDAAN AKTIVITAS MAHASISWA PENDIDIKAN DOKTER PREKLINIK BERDASARKAN LAMA PENDIDIKAN SELAMA PANDEMI COVID-19
Keywords:
aktivitas, lama pendidikan, mahasiswa pendidikan dokter, COVID-19
Abstract
Pandemi COVID-19 mengharuskan mahasiswa, termasuk mahasiswa pendidikan dokter preklinik untuk beradaptasi dengan sistem pembelajaran daring. Terjadi perubahan aktivitas akademik, seperti  perkuliahan daring, penelitian, dan konsultasi dengan dosen Penasihat Akademik (PA), serta melakukan protokol kesehatan selama pandemi. Lama pendidikan menentukan pola aktivitas mahasiswa, hal ini terkait dengan beratnya beban belajar yang harus ditempuh, terutama bagi mahasiswa tingkat akhir sehingga mempengaruhi aktivitas kesehariannya. Penelitian ini bertujuan untuk mengetahui perbedaan aktivitas mahasiswa pendidikan dokter preklinik berdasarkan lama pendidikan dalam menjalankan pendidikan, penelitian, dan pelaksanaan protokol kesehatan selama pandemi COVID-19. Penelitian analitik cross-sectional ini dilakukan pada 255 mahasiswa tahun kedua hingga keempat melalui purposive sampling di Fakultas Kedokteran, Universitas Brawijaya. Mahasiswa yang memenuhi kriteria inklusi mengisi kuesioner yang sudah tervalidasi melalui Google form. Hasil penelitian menunjukkan perbedaan yang bermakna proporsi mahasiswa berdasarkan lama pendidikan yang menjalani perkuliahan dengan beban yang lebih berat (p = 0,020), sulit fokus (p = 0,034), tetap di rumah saja (p = 0,042), tidak melakukan perjalanan jarak jauh (p = 0,039), tidak melakukan konsultasi PA minimal 4 kali (p = 0,002), menemukan literatur penelitian (p = 0,004), serta tidak mampu memperoleh data penelitian dengan mudah (p = 0,044) yang didominasi oleh mahasiswa tahun keempat. Hal ini dapat terjadi akibat tingkat stres psikologis maupun beban kuliah yang lebih berat, serta kurangnya waktu luang mahasiswa. Mayoritas penelitian dipilih oleh mahasiswa tahun keempat sebelum pandemi sehingga mengubah rencana penelitian akibat penutupan universitas. Kesimpulan, didapatkan perbedaan aktivitas mahasiswa pendidikan dokter preklinik dalam menjalankan pendidikan, penelitian, dan pelaksanaan protokol kesehatan selama pandemi COVID-19 berdasarkan lama pendidikan.
References
Cascella M, Rajnik M, Aleem A, Dulebohn SC, Di Napoli R. Features, Evaluation, and Treatment of Coronavirus (COVID-19). Treasure Island (FL): StatPearls Publishing [internet]. 2022 Feb 5..
Shereen MA, Khan S, Kazmi A, Bashir N, Siddique R. COVID-19 Infection: Origin, Transmission, and Characteristics of Human Coronaviruses. Journal of Advanced Research. 2020 Mar 16;24:91-98. doi: 10.1016/j.jare.2020.03.005.
Kementerian Kesehatan RI. Pedoman Pencegahan dan Pengendalian Coronavirus Disease (COVID-19). [Internet]. Kementerian Kesehatan RI. 2020:1-214. https://covid19.kemkes.go.id/protokol-covid-19/kmk-no-hk-01-07-menkes-413-2020-ttg-pedoman-pencegahan-dan-pengendalian-covid-19
Irawan AW, Dwisona D, Lestari M. Psychological Impacts of Students on Online Learning during the Pandemic COVID-19. KONSELI: Jurnal Bimbingan dan Konseling. 2020 May 31;7(1):53-60. https://doi.org/10.24042/kons.v7i1.6389.
Aristovnik A, Keržič D, Ravšelj D, Tomaževič N, Umek L. Impacts of the COVID-19 Pandemic on Life of Higher Education Students: A Global Perspective. Sustainability. 2020 Jan;12(20):8438. https://doi.org/10.3390/su12208438.
Oktavia AE. Kepuasan Mahasiswa Bimbingan Penyuluhan Islam Semester 6 IAIN Sorong dalam Mempersiapkan Proposal Skripsi di Tengah Suasana Pandemi Covid-19. Skripsi. Sorong: Institut Agama Islam Negeri Sorong Jurusan Dakwah dan Komunikasi. 2020
Sindiani AM, Obeidat N, Alshdaifat E, Elsalem L, Alwani MM, Rawashdeh H, Fares AS, Alalawne T, Tawalbeh LI. Distance Education During the COVID-19 Outbreak: A Cross-Sectional Study Among Medical Students in North of Jordan. Annals of Medicine and Surgery. 2020 Nov 1;59:186-94. doi: 10.1016/j.amsu.2020.09.036.
Aftab M, Abadi AM, Nahar S, Ahmed RA, Mahmood SE, Madaan M, Ahmad A. COVID-19 Pandemic Affects the Medical Students' Learning Process and Assaults Their Psychological Wellbeing. International Journal of Environmental Research and Public Health. 2021 Jan;18(11):5792. doi: 10.3390/ijerph18115792.
Cao W, Fang Z, Hou G, Han M, Xu X, Dong J, Zheng J. The Psychological Impact of the COVID-19 Epidemic on College Students in China. Psychiatry Research. 2020 May 1;287:112934. doi: 10.1016/j.psychres.2020.112934.
Byrnes YM, Civantos AM, Go BC, McWilliams TL, Rajasekaran K. Effect of the COVID-19 Pandemic on Medical Student Career Perceptions: a National Survey Study. Medical Education Online. 2020 Jan 1;25(1):1798088. doi: 10.1080/10872981.2020.1798088
Sebbani M, Adarmouch L, Mansouri A, Mansoury O, Michaud S, ElAdib AR, Bouskraoui M, Amine M. Implementation of Online Teaching in Medical Education: Lessons Learned from Students' Perspectives during the Health Crisis in Marrakesh, Morocco. Education Research International. 2021 Apr 16; Volume 2021: Article ID 5547821. https://doi.org/10.1155/2021/5547821
Galindo-Vázquez O, Ramírez-Orozco M, Costas-Muñiz R, Mendoza-Contreras LA, Calderillo-Ruíz G, Meneses-García A. Symptoms of Anxiety and Depression and Self-Care Behaviors during the COVID-19 Pandemic in the General Population. Gaceta Médica de México. 2020 Aug;156(4):294-301. doi: 10.24875/GMM.20000266.
Abumalloh R, Alghamdi A, Azzam N, Abdulraheem A. Management of Academic Advising in Higher Educational Institutions During COVID-19 Pandemic. Management Science Letters. 2021;11(5):1659-66. DOI:10.5267/j.msl.2020.12.006.
Said JT and Schwartz AW. Remote Medical Education: Adapting Kern's Curriculum Design to Tele-teaching. Medical Science Educator. 2021 Apr;31(2):805-12. doi: 10.1007/s40670-020-01186-7
Yang C, Chen A, Chen Y. College Students' Stress and Health in the COVID-19 Pandemic: the Role of Academic Workload, Separation from School, and Fears of Contagion. PloS One. 2021 Feb 10;16(2):e0246676. https://doi.org/10.1371/journal.pone.0246676.
Putri SA, Mahmudah FN. Time Management Skills: Completion of Student Final Project During the Covid-19 Pandemic. Journal of Humanities and Social Studies. 2021 Oct 29;5(3):232-6. DOI: 10.33751/jhss.v5i3.3992.
Seetan K, Al-Zubi M, Rubbai Y, Athamneh M, Khamees AA, Radaideh T. Impact of COVID-19 on Medical Students' Mental Wellbeing in Jordan. Plos one. 2021 Jun 17;16(6):e0253295. https://doi.org/10.1371/journal.pone.0253295.
Salih S, Fageehi M, Hakami S, Ateya E, Hakami M, Hakami H, Ghazwani B, Alabdalali Y, Mustafa M. Academic Difficulties among Medical Students at Jazan University: A Case–Control Study. Advances in Medical Education and Practice. 2021;12:723. https://doi.org/10.2147/AMEP.S307554.
Rozaliyani A, Widjaja HT, Prawiroharjo P, Sukarya W. Kajian Etik Pendidikan Jarak Jauh dalam Pendidikan Kedokteran di Indonesia. Jurnal Etika Kedokteran Indonesia. 2020 Sep 4; 4(2):57-62. http://dx.doi.org/10.26880/jeki.v4i2.49.
Barlianto W, Astuti TW, Sulistomo HW, Holipah, Fadli ML, Yustisiani AN et al. Pedoman Akademik Program Studi Sarjana Kedokteran Fakultas Kedokteran Universitas Brawijaya. Malang: Kementerian Riset, Teknologi, dan Pendidikan Tinggi Fakultas Kedokteran Universitas Brawijaya Malang. 2020.
Xiao H, Shu W, Li M, Li Z, Tao F, Wu X et al. Social Distancing among Medical Students During the 2019 Coronavirus Disease Pandemic in China: Disease Awareness, Anxiety Disorder, Depression, and Behavioral Activities. International Journal of Environmental Research and Public Health. 2020; 17(14):5047.
Khasawneh AI, Humeidan AA, Alsulaiman JW, Bloukh S, Ramadan M, Al-Shatanawi TN, Awad HH, Hijazi WY, Al-Kammash KR, Obeidat N, Saleh T. Medical Students and COVID-19: Knowledge, Attitudes, and Precautionary Measures. A Descriptive Study from Jordan. Frontiers in Public Health. 2020 May 29; 8:253. doi: 10.3389/fpubh.2020.00253.
Latif HA. Persepsi Mahasiswa dan Dosen terhadap Peranan Dosen Pembimbing Akademik di Fakultas Kedokteran Universitas Lampung. Medical Profession Journal of Lampung. 2017 Nov 1; 7(4):147-5
Gonzalez T, De La Rubia MA, Hincz KP, Comas-Lopez M, Subirats L, Fort S, Sacha GM. Influence of COVID-19 Confinement on Students' Performance in Higher Education. PloS One. 2020 Oct 9;15(10):e0239490. https://doi.org/10.1371/journal.pone.0239490.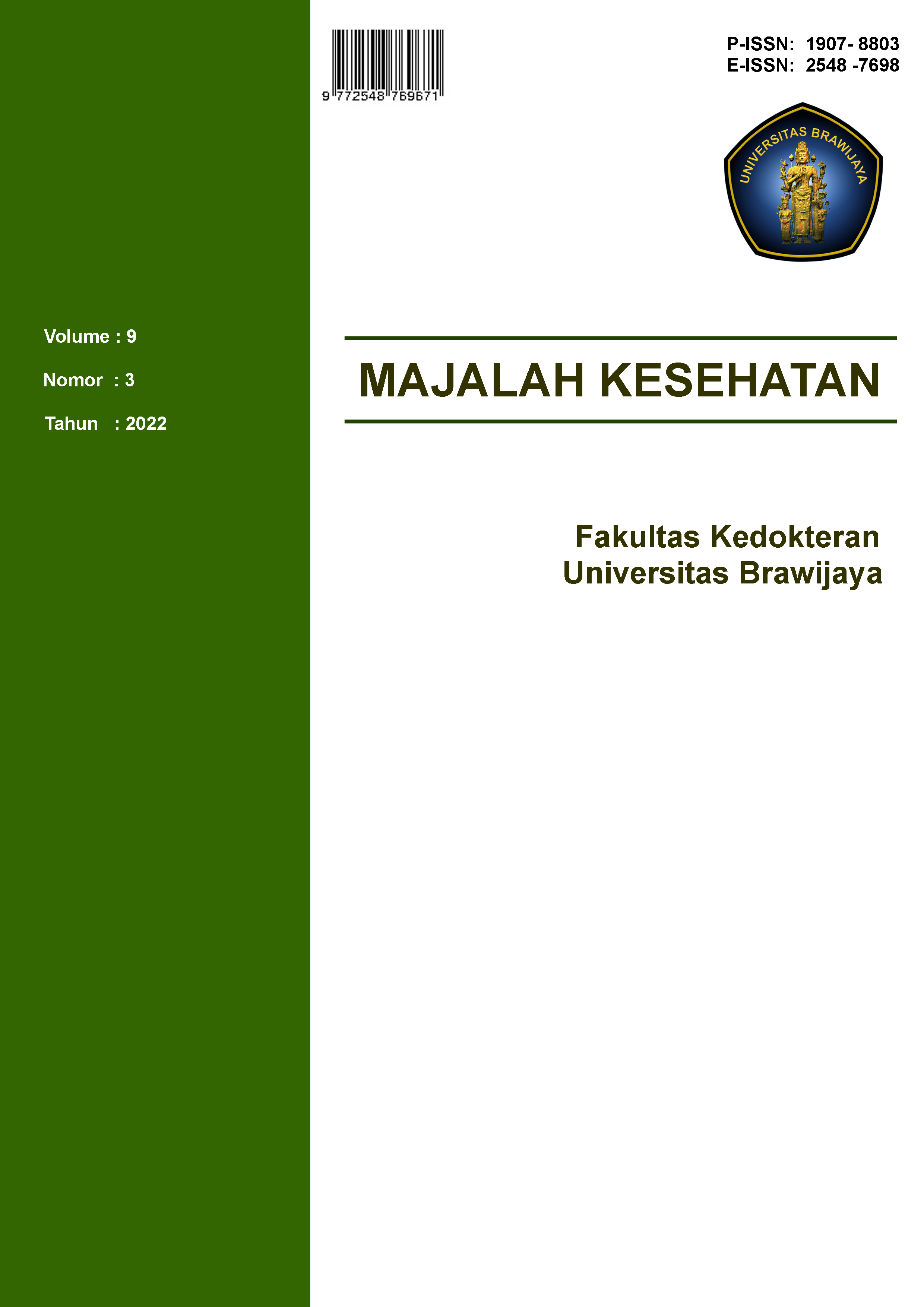 Downloads
How to Cite
Daryanto, B., Kristi, B., & Prawestiningtyas, E. (2022). PERBEDAAN AKTIVITAS MAHASISWA PENDIDIKAN DOKTER PREKLINIK BERDASARKAN LAMA PENDIDIKAN SELAMA PANDEMI COVID-19. Majalah Kesehatan, 9(3), 131–141. https://doi.org/10.21776/majalahkesehatan.2022.009.03.2
Section
Original Research Article
License
Copyright (c) 2022 Majalah Kesehatan FKUB
This work is licensed under a Creative Commons Attribution-NonCommercial 4.0 International License.