PROFIL KLINIKOPATOLOGI KARSINOMA NASOFARING DI RUMAH SAKIT UMUM DAERAH (RSUD) DR.SAIFUL ANWAR MALANG TAHUN 2018-2020
Keywords:
jenis kelamin, karsinoma nasofaring, tipe histopatologi, umur
Abstract
Kanker nasofaring adalah tumor ganas dari sel-sel epitel yang melapisi nasofaring. Pada tahun 2020, kanker nasofaring menempati urutan ke-5 di dunia. Tujuan penelitian ini adalah untuk mengetahui profil klinikopatologi kasus karsinoma nasofaring di RSUD Dr. Saiful Anwar dari tahun 2018 hingga 2020.  Penelitian ini adalah penelitian deskriptif analitik dengan pendekatan cross sectional untuk mengetahui jumlah kasus karsinoma nasofaring di RSUD Dr. Saiful Anwar dari tahun 2018 hingga 2020. Data yang dikumpulkan berupa spesimen biopsi kanker nasofaring dari laboratorium patologi anatomi meliputi jenis kelamin, umur, dan tipe histopatologi. Terdapat 557 kasus dari biopsi organ nasofaring yang terdiri dari 282 kasus ganas, 21 kasus suspek ganas, dan 216 kasus non-ganas. Kasus keganasan nasofaring pada laki-laki sebesar 69,86%. Jumlah kasus tertinggi terdapat pada rentang usia lebih dari 50 tahun. Tipe histopatologi yang paling banyak adalah karsinoma tidak berdiferensiasi (undifferentiated carcinoma) sebanyak 244 kasus.  Dapat disimpulkan bahwa kasus karsinoma nasofaring masih cukup tinggi di RSUD Dr. Saiful Anwar Malang dengan profil klinikopatologi yaitu mayoritas pasiennya adalah laki-laki, usia tua, dengan tipe histopatologi karsinoma tidak berdiferensiasi. 
References
El-Naggar AK, Chan JK., Grandis JR, EI-Naggar A.K., Chan J.K.C., Grandis J.R., Takata T. SP. WHO Classification of Head and Neck Tumours. 4th Edition. Lyon: IARC. 2017. P. 347.
Adham M, Kurniawan AN, Muhtadi AI, Roezin A, Hermani B, Gondhowiardjo S, et al. Nasopharyngeal Carcinoma in Indonesia: Epidemiology, Incidence, Signs, and Symptoms at Presentation. Chin J Cancer. 2012; 31(4):185–96.
WHO. Cancer Insiden In Indonesia. 2020; 858:1–2.
Tabuchi K, Nakayama M, Nishimura B, Hayashi K, Hara A. Early Detection Of Nasopharyngeal Carcinoma. Int J Otolaryngol. 2011; 2011:1–6.
Bandi F, Karligkiotis A, Mellia J, Gallo S, Turri-Zanoni M, Battaglia P, et al. Strategies to Overcome Limitations in Otolaryngology Residency Training During the COVID-19 Pandemic. Eur Arch Oto-Rhino-Laryngology. 2020; 277(12):3503–6. DOI: 10.1007/S00405-020-06228-9
Bann D V., Patel VA, Saadi R, Gniady JP, Goyal N, Mcginn JD, Et Al. Impact of Coronavirus (COVID-19) On Otolaryngologic Surgery: Brief Commentary. Head Neck. 2020; 42(6):1227–34.
Kwong DLW, Nicholls J, Wei WI, Chua DTT, Sham JST, Yuen PW, Et Al. The Time Course of Histologic Remission After Treatment of Patients with Nasopharyngeal Carcinoma. Cancer. 1999; 85(7):1446–53.
Lara HHR, Monroy AA. Prevalence of Nasopharyngeal Carcinoma Among Patients with Nasopharyngeal Mass in A Philippine Tertiary Training Hospital. Philipp J Otolaryngol Neck Surg. 2016; 31(1):35–8.
Pan XX, Liu YJ, Yang W, Chen YF, Tang WB, Li CR. Histological Subtype Remains A Prognostic Factor For Survival In Nasopharyngeal Carcinoma Patients. Laryngoscope. 2020; 130(3):E83–8.
Wang HY, Chang YL, To KF, Hwang JSG, Mai HQ, Feng YF, Et Al. A New Prognostic Histopathologic Classification of Nasopharyngeal Carcinoma. Chin J Cancer. 2016; 35:41.
Prasetyaningrum I & Nuaba IGA. Distribusi Penderita Karsinoma Sinonasal di RSUP Sanglah Denpasar Tahun 2014-2015. (Online). 2015. https://www.kankertht-kepalaleher.info/wp-content/uploads/2016/05/Distribusi-Karsinoma-Sinonasal-di-RS-Sanglah.pdf 1–12.
Purwanto H. Hubungan Usia dan Jenis Kelamin dengan Kejadian Karsinoma Nasofaring di RSUD Dr. H. Abdul Moeloek Provinsi Lampung Tahun 2013-2014. J Med Malahayati. 2015; 2(3):146–50.
Shield KD, Ferlay J, Jemal A, Sankaranarayanan R, Chaturvedi AK, Bray F, et al. The Global Incidence of Lip, Oral Cavity, And Pharyngeal Cancers by Subsite in 2012. CA Cancer J Clin. 2017; 67(1):51–64.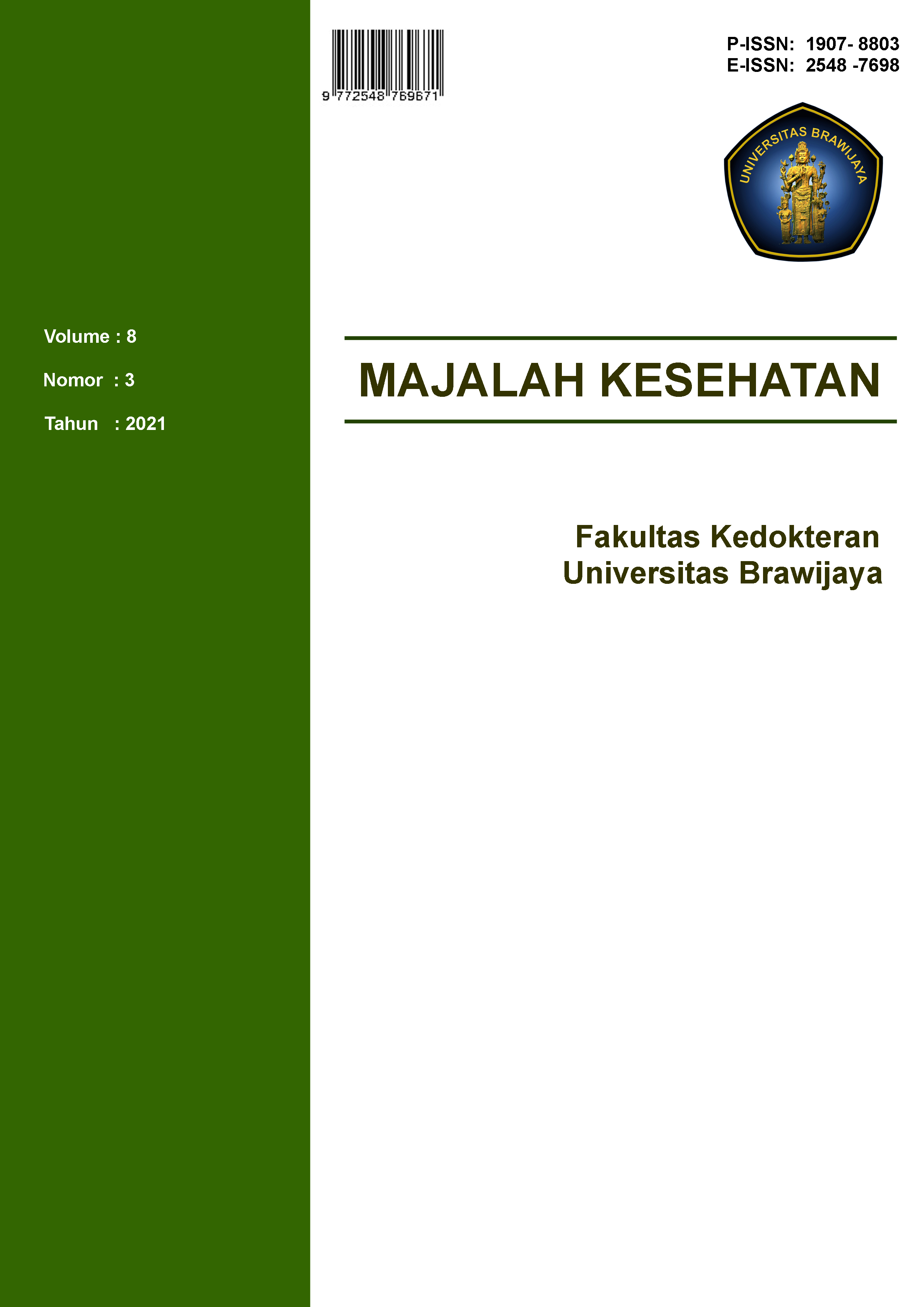 Downloads
License
This work is licensed under a
Creative Commons Attribution-NonCommercial 4.0 International License