HUBUNGAN SKOR SOFA DENGAN MORTALITAS PADA PASIEN SAKIT KRITIS
Keywords:
mortalitas, pasien sakit kritis, skor SOFA
Abstract
Sepsis merupakan suatu kondisi yang berisiko meningkatkan morbiditas dan mortalitas pasien sakit kritis. Gugus Tugas Sepsis-3 merekomendasikan Skor Sequential (Sepsis-related) Organ Failure Assessment (SOFA) untuk mengidentifikasi kondisi sepsis pada pasien sakit kritis. Penelitian ini bertujuan untuk mengetahui hubungan skor SOFA dengan mortalitas pasien sakit kritis di ruang rawat intensif Rumah Sakit dr. Saiful Anwar Malang. Penelitian ini merupakan penelitian kohort retrospektif yang menggunakan data sekunder berupa rekam medik pasien. Skor SOFA dihitung pada saat pasien masuk ke ruang rawat intensif. Sejumlah 115 rekam medik yang lengkap yaitu memenuhi kebutuhan perhitungan skor SOFA dianalisis. Hasil penelitian menunjukkan nilai rata-rata skor SOFA pasien adalah 7,25±3,85, dengan mortalitas pasien di ruang rawat intensif sebesar 55,6%. Uji statistik menunjukkan perbedaan yang bermakna antara skor SOFA pasien yang hidup dan yang meninggal (p < 0,05), dan ada hubungan antara skor SOFA dengan mortalitas (p < 0,05). Disimpulkan bahwa skor SOFA saat pasien masuk berhubungan dengan mortalitas pasien sakit kritis di ruang rawat intensif. 
References
Singer M, Deutschman CS, Seymour CW, et al. The Third International Consensus Definitions for Sepsis and Septic Shock (Sepsis-3). JAMA. 2016; 315(8):801-810.
Levy MM, Artigas A, Phillips GS, et al. Outcomes of the Surviving Sepsis Campaign in Intensive Care Units in the USA and Europe: A Prospective Cohort Study. Lancet Infect Dis. 2012; 12(12):919-924.
Giamarellos-Bourboulis EJ, Tsaganos T, Tsangaris I, et al. Validation of the New Sepsis-3 Definitions: Proposal for Improvement in Early Risk Identification. Clinical Microbiology and Infection. 2017; 23:104-109.
Finkelsztein EJ, Jones DS, Ma KC, et al. Comparison of qSOFA and SIRS for Predicting Adverse Outcomes of Patients with Suspicion of Sepsis Outside the Intensive Care Unit. Critical Care 2017; 21(73):1-10.
Camm CF, Hayward G, Elias TCN, et al. Sepsis Recognition Tools in Acute Ambulatory Care: Associations with Process of Care and Clinical Outcomes in a Service Evaluation of an Emergency Multidisciplinary Unit in Oxfordshire. BMJ Open. 2018; 8:e020497.
Li Y, Yan C, Gan Z, et al. Prognostic Values of SOFA Score, qSOFA Score, and LODS Score for Patients with Sepsis. Ann Palliat Med 2020; 9(3):1037-1044.
Woude SWvd, Doormaal FFv, B.A. Hutten3 FJN, Holleman F. Classifying Sepsis Patients in the Emergency Department using SIRS, qSOFA or MEWS. The Netherlands Journal of Medicine. 2018; 76(4):158-166.
Karakike E, Kyriazopoulou E, Tsangaris I, Routsi C, Vincent J-L, Giamarellos-Bourboulis EJ. The Early Change of SOFA Score as a Prognostic Marker of 28-Day Sepsis Mortality: Analysis Through a Derivation and a Validation Cohort. Crit Care. 2019; 23(387).
Soo A, Zuege DJ, Fick GH, et al. Describing Organ Dysfunction in the Intensive Care Unit: a Cohort Study of 20,000 Patients. Crit Care 2019; 23(186).
Bale C, Kakrani AL, Dabadghao VS, Sharma ZD. Sequential Organ Failure Assessment Score as Prognostic Marker in Critically Ill Patients in a Tertiary Care Intensive Care Unit. Int J Med Public Health 2013; 3:155-158.
Esper AM, Moss M, Lewis CA, Rachel Nisbet M, David, M. Mannino M, and Greg S. Martin, MD, MSc. The Role of Infection and Comorbidity: Factors that Influence Disparities in Sepsis. Crit Care Med. 2006; 34(10):2576-2582.
Iskandar A, Siska F. Analisis Hubungan Sequential Organ Failure Assessment (SOFA) Score dengan Mortalitas Pasien Sepsis. Jurnal Kesehatan Andalas. 2020; 9(2):168-173.
Sari EK, Wihastuti TA, Ardiansyah W. Probiotik Meningkatkan Konsentrasi Hemoglobin pada Tikus Putih yang Diinduksi Lipopolisakarida Escherichia coli. Majalah Kesehatan. 2018;5(1):18-25.
Bakhtiar A, Maranatha RA. Acute Respiratory Distress Syndrome. Jurnal Respirasi 2018; 4(2):51-60.
Mahdian M, Fazel MR, Fakharian E, Akbari H, Mahdian S. Cerebral State Index Versus Glasgow Coma Scale as a Predictor for In-Hospital Mortality in Brain-Injured Patients. Chin J Traumatol 2014; 17(4):220-224.
Leone M, Asfar P, Radermacher P, Vincent J-L, Martin C. Optimizing Mean Arterial Pressure in Septic Shock: a Critical Reappraisal of the Literature. Critical Care. 2015; 19(101).
Dellinger RP, Levy MM, Rhodes A, et al. Surviving Sepsis Campaign: International Guidelines for Management of Severe Sepsis and Septic Shock: 2012. Crit Care Med. 2013;41:580-637.
Setiawan D, Harun H, Azmi S, Priyono D. Biomarker Acute Kidney Injury (AKI) pada Sepsis. Jurnal Kesehatan Andalas. 2018;7(Supplement 2).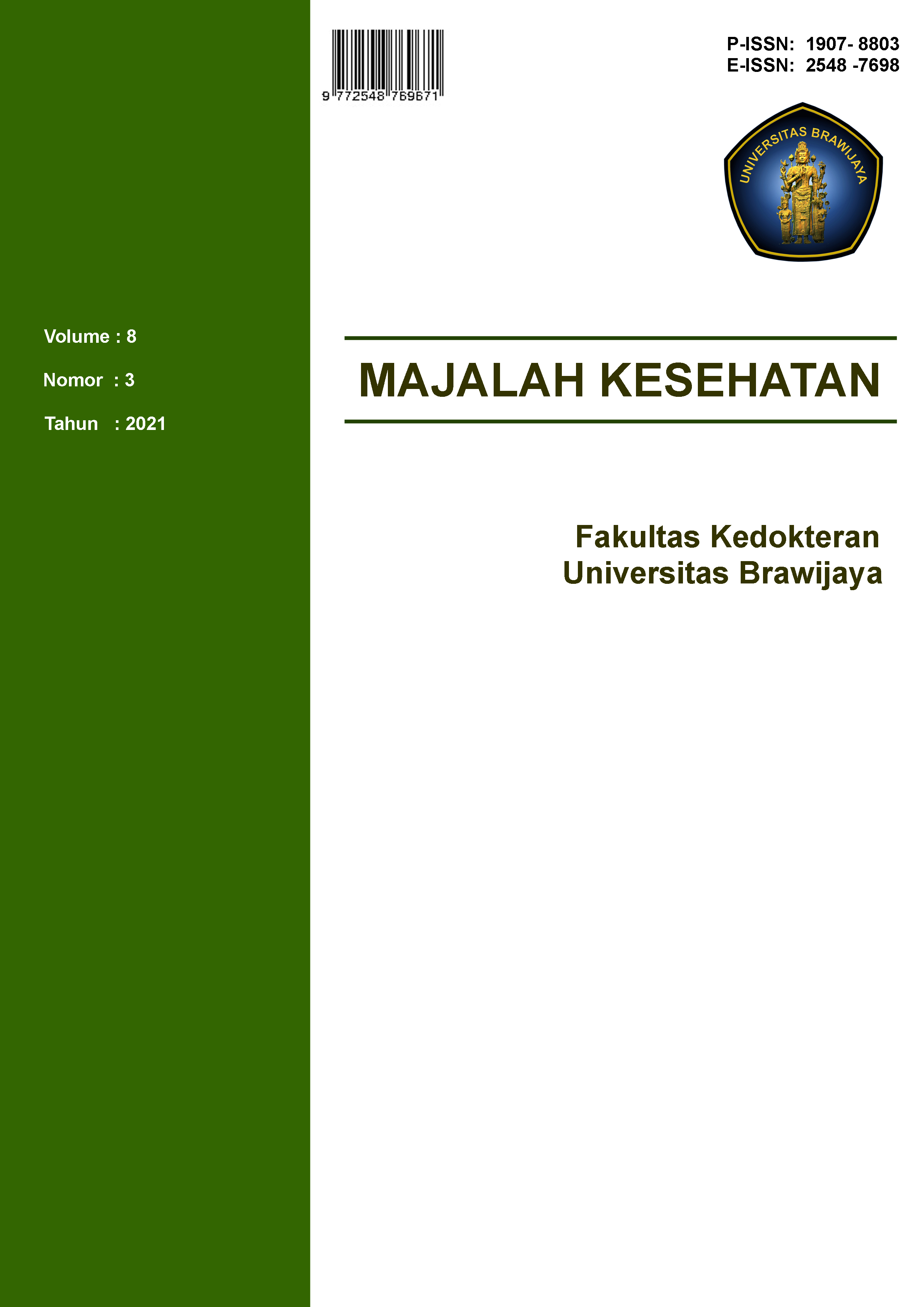 Downloads
License
This work is licensed under a
Creative Commons Attribution-NonCommercial 4.0 International License