EVALUASI IN VITRO AKTIVITAS ANTIBAKTERI EKSTRAK ETANOL DAUN SELADA AIR (Nasturtium officinale) TERHADAP BAKTERI METHICILLIN-RESISTANT Staphylococcus aureus
Keywords:
antibakteri, daun selada air (Nasturtium officinale), methicillin-resistant Staphylococcus aureus
Abstract
Methicillin-resistant Staphylococcus aureus (MRSA) adalah bakteri patogen penyebab infeksi nosokomial yang dapat menyerang beberapa sistem organ dan bersifat resisten terhadap beberapa antibiotik beta laktam seperti penisilin, sepalosporin, dan karbapenem. Prevalensi infeksi Staphylococcus aureus terus meningkat seiring dengan banyaknya prevalensi infeksi nosokomial dan meningkatnya tingkat resistensi Staphylococcus aureus terhadap beberapa antimikroba sehingga dibutuhkan suatu alternatif terapi yang dapat menggantikan atau meningkatkan efektivitas kerja antibakteri yang sudah ada. Ekstrak etanol daun selada air mengandung flavonoid, tannin, saponin, dan steroid yang dapat berperan sebagai antibakteri. Penelitian ini bertujuan untuk mengetahui aktivitas antibakteri pada ekstrak etanol daun selada air (Nasturtium officinale) terhadap MRSA secara in vitro. Rancangan penelitian yang digunakan adalah experimental post test only control group design dengan metode uji aktivitas antibakteri difusi sumuran. Ekstrak etanol daun selada air yang digunakan yaitu ekstrak dengan konsentrasi 30%, 60%, 75%, 90%, 100%, dan 0% sebagai kontrol negatif dengan pengulangan sebanyak empat kali. Hasil penelitian menunjukkan perbedaan yang signifikan (p = 0,000) dengan diameter zona hambat terbesar dicapai pada aplikasi konsentrasi ekstrak 100% yaitu 9,88±0,27 mm, diikuti dengan konsentrasi ekstrak 90% sebesar  8,97±0,21 mm, konsentrasi ekstrak 75% sebesar 7,90±0,61 mm,  konsentrasi ekstrak 60% sebesar 7,19±0,13 mm, dan konsentrasi ekstrak 30% sebesar 6,16±0,12 mm. Oleh karena itu, dapat disimpulkan bahwa ekstrak etanol daun selada air memiliki aktivitas antibakteri terhadap MRSA secara in vitro.  
References
Caroll KC, Morse SA, Mietzner T, dan Miller S. Jawetz, Melnick & Adelberg's Medical Microbiology. 27th edition. New York: McGraw-Hill Education. 2016.
Nismawati, Sjahril R, dan Agus R. Deteksi Methicillin-Resistant Staphylococcus aureus pada Pasien Rumah Sakit Universitas Hasanuddin dengan Metode Kultur. Prosiding Seminar Nasional Mega-biodiversitas Indonesia. 2018; 3(7):15-21.
Chen CJ & Huang YC. New Epidemiology of Staphyloccus aureus infection in Asia. Clinical Microbiology and Infection. 2014; (20)7:605-623.
Erikawati D, Santosaningsih D, dan Santoso S. Tingginya Prevalensi MRSA pada Isolat Klinik Periode 2010-2014 di RSUD Dr. Saiful Anwar Malang, Indonesia. Jurnal Kedokteran Brawijaya. 2016; 29(2):149-156.
Katzung BG, Masters SB, dan Trevor AJ (Editor). Farmakologi Dasar & Klinik Edisi ke-12. New York: Mc Graw-Hill Education. 2012.
Nursidika P, Saptarini O, Rafiqua N. Aktivitas Antimikroba Fraksi Ekstrak Etanol Buah Pinang (Areca catechu L) pada Bakteri Methicillin Resistant Staphylococcus aureus. Majalah Kedokteran Bandung. 2014; 46(2):94-99.
Salamah E, Purwaningsih S, dan Permatasari E. Aktivitas Antioksidan dan Komponen Bioaktif pada Selada Air (Nasturtium officinale L. R. Br). Jurnal Pengolahan Hasil Perikanan Indonesia. 2011; 15(2);85-91.
Yuliawati K, Rismawati E, dan Dasuki U. Pengujian Aktivitas Antibakteri Ekstrak Etanol Selada Air dan Pohpohan terhadap Propionibacterium acnes. Prosiding Seminar Nasional Nasional Penelitian dan PKM Kesehatan. 2016; 6:244-233.
Nadaraia NS. Amiranashvili LS, Merlain M, Karkhabrishvili ML, Barbakadze NN, Geronikaki A, Petrou A , Poroikov V, Ciric A , Glamoclija J, Sokovic M. Novel Antimicrobial Agents; Discovery Among the Steroid Derivatives. Steroids. 2019; 144:1-37.
Cushnie T & Lamb A. Antimicrobial Activity of Flavonoids. International Journal of Antimicrobial Agents. 2005; 26(5):343-356.
Akiyama H, Kazuyasu F, Yamasaki O, Oono T, dan Iwatsuki K. Antibacterial Action of Several Tannins Against Staphylococcus aureus. J of Antimicrobial Chemotherapy. 2001; 48(1):487-491.
Hossain MT, Asadujjaman, Imran N, Matin A, Chowdhury R, dan Rashid H. A Study on the Pharmacological Effects and Mechanism of Action of Alkaloids, Glycosides, and Saponins. The Pharmaceutical and Chemical Journal. 2019; 6(2):112-122.
Rahman DR, Rimbawan, Madanijah S, Purwaningsih S. Potensi Selada Air (Nasturtium Officinale R. Br) Sebagai Antioksidan dan Agen Antiproliferasi terhadap Sel MCF-7 secara In Vitro. J. Gizi Pangan. 2017; 12(3):217-224.
CLSI. M100S Perfomance Standards for Antimicrobial Susceptibility Testing 26th edition. Pennsylvania: Clinical and Laboratory Standards Institute. 2016.
Nugroho A. Buku Ajar Teknologi Bahan Alam. Banjarmasin: Lambung Mangkurat University Press. 2017.
Balouiri M, Sadiki M, & Ibnsouda SK. Methods for In Vitro Evaluating Antimicrobial Activity: A Review. Journal of Pharmaceutical Analysis. 2016; 6(2):71-79.
Davis WW & Stout TR. Disc Plate Method of Microbiological Antibiotic Assay. Applied and Enviromental Microbiology. 1971; 22(4):666-670.
Sugiyono. Statistika untuk Penelitian. Bandung: Alfabeta. 2013.
Derhami SF, Rad MG, Mahmoudi R. Evaluation of Antibacterial Effects of Aqueous and Alcoholic Extracts of Nasturtium officinale on Some Pathogenic. Medical Laboratory Journal. 2016; 10(6):49-53.
Harmita dan Radji M. Kepekaan terhadap Antibiotik. Dalam: Buku Ajar Analisis Hayati. Edisi ke-3. Jakarta: EGC. 2008.
Freitas E, Aires A, Rosa EA, Saavedra MJ. Antibacterial Activity and Synergistic Effect between Watercress Extracts, 2-Phenylethyl Isothiocyanate and Antibiotic Against 11 Isolates of Escherichia coli from Clinical and Animal Source. Letters in Applied Microbiology. 2013; 57(4):266-273.
Chandra RA, Yunita R, Wahyuni DD, Anggraini DR. Daya Antibakteri Ekstrak Buah Belimbing Wuluh (Averrhoa bilimbi Linn) terhadap Methicillin-resistant Staphylococcus aureus. Essence of Scientific Medical Journal. 2018; 16(1):43-47
Azizah A, Suswati I, Agustin SM. Efek Antimikroba Ekstrak Bunga Cengkeh (Syzygium aromaticum) terhadap Methicillin-resistant Staphylococcus aureus (MRSA) Secara In Vitro. Saintika Medika: Jurnal Ilmu Kesehatan dan Kedokteran Keluarga. 2017; 13(1):31-35.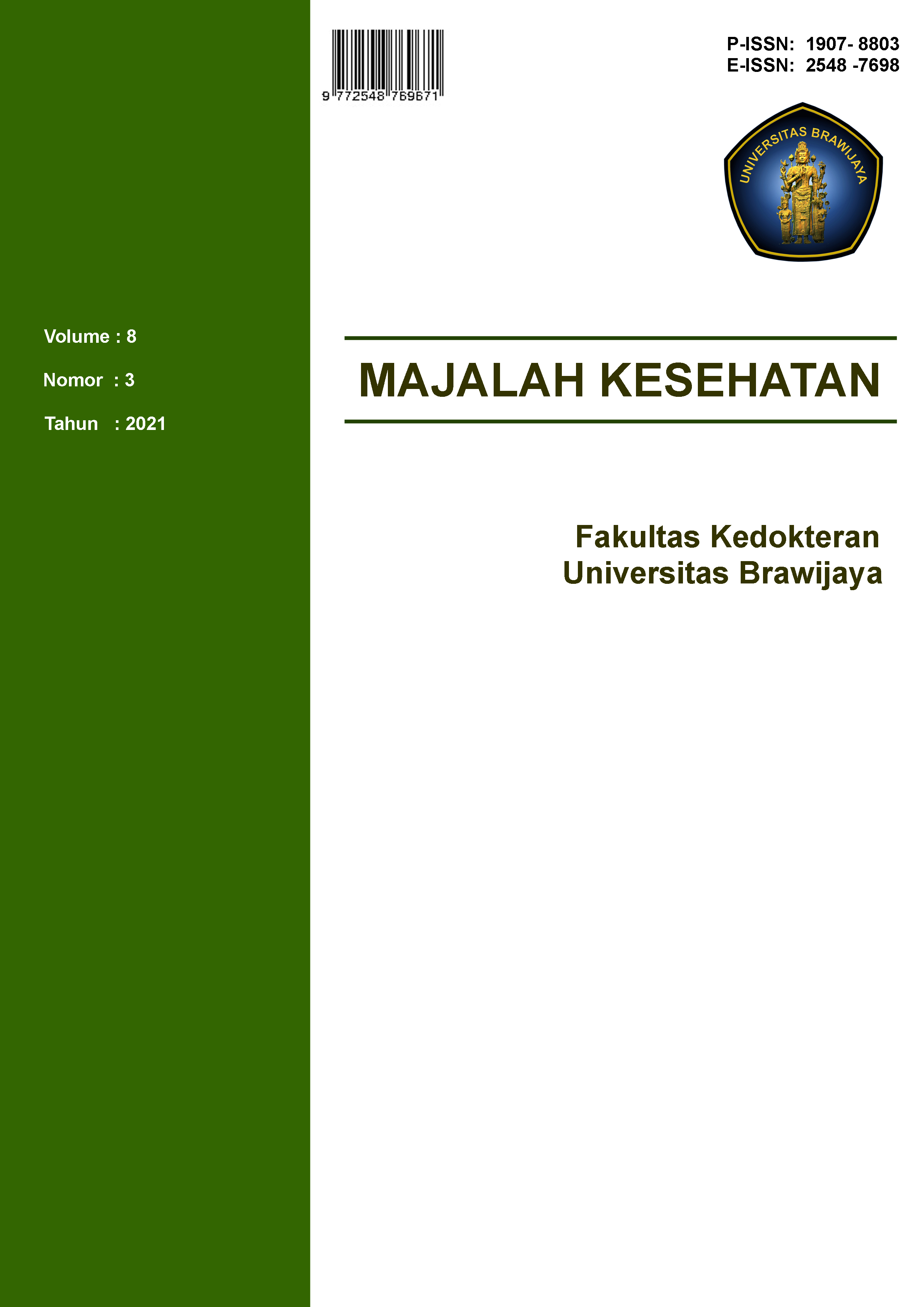 Downloads
License
Copyright (c) 2021 Majalah Kesehatan FKUB
This work is licensed under a Creative Commons Attribution-NonCommercial 4.0 International License.
This work is licensed under a
Creative Commons Attribution-NonCommercial 4.0 International License