Faktor-Faktor yang Berpengaruh terhadap Kejadian Gagal Jantung pada Pasien Infark Miokard Akut di Rumah Sakit dr. Saiful Anwar Malang
Abstract
Gagal jantung adalah komplikasi yang umumnya terjadi pada pasien infark miokard akut, dengan insidensinya diperkirakan mencapai 10-40 %. Berbagai faktor berpengaruh terhadap kejadian gagal jantung pada pasien infark miokard akut. Tujuan dari penelitian ini adalah untuk menentukan faktor-faktor yang berpengaruh terhadap kejadian gagal jantung pada pasien infark miokard akut. Sampel dalam penelitian ini berjumlah 65 orang, yang diambil secara consecutive selama 2 bulan di ruang intermediate ward rumah sakit dr. Saiful Anwar Malang. Gagal jantung diklasifikasikan menggunakan kriteria Killip (kelas 1-4). Pasien kriteria ekslusi adalah pasien dengan riwayat gagal jantung. Dalam peneliian ini terdapat 19 orang (29,23 %) dengan gagal jantung (Killip > 1). Berdasarkan hasil uji Chi square dengan tingkat kepercayaan 95 %, didapatkan dislipidemia berpengaruh secara signifikan terhadap kejadian gagal jantung pada pasien infark miokard akut dengan (p = 0,026). Dari 65 orang pasien IMA, kejadian gagal jantung (Killip > 1) terjadi pada 19 orang (29,23 %). Penelitian ini menyimpulkan bahwa faktor yang terbukti berpengaruh terhadap kejadian gagal jantung pada pasien infark miokard akut adalah dislipidemia.
 
Kata kunci: Dislipidemia, Gagal jantung, Infark miokard akut.
References
Xanthos T, Pantazopoulus I, Vlachos I, Strompoulis K, Barouxis D, Kitsou V, Marathias K, Karabinis A, Papadimitriou L. Factors Influencing Arrival of Patients with Acute Myocardial Infarction at Emergency Departments: Implications for Community Nursing Interventions. Journal of Advanced Nursing. 2010; 66(7):1469–1477.
[Depkes RI] Departemen Kesehatan Republik Indonesia. Profil Kesehatan Indonesia 2008. Jakarta: Departemen Kesehatan RI. 2009.
Jones DL et al. Heart Disease and Stroke Statistics — 2009 Update: A report from American Heart Assosiation Statistics Committe and Stroke Statistics Subcommitte. AHA Statistical Update. (online).http://circ.ahajournals.org/content/119/3/e21.full. 2009.
[RS PJNHK] Rumah Sakit Pusat Jantung Nasional Harapan Kita. Data rekam medis. 2009.
Velagaleti RS, Pencina MJ, Murabito JM, Wang TJ, Parikh NI, D'Agostino RB, Levy D, Kannel WB, Vasan RS. Long-Term Trends in The Incidence of Heart Failure after Myocardial Infarction. Circulation. 2008;118:2057-2062.
Webb JG, Sleeper LA, Buller CE, Boland J, Palazzo A, Buller E, White HD, Hochman JS. Implications of the Timing of Onset of Cardiogenic Shock After Acute Myocardial Infarction. J Am Col Cardiol. 2000; 36:1084-1090.
Flaherty JD, Bax JJ, De Luca L, Rossi JS, Davidson CJ, Filippatos G, Liu PP, Konstam MA, Greenberg B, Mehra MR, Breithardt G, Pang PS, Young JB, Fonarow GC, Bonow RO, Gheorghiade M. Acute Heart Failure Syndromes in Patients with Coronary Artery Disease: Early Assessment and Treatment. J Am Col. Cardiol. 2009; 53:254-263.
Davis L, Smith DD. Myocardial Infraction. Dalam: Cardiovaskular Nursing Secret, Linda Scheet (Editor). USA: Elsevier Mosby. 2004.
Killip T, Kimball JT. Treatment of Myocardial Infarction In A Coronary Care Unit. A Two-Year Experience with 250 Patients. Am J Cardiol. 1967; 20:457– 64.
Wang TD, Lee CM, Wu CC, Lee TM, Chen WJ, Chen MF, Liau CS, Sung FC, Lee YT. The Effects of Dysipidemia on Left Ventricular Systolic Function in Patient with Stable Angina Pectoris. (online). www.sciencedirect.com. 2009.
Ho KKL, Pinsky JL, Kannel WB, Levy D. The Epidemiology of Heart Failure: The Framingham Study. J Am Coll Cardiol. 1993; 22(4 Suppl A):6A-13A.
Lip GYH, Gibbs CR, Beevers DG. ABC of Heart Failure: Aetiology. BMJ. 2000; 320:104-7.
Melchior T, Rask-Madsen C, Torp-Pedersen C, Hildebrandt P, Kober L, Jensen G. The Impact of Heart Failure on Prognosis of Diabetic and Non-Diabetic Patients with Myocardial Infarction: A 15-Year Follow-Up Study. European Journal of Heart Failure. 2001; 3:83-90.
Steg PG, Dabbous OH, Feldman LJ, Cohen-Solal A, Marie-Claude A, López-Sendón J, Budaj A, Goldberg RJ, Klein W, Anderson FA. Determinants and Prognostic Impact of Heart Failure Complicating Acute Coronary Syndromes. Circulation. 2004; 109:494-499.
Beohar N, Erdogan AK, Lee DC et al. Acute Heart Failure Syndromes And Coronary Perfusion. J Am Coll Cardiol. 2008; 52:13– 6.
Perna ER, Macin SM, Cimbaro Canella JP et al. High Levels of Troponin T are Associated with Ventricular Remodeling and Advers in-Hospital Outcome in Heart Failure. Med Sci Monit. 2004;10:CR90-5.
Sukova J, Ostadal P, Widimsky P. Profile of Patients with Acute Heart Failure and Elevated Troponin I Levels. Exp Clin Cardiol. 2007;12(3):153-156.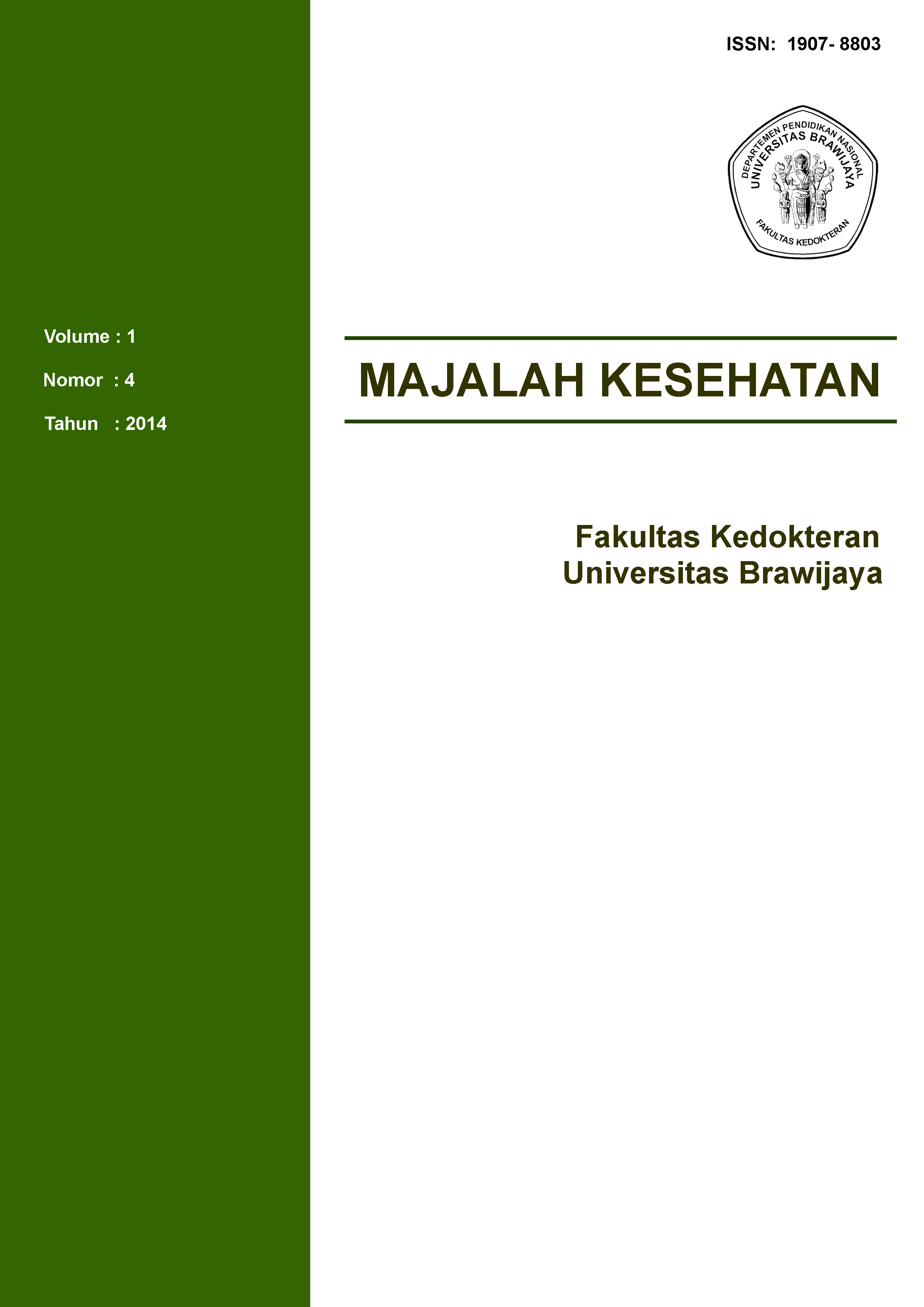 Downloads
How to Cite
Baransyah, L., Rohman, M. S., & Suharsono, T. (2016). Faktor-Faktor yang Berpengaruh terhadap Kejadian Gagal Jantung pada Pasien Infark Miokard Akut di Rumah Sakit dr. Saiful Anwar Malang. Majalah Kesehatan, 1(4), pp.209–213. Retrieved from https://majalahfk.ub.ac.id/index.php/mkfkub/article/view/42
Section
Original Research Article