AKTIVITAS ANTITUSIF KOMBINASI EKSTRAK ETANOL JAHE MERAH (Zingiber officinale var. rubrum) DAN DAUN UNGU (Graptophyllum pictum) PADA MARMUT (Cavia porcellus)
Keywords:
antitusif, asam sitrat 7, 5%, daun ungu (Graptophylum pictum), jahe merah (Zingiber officinale var. rubrum)
Abstract
Batuk sebagai sebuah sistem perlindungan dengan cara mengeluarkan benda asing pada saluran pernapasan manusia yang bisa menyebabkan infeksi. Perlu dilakukan penelitian terhadap pemanfaatan tanaman sebagai obat yang digunakan untuk mengatasi batuk. Hal tersebut dikarenakan tanaman obat memiliki efek samping minim daripada obat buatan. Jahe merah (Zingiber officinale var. rubrum) serta daun ungu (Graptophylum pictum) telah dimanfaatkan penggunaannya dengan cara tradisional dalam mengatasi batuk. Tujuan penelitian ini yaitu mendapatkan pengetahuan mengenai aktivitas antitusif serta perbandingan optimal kombinasi dari ekstrak etanol 96% jahe merah serta ekstrak etanol 96% daun ungu. Uji aktivitas antitusif dilakukan dengan menilai persentase supresi batuk melalui induksi larutan asam sitrat 7,5% pada hewan coba marmut betina sebanyak 28 ekor dibagikan menjadi tujuh kelompok perlakuan di antaranya perlakuan dengan pemberian CMC-Na (kontrol negatif), kodein 10 mg/kg BB (kontrol positif), dosis tunggal 250 mg/kg BB dari ekstrak etanol 96% jahe merah serta daun ungu, dosis kombinasi ekstrak etanol 96% jahe merah serta daun ungu dengan perbandingan kombinasi 1:1, 0,5:1 dan 1:0,5 selama 5 hari. Penelitian menunjukkan hasil bahwa ekstrak etanol 96% jahe merah serta daun ungu pada dosis tunggal maupun kombinasinya memiliki aktivitas antitusif yang mampu meningkatkan supresi batuk melalui hewan percobaan yaitu marmut. Perbandingan hasil kombinasi ekstrak etanol 96% jahe merah serta ekstrak etanol 96% daun ungu yang optimal adalah 1:0,5 dengan persentase supresi batuk sebesar 73,00 %. 
References
Tietze KJ. Handbook of Nonprescription Drug: An Interactive Approach to SelfCare, 18th Edition. Washington DC: American Pharmaceutical Association. 2015. p 211-215.
Fakhruddin, Nurrochmad A, Gunawan PW. Aktivitas Antitusif dan Ekspektoran Ekstrak Etanol, Fraksi Polar-Semi Polar Herba Meniran (Phyllanthus niruri L.) Pada Marmut (Cavia porcellus). Jurnal Farmasi Indonesia. 2017; 14(2):118-124.
Kumar G, Karthik LKV, Bhaskara R. A Review on Pharmacological and Phytochemical Properties of Zingiber officinale Roscoe (Zingiberaceae). Journal of Pharmacy Research. 2011; 4(9):2963-2966.
Peng Y, Mengjun HU, Qi L, Yan T, Wanying H, Liang C, Kexing W and Siyi P. Flavonoids Derived from Exocarpium citri Grandis Inhibit LPS-induced Inflammatory Response via Suppressing MAPK and NF-κB Signalling Pathways. Food and Agricultural Immunology. 2019; 30(1):564-580.
Kou X, Wang X, Ji R. Liu L, Qiao Y, Lou Z, et al. Occurrence, Biological Activity and Metabolism of 6-Shogaol. Food and Function. 2018; (3).
Lestari PG, Khumaida N, Sartiami D, Mardiningsih TL. Selection Criteria of Graptophyllum pictum Resistance to Doleschallia bisaltide Cramer (Lep: Nymphalidae) Attack Based on Insect Feeding Preference. SABRAO Journal of Breeding and Genetics. 2015; 47(2):172-184.
Yen KP, Seow LJ, Fatin H. In Vitro Evaluation of Photoprotective Potential of the Different Solvent Extracts of Graptophyllum pictum Leaves. Journal of Applied Pharmaceutical Science. 2018; 8(1):147-151.
Sani RN, Fithri CN, Ria DA, dan Jaya MM. Analisis Rendemen dan Skrining Fitokimia Ekstrak Etanol Mikroalga Laut Tetraselmis chuii. Jurnal Pangan dan Agroindustri. 2014; 2(2):121-126.
Saidah S, Effionora A, Mahdi J, dan Umi C. Perbandingan Ekstrak Jahe Merah (Zingiber Officinale roscoe var. Rubrum), Gingerol dan Shogaol sebagai Antitoksoplasma terhadap Parasit Toxoplasma gondii secara in vitro. Jurnal Jamu Indonesia. 2019; 4(3): 93-102.
Rahmani AH, Al Shabrmi FM, Aly SM. Active Ingredients of Ginger as Potential Candidates in the Prevention and Treatment of Diseases via Modulation of Biological Activities. Int J Physiol Pathophysiol Pharmacol. 2014; 6(2):125-136.
Haeria. Penetapan Kadar Flavonoid Total dan Uji Daya Antioksidan Ekstrak Etanol Daun Ungu (Graptophyllum pictum L. Griff ). JF FIK UINAM. 2013; 1(1):1-9.
Aulia Z, Khamid MN, Aninjaya M. Analisis Kandungan Flavonoid Ekstrak Etanol 70% Simplisia Daun Ungu (Graptophyllum pictum L Griff.) dengan Metode Kromatografi Lapis Tipis Densitometri. Jurnal Ilmu Kesehatan Stikes Duta Gama Klaten. 2018; 10(2):81-88.
Townsend EA, Siviski ME, Zhang Y, Xu C, Hoonjan B, Emala CW. Effects of Ginger and Its Constituents on Airway Smooth Muscle Relaxation and Calcium Regulation. American Journal of Respiratory Cell and Molecular Biology. 2013; 48(2):157-63.
Wu YX, Jian TY, Han LW, Ding QX, Zuo YY, et al. Antitussive and Expectorant Properties of Growing and Fallen Leaves of Loquat (Eriobotrya japonica). Revista Brasileira de Farmacognosia. 2018; 28(2):239-242.
Lagarde F, Beausoleil C, Belcher SM, Belzunces LP, Emond C, Guerbet M, Rousselle C. Non-monotonic Dose-response Relationships and Endocrine Disruptors: a Qualitative Method of Assessment. Environmental Health. 2015; 14(1):13.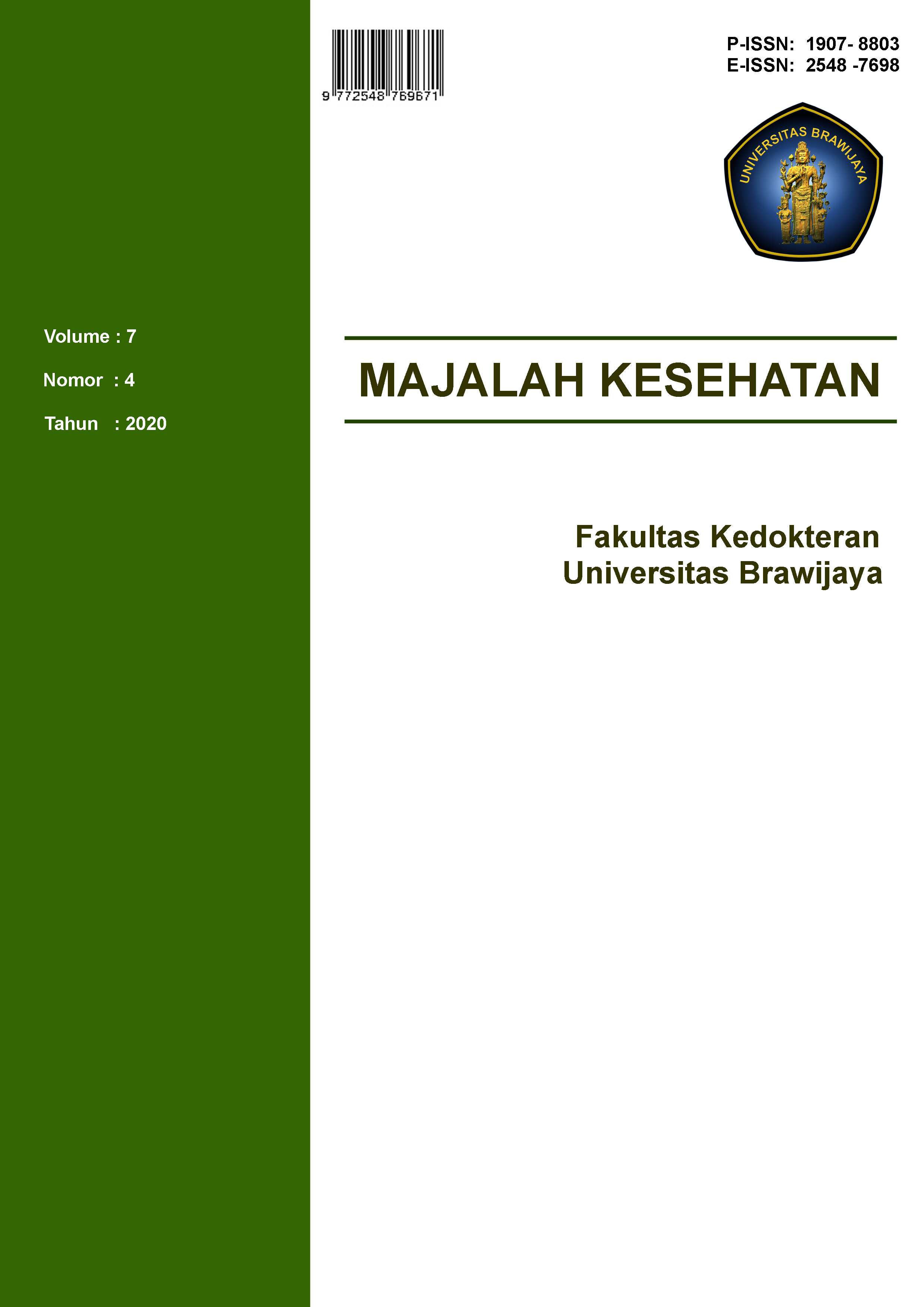 Downloads
License
This work is licensed under a
Creative Commons Attribution-NonCommercial 4.0 International License