Laporan Kasus: TERAPI KOMBINASI KRIM ASAM GLIKOLAT 8% DAN PEELING ASAM GLIKOLAT 15% PADA HIPERPIGMENTASI AKSILA: SERIAL KASUS PADA 2 PASIEN
Keywords:
glycolic acid, hiperpigmentasi aksila, peeling kimia
Abstract
Hiperpigmentasi aksila termasuk hiperpigmentasi pascainflamasi yang banyak terjadi pada wanita kulit gelap di daerah tropis. Modalitas terapi yang dapat digunakan salah satunya adalah peeling kimiawi menggunakan asam glikolat (glycolic acid, GA). Tujuan laporan kasus ini untuk melihat perbaikan hiperpigmentasi aksila  yang diberi terapi kombinasi krim GA 8% dan peeling GA 15%. Dilaporkan 2 pasien perempuan berusia 24 dan 23 tahun dengan keluhan kulit kedua ketiak menghitam dan kasar. Pasien pertama rutin menggunakan antiperspiran, sedangkan pasien kedua jarang. Kedua pasien sering mencukur rambut ketiaknya. Pada pasien dilakukan pemeriksaan dermatologis, didapatkan patch hiperpigmentasi, batas tidak tegas, tepi ireguler, bentuk dan ukuran bervariasi. Kedua pasien didiagnosis hiperpigmentasi aksila. Lesi difoto dan dinilai menggunakan Von Luschan's Chromatic Scale oleh 3 orang penilai independen. Pasien diberikan terapi krim GA 8% tiap malam hari dan peeling GA 15% 2 kali dengan interval 4 minggu. Hiperpigmentasi dinilai pada minggu ke-0, minggu ke-3, dan minggu ke-8. Setelah 8 minggu didapatkan penurunan skor Von Luschan's Chromatic Scale. Peeling GA 15% termasuk dalam peeling kimiawi superfisial. Hiperpigmentasi kulit adalah salah satu indikasi peeling kimiawi superfisial. Pada hiperpigmentasi aksila dapat diberikan peeling kimiawi GA 15%, dan untuk hasil yang lebih optimal ditambahkan perawatan harian di rumah menggunakan krim GA 8%. Pada kedua pasien, setelah diberikan terapi terjadi perbaikan klinis. Pada 2 kasus ini telah terbukti bahwa terapi kombinasi krim GA 8% dengan peeling GA 15% dapat mengurangi keluhan hiperpigmentasi pascainflamasi pada aksila.
References
Castanedo-Cazares JP, Lárraga-Piñones G, Ehnis-Pérez A, Fuentes-Ahumada C, Oros-Ovalle C, Smoller BR, Torres-Álvarez B. Topical Niacinamide 4% and Desonide 0.05% for Treatment of Axillary Hyperpigmentation: a Randomized, Double-Blind, Placebo-Controlled Study. Clinical, Cosmetic and Investigational Dermatology. 2013;6:29-36. DOI: 10.2147/CCID.S39246.
Baker A, Bowes L. Chemical Peels for The Body: A Review of Selected Ingredients and Indications. Journal of Aesthetic Nursing. 6(5):234-240. DOI:10.12968/joan.2017.6.5.234
Soleymani T, Lanoue J, Rahman Z. A Practical Approach to Chemical Peels: A Review of Fundamentals and Step-by-Step Algorithmic Protocol for Treatment. The Journal of Clinical and Aesthetic Dermatology. 2018; 11(8): 21.
Yuliany EH. Pengenalan Manfaat Daun Kelor pada Proses Pemulihan Warna Kulit Akibat Hiperpigmentasi di SMA Negeri 9 Kota Palembang. Batoboh. 2020; 5(1):70-7. DOI: http://dx.doi.org/10.26887/bt.v5i1.988
Kaufman BP, Aman T, Alexis AF. Postinflammatory Hyperpigmentation: Epidemiology, Clinical Presentation, Pathogenesis and Treatment. American Journal of Clinical Dermatology. 2018 Aug;19(4):489-503. DOI: 10.1007/s40257-017-0333-6.
Murlistyarini S. Step by Step Pengelupasan Kulit Secara Kimiawi. Malang: UB Press. 2015. P 4-9.
Fischer TC, Perosino E, Poli F, Viera MS, Dreno B. Cosmetic Dermatology European Expert Group. Chemical Peels in Aesthetic Dermatology: an Update 2009. Journal of the European Academy of Dermatology and Venereology. 2010 Mar;24(3):281-92. DOI: 10.1111/j.1468-3083.2009.03409.x.
Sharad J. Glycolic Acid Peel Therapy–A Current Review. Clinical, Cosmetic and Investigational Dermatology 2013; 6: 281–288. DOI: 10.2147/CCID.S34029
Rendon MI, Berson DS, Cohen JL, Roberts WE, Starker I, Wang B. Evidence and Considerations in The Application of Chemical Peels in Skin Disorders and Aesthetic Resurfacing. The Journal of Clinical and Aesthetic Dermatology. 2010; 3(7): 32-43.
Hassan KM, Benedetto AV. Facial Skin Rejuvenation: Ablative Laser Resurfacing, Chemical Peels, or Photodynamic Therapy? Facts And Controversies. Clin Dermatol. 2013; 31(6):737-40. DOI: 10.1016/j.clindermatol.2013.05.011.
Kalangi SJ. Histofisiologi Kulit. Jurnal Biomedik. 2013; 5(3).
Swiatoniowski AK, Quillen EE, Shriver MD, Jablonski NG. Comparing von Luschan Skin Color Tiles and Modern Spectrophotometry for Measuring Human Skin Pigmentation. American Journal of Physical Anthropology. 2013; 151(2): 325-30. DOI: https://doi.org/10.1002/ajpa.22274
McCreath HE, Bates‐Jensen BM, Nakagami G, Patlan A, Booth H, Connolly D, Truong C, Woldai A. Use of Munsell Color Charts to Measure Skin Tone Objectively in Nursing Home Residents at Risk for Pressure Ulcer Development. Journal of Advanced Nursing. 2016; 72(9): 2077-85. DOI: 10.1111/jan.12974.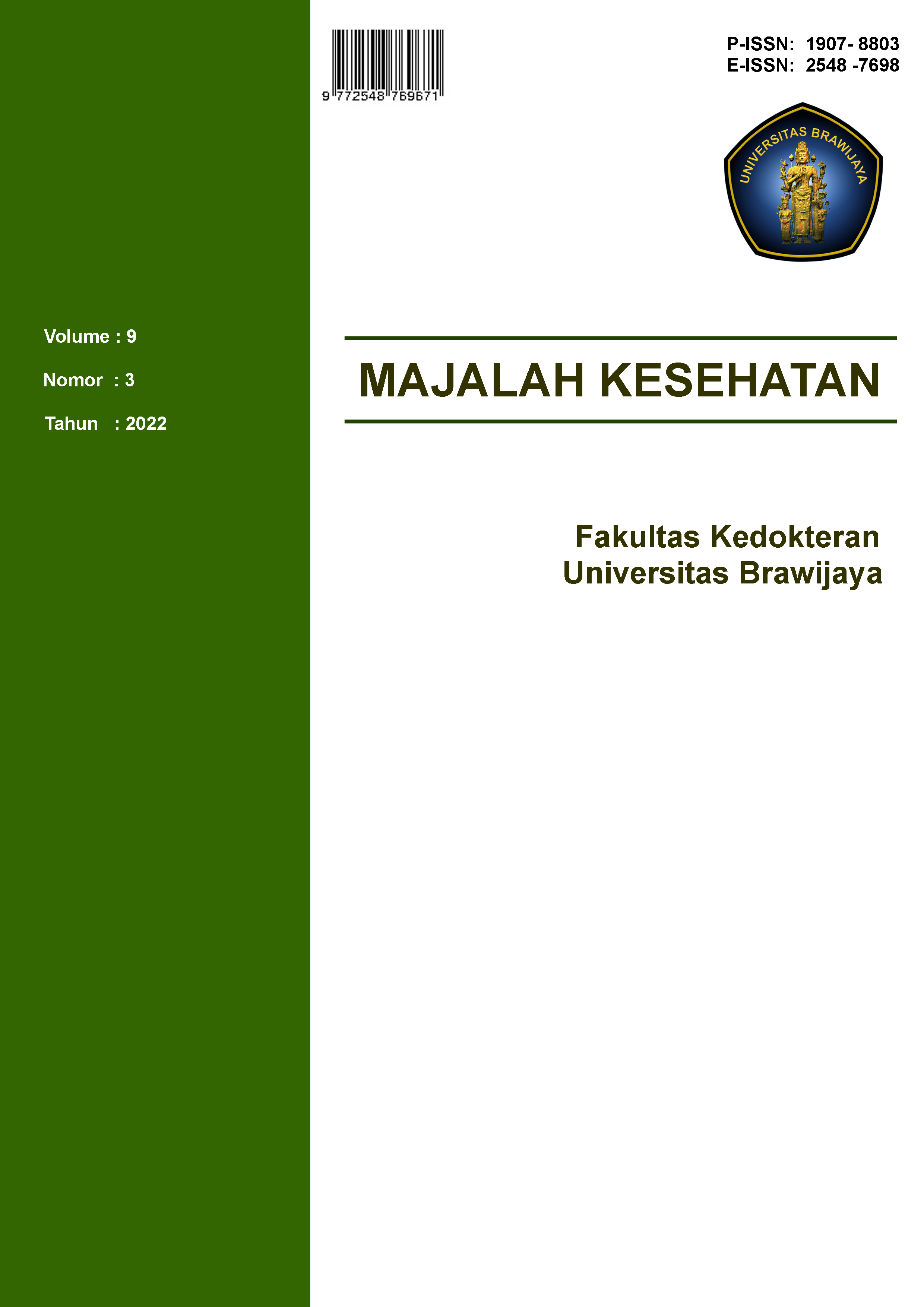 Downloads
How to Cite
Murlistyarini , S. ., & Hidayah, N. (2022). Laporan Kasus: TERAPI KOMBINASI KRIM ASAM GLIKOLAT 8% DAN PEELING ASAM GLIKOLAT 15% PADA HIPERPIGMENTASI AKSILA: SERIAL KASUS PADA 2 PASIEN. Majalah Kesehatan, 9(3), 171–180. https://doi.org/10.21776/majalahkesehatan.2022.009.03.6
Section
Original Research Article
License
Copyright (c) 2022 Majalah Kesehatan FKUB
This work is licensed under a Creative Commons Attribution-NonCommercial 4.0 International License.