PERBEDAAN EKSPRESI PROTEIN CYCLIN D1 ANTARA ADENOMA DAN ADENOKARSINOMA KOLOREKTAL, SERTA KORELASINYA DENGAN GRADING DAN STADIUM TUMOR
Keywords:
adenokarsinoma, cyclin D1, grading, kolorektal, stadium
Abstract
Sebagian besar karsinoma kolorektal adalah adenokarsinoma, dan lebih dari 95% karsinoma kolorektal diawali oleh lesi prekursor yaitu adenoma. Risiko suatu adenoma berubah menjadi suatu karsinoma akan lebih tinggi pada adenoma dengan ukuran lebih dari 1 cm, tipe villous, dan disertai displasia high grade. Telah diketahui bahwa grading dan stadium merupakan faktor prognostik penting baik pada adenoma maupun adenokarsinoma. Perkembangan adenoma menjadi adenokarsinoma melibatkan peran banyak gen dan protein, salah satunya cyclin D1 yang berperan meningkatkan proliferasi sel, angiogenesis dan invasi sel. Penelitian ini bertujuan untuk mengetahui perbedaan ekspresi cyclin D1 antara adenoma dan adenokarsinoma kolorektal, serta hubungannya dengan grading dan stadium tumor. Lalu, ditentukan 30 sampel untuk masing-masing adenoma dan adenokarsinoma yang diambil dari Instalasi Patologi Anatomi RS. dr. Saiful Anwar Malang. Keseluruhan sampel dilakukan pulasan imunohistokimia dengan antibodi cyclin D1 kemudian dihitung persentase ekspresinya, dan dianalisis hubungan antara cyclin D1 tersebut dengan grading pada adenoma dan grading serta stadium pada adenokarsinoma. Hasil penelitian menunjukkan terdapat perbedaan ekspresi cyclin D1 yang bermakna  antara kelompok adenoma dan adenokarsinoma dengan p < 0,01. Tidak terdapat hubungan yang bermakna antara ekspresi cyclin D1 dengan grading adenoma serta grading dan stadium adenokarsinoma (p > 0,05). Kesimpulan penelitian ini adalah ekspresi cyclin D1 dapat digunakan untuk membedakan antara adenoma dan adenokarsinoma, tetapi ekspresi tersebut tidak berhubungan dengan grading dan stadium tumor.
 
References
Siegel R, Desantis C, Jemal A. Colorectal Cancer Statistic, 2014. CA Cancer J Clin. 2014; 64(2):104-17.
Dragovich T. Colon Cancer. (Online). 2019. http://emedicine.medscape.com/article/277496-overview. [accessed 5th June 2019].
Hamza AH, Aglan HA, Ahmed HH. Recent Concepts in the Pathogenesis and Management of Colorectal Cancer. Recent Advanced in Colon Cancer. 2017. Chapter 6.
Shussman N and Wexner SD. Colorectal Polyps and Polyposis Syndrome. Gastro-enterology Report. 2014; 2(1):1-15.
Conteduca V, Sansonno D, Russi S, Dammacco F. Precancerous Colorectal Lesion (Review). International Journal of Oncology. 2013; 43(4):973-984.
Simon K. Colorectal Cancer Development and Advances in Screening. Clinical Intervention in Aging. 2016; 11:967-976.
Romero JJG, Trevino AIV, Flores EHC, Mera BB, Enriquez MH, Ruiz KU, et al. Colorectal Cancer: A Review. Inter-national Journal of Research in Medical Sciences. 2017; 5(11):4667-4676.
Pestell RG and Li. Antisense to Cyclin D1 Inhibits VEGF-Stimulated Growth of Vascular Endothelial Cells: Implication of Tumor Vascularization. Clin Cancer Res. 2006; 12(15):4720.
Li Z, Wang C, Prendergast G, Pestell RG. Cyclin D1 Functions in Cell Migration. Cell Cycle. 2006; 5(21):2440-2442.
Dai M, Al-Odaini AA, Fils-Aime N, Villatoro MA, Guo J, Arakelian A. et al. Cyclin D1 Cooperates with p21 to Regulate TGFβ-Mediated Breast Cancer Cell Migration and Tumor Local Invasion. Breast Cancer Research. 2013; 15:R49.
Wangefjord S, Manjer J, Gaber A, Nodin B, Eberhard J, Jirstrom K. Cyclin D1 Expression in Colorectal Cancer is a Favorable Prognostic Factor in Men but Not in Women in a Prospective, Popu-lation-Based Cohort Study. Biology of Sex Differences. 2011; 2:10.
Jang KY, Kim YN, Bae JS, Chung MJ, Moon WS, Kang MJ, et al. Expression of Cyclin D1 is Associated with β-Catenin Expression and Correlates with Good Prognosis in Colorectal Adenocarcinoma. Translational Oncology. 2012; 5(5):370–378.
Ahlin C, Lundgren C, Embretsen-Varro E, Jirstrom K, Blomqvist C, Fjallskog M. High Expression of Cyclin D1 is Associated to High Proliferation Rate and Increased Risk of Mortality In Women with ER-Positive but Not in ER-Negative Breast Cancers. Breast Cancer Res Treat. 2017; 164(3):667-678.
Kumar V, Abbas AK, Aster JC. Robbins Basic Pathology. 9th Edition. Philladelphia: Elsevier Sanders. 2015.
Nassrat FL, Ali HH, Qasim BJ. Immunohistochemical Expression of Cyclin D1 in Colorectal Adenomas: a Clinicopathological Study. Kasr Al Ainy Medical Journal. 2016; 22(3):115-122.
Meijer BJ, Wielenga MCB, Hoyer PB, Amos-Landgraf JM, Hakvoort TBM, Muncan V, et al. Colorectal Tumor Prevention by the Progestin Medro-xyprogesterone Acetate is Critically Dependent on Postmenopausal Status. Oncotarget. 2018; 9(55):30561-30567.
El-Taher SM, Alenezy A, Salama BMM, Hassan TMM. Risk Factors of Colorectal Cancer; A Case-Control Study. The Egyptian Journal of Community Medicine. 2016; 34(1).
Goldblum JR, Lamps LW, Kenney JK. Rosai and Ackerman's Surgical Pathology. 11th Edition. Philadelphia: Elsevier Inc. 2018.
Rosidah A, Norahmawati E, Anita KW. Profil Klinikopatologi Pasien Adenoma dan Adenokarsinoma Kolorektal di Instalasi Patologi Anatomi RSUD Saiful Anwar Malang Periode 2016-2018. Penelitian Retrospektif. 2019.
Silva SM, Rosa VF, Santos ACN, Almeida RM, Oliveira PG, Sousa JB. Influence of Patient Age and Colorectal Polyp Size on Histopathology Finding. ABCD Arg Bras Cir Dir. 2014; 27(2):109-113.
Strum WB. Colorectal Adenoma. N Engl J Med. 2016; 374(11):1065-75.
Pantow PR, Waleleng JB, Sedli PB. Profil Adenocarcinoma Kolon di RSUP Prof. Dr. R. D. Kandou dan Siloam Hospitals Periode Januari 2016-Juni 2017. Jurnal e-Clinic (eCl). 2017; 5(2):326-331.
Hamilton SR, Bosman FT, Boffeta P, Ilyas M, Moreau H, Nakamura SI, et al. Carcioma of the Colon and Rectum. WHO Classification of Tumors of the Digestive System. WHO Press. 2010; 131-182.
Hachmanoochehry F, Asefzadeh S, Kazemifar AM, Ebtehaj M. Clinicopathological Feature of Colon Adenocarcinoma in Qazvin, Iran: A 16 Year Study. Asian Pac J Cancer Prev. 2014; 15 (2):951-955.
Albasri AA, Elkablawy MA, Ansari IA, Alhujayli AS. Prognostic Significance of Cyclin D1 Over-Expression in Colorectal Cancer: An Experience in Madinah, Saudi Arabia. Asian Pac J Cancer Prev. 2019; 20(8):2471.
Li Y, Wei J, Xu C, Zhao Z, You T. Prognostic Significance of Cyclin D1 Expression in Colorectal Cancer: A Meta-Analysis of Observational Studies. PLoS ONE. 2014; 9(4).e94508.
Salmo E and Haboubi N. Adenoma and Malignant Colorectal Polyp: Pathological Considerations and Clinical Applications. EMJ Gastroenterol. 2018; 7(1):92-102.
Nguyen HT and Duong HQ. The Molecular Characteristics of Colorectal Cancer: Implications for Diagnosis and Therapy (Review). Oncology Letters. 2018; 16(1):9-18.
Mermelshtein A, Gerson A, Walfisch S, Delgado B, Shechter G, Delgado J, et al. Expression of D-type Cyclins in Colon Cancer and in Cell Lines from Colon Carcinomas. Br J Cancer. 2005; 93(3): 338-345.
Fuste NP, Fernandez-Hernandez R, Cemeli T, Mirantes C, Pedraza N, Rafel M, et al. Cytoplasmic Cyclin D1 Regulates Cell Invasion and Metastasis Through the Phosphorylation of Paxillin. Nature Communication. 2016; 7:11581.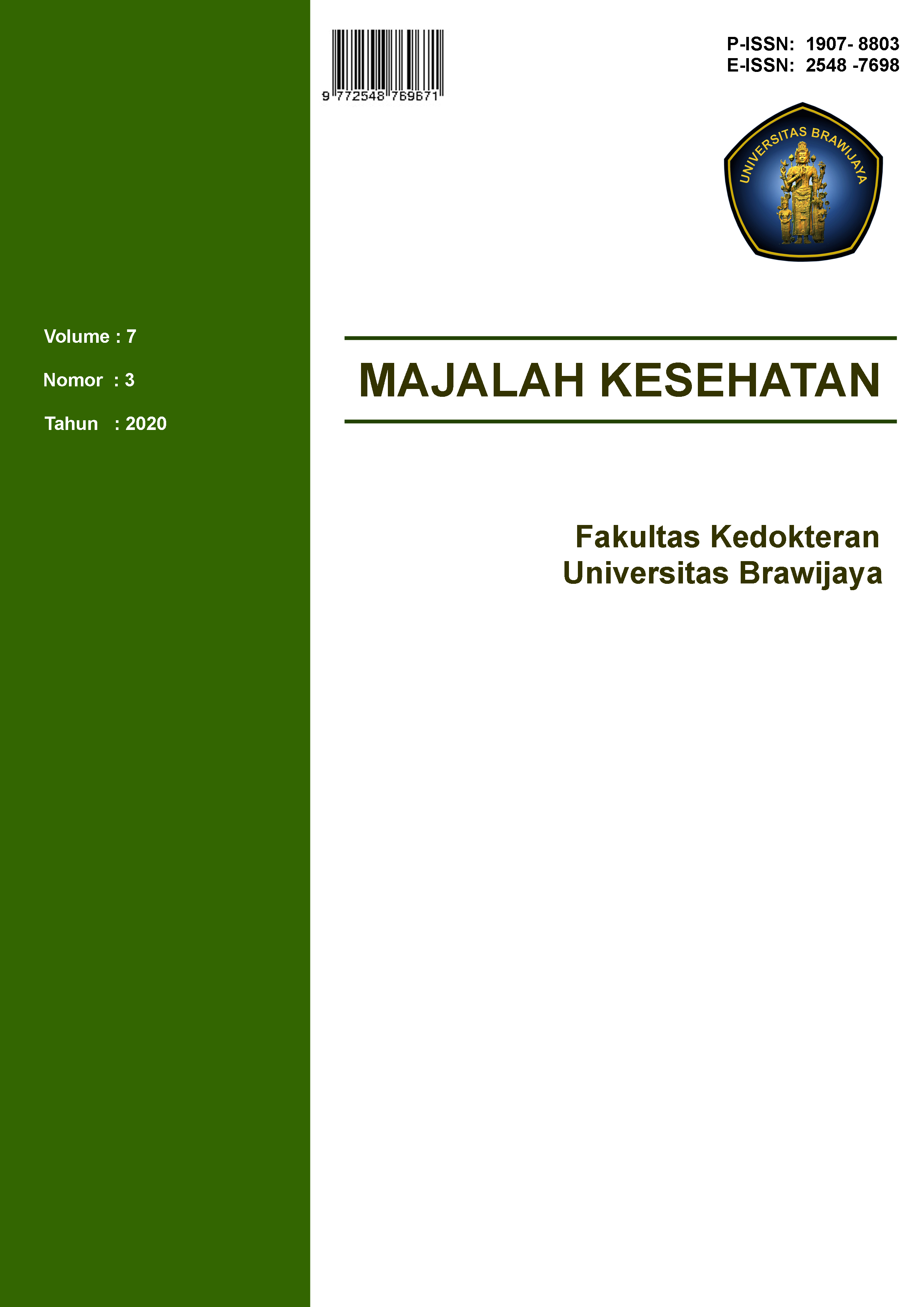 Downloads
How to Cite
Rosidah, A., Norahmawati, E., Anita, K. W., & Rasyid, H. A. (2020). PERBEDAAN EKSPRESI PROTEIN CYCLIN D1 ANTARA ADENOMA DAN ADENOKARSINOMA KOLOREKTAL, SERTA KORELASINYA DENGAN GRADING DAN STADIUM TUMOR. Majalah Kesehatan, 7(3), pp.149–158. https://doi.org/10.21776/ub.majalahkesehatan.2020.007.03.1
Section
Original Research Article