HUBUNGAN POLA MAKAN DAN AKTIVITAS FISIK TERHADAP TEKANAN DARAH PADA PASIEN HIPERTENSI DI KAPUAS HULU
Keywords:
aktivitas fisik, hipertensi, pola makan, tekanan darah
Abstract
Hipertensi merupakan penyebab utama morbiditas dan mortalitas di Indonesia. Komplikasi hipertensi menyebabkan sekitar 9,4 kematian di seluruh dunia setiap tahunnya. Kabupaten Kapuas Hulu memiliki pre-valensi hipertensi sebesar 36%, angka tersebut lebih tinggi dari angka prevalensi hipertensi nasional. Penelitian ini bertujuan untuk mengetahui adanya hubungan aktivitas fisik dan pola makan dengan tekanan darah pada pasien hipertensi di wilayah Kecamatan Semitau dan Suhaid, Kabupaten Kapuas Hulu. Penelitian ini merupakan observasional analitik dengan desain penelitian potong lintang (cross-sectional) yang       dilaksanakan pada bulan Maret hingga Desember 2019. Data penelitian diperoleh dengan menggunakan kuesioner penelitian. Penelitian ini berhasil mengumpulkan 100 pasien hipertensi yang bersedia menjadi subjek penelitian dengan rerata (SD) usia 56 (9) tahun dan didominasi laki-laki (71%), dan 10% dengan pasien hipertensi terkontrol. Penelitian ini menunjukkan bahwa aktivitas fisik memiliki hubungan yang bermakna dengan tekanan darah pada pasien dengan hipertensi (p = 0,027); dengan rerata (SD) nilai MET pasien hipertensi terkontrol dan tidak terkontrol sebesar 5660,0 (4229,4) menit/minggu dan 5077,8 (8952,4) menit/minggu. Di sisi lain, pola makan tidak menunjukkan hubungan yang bermakna terhadap tekanan darah pada pasien hipertensi (p = 1,000). Berdasarkan studi ini, dapat disimpulkan bahwa peningkatan aktivitas fisik mempengaruhi pengontrolan tekanan darah pada penderita hipertensi.
 
References
Kemenkes RI. Hipertensi. Jakarta : Pusat Data dan Informasi Kementrian Kesehatan RI. 2014
Williams B, Mancia G, Spiering W, Rosei EA, Azizi M, Burnier M, et al. 2018 ESC/ESH Guidlines for the management of arterial hypertension. Eur Heart J. 2018; 39 : 3021-104
WHO. Hypertension [Internet]. [diakses 11 Desember 2019, diperbarui 13 September 2019]. Diperoleh dari: https://www.who.int/news-room/fact-sheets/detail/hypertension.
Kementrian Kesehatan RI. Hasil Utama Riskesdas 2013. Jakarta : Kementrian Kesehatan RI Badan Penelitian dan Pengembangan Kesehatan. 2013.
Kementrian Kesehatan RI. Hasil Utama Riskesdas 2018. Jakarta : Kementrian Kesehatan RI Badan Penelitian dan Pengembangan Kesehatan. 2018
Lilly LS, editor. Pathophysiology of Heart Disease. Philadelphia : Wolters Kluwers. 2018.
Popkin BM, Adair LS, Ng SW. Global nutrition transition and the pandemic of obesity in developing countries. Nutr Rev. 2012; 70: 3-21.
Kotchen TA. The search for strategies to control hypertension. Circulation. 2010; 12(2): 1141-3.
Cheng S, Yu H, Chen Y, Chen C, Lien W, Yang P, Hu G. Physical Activity and Risk of Cardiovascular Disease Among Older Adults. Int J Gerontol. 2013; 7(3): 133-6.
Kaplan NM, Victor RG, Flynn JT. Kaplan's Clinical Hypertension. 10th Ed. Lippincott Williams & Wilkins. 2010.
Tseng C, Yen AM, Chiu SY, Chen L, Chen HA. Predictive Model for Risk of Prehypertension and Hypertension and Expected Benefit After Population-Based Life-Style Modification (KCIS No.24). Am J Hypertens. 2012; 25(2): 171-9.
Romauli. Pengaruh Gaya Hidup terhadap Kejadian Hipertensi Di RSUD Dr. H. Kumpulan Pane Tebing Tinggi Medan tahun 2014. [Thesis]. Repository Institusi Universitas Sumatera Utara; 2015.
Saxon S, Etten M, Perkins E. The nervous system. In: A Guide for the Helping Professions: Physical Change & Aging. New York: Springer. 2010.
Rolfes SR, Pinna K, Whitney E. Understanding Normal and Clinical Nutrition. Stamford USA: Cengage Learning. 2014
Frayar CD, Ostchega Y, Hales CM, Zhang G, Kruszon-Moran D. Hypertension Prevalence and Control Among Adults: United States, 2015-2016. 2017; 289: 1-8.
Choi HM, Kim HC, Kang DR. Sex differences in hypertension prevalence and control: Analysis of the 2010-2014 Korea national health and nutrition examination survey. PLOS One. 2017; 12(5): 1-13.
Hall JE, Carmo JM, Da Silva AA, Wang Z, Hall ME. Obesity – Induced Hypertension interaction of neurohumoral and renal mechanism. AHA journals. 2015; 116: 991-1006
Diaz KM, Shimbo D. Physical Activity and the Prevention of Hypertension. Curr Hypertens Rep. 2013;15: 659–68.
Cornelissen VA, Smart NA. Exercise Training for Blood Pressure: A Systematic Review and Meta-analysis. J Am Heart Assoc. 2013; 2: e004473.
Pescatello LS, Franklin BA, Fagard R, Farquhar WB, Kelley GA, Ray CA. Exercise and Hypertension. Med Sci Sports Exerc. 2004; 36: 533–53.
Pescatello LS. Exercise and hypertension: Recent advances in exercise prescription. Curr Hypertens Rep. 2005; 7:281–6.
Huai P, Xun H, Reilly KH, Wang Y, Ma W, Xi B. Physical activity and risk of hypertension a meta-analysis of prospective cohort studies. AHA journals. 2013; 62: 1021-6.
Tyson CC, Nwankwo C, Lin PH, Svetkey LP. The Dietary Approaches to Stop Hypertension (DASH) eating pattern in special populations. Curr Hypertens Rep. 2012; 14: 388–96.
Kwan MW, Wong MC, Wang HH, Liu KQ, Lee CL, Yan BP, Yu CM, Griffiths SM. Compliance with the Dietary Approaches to Stop Hypertension (DASH) diet: a systematic review. PLoS One. 2013;8:e78412.
He W, Zhang M, Zhao M, Davis LS, Blackwell TS, Yull F, Breyer MD, Hao CM. Increased dietary sodium induced COX2 expression by activiting NFkB in renal medullary interstitial cells. Pflugers Arch. 2014 Feb; 466(2):357-67.
Sacks FM, Svetkey LP, Vollmer WM, Appel LJ, Bray GA, Harsha D, Obarzanek E, Conlin PR, Miller ER 3rd, Simons-Morton DG, Karanja N, Lin PH. DASH-Sodium Collaborative Research Group. N Engl J Med. 2001; 344(1): 3-10.
Drouin-Chartier JP, Gigleux I, Tremblay AJ, Poirier L, Lamarche B, Couture P. Impact of diary consumption on essential hypertension: a clinical study. Nutr J. 2014; 13: 83.
Aaron KJ, Sanders PW. Role of dietary salt and potassium intake in cardiovascular health and disease: a review of the evidence. Mayo Clin Proc. 2013; 88: 987–95.
Perez V, Chang ET. Sodium-to-potassium ratio and blood pressure, hypertension, and related factors. Adv Nutr. 2014;5:712–41.
Kanbay M, Bayram Y, Solak Y, Sanders PW. Dietary potassium: a key mediator of the cardiovascular response to dietary sodium chloride. J Am Soc Hypertens. 2013; 7: 395–400.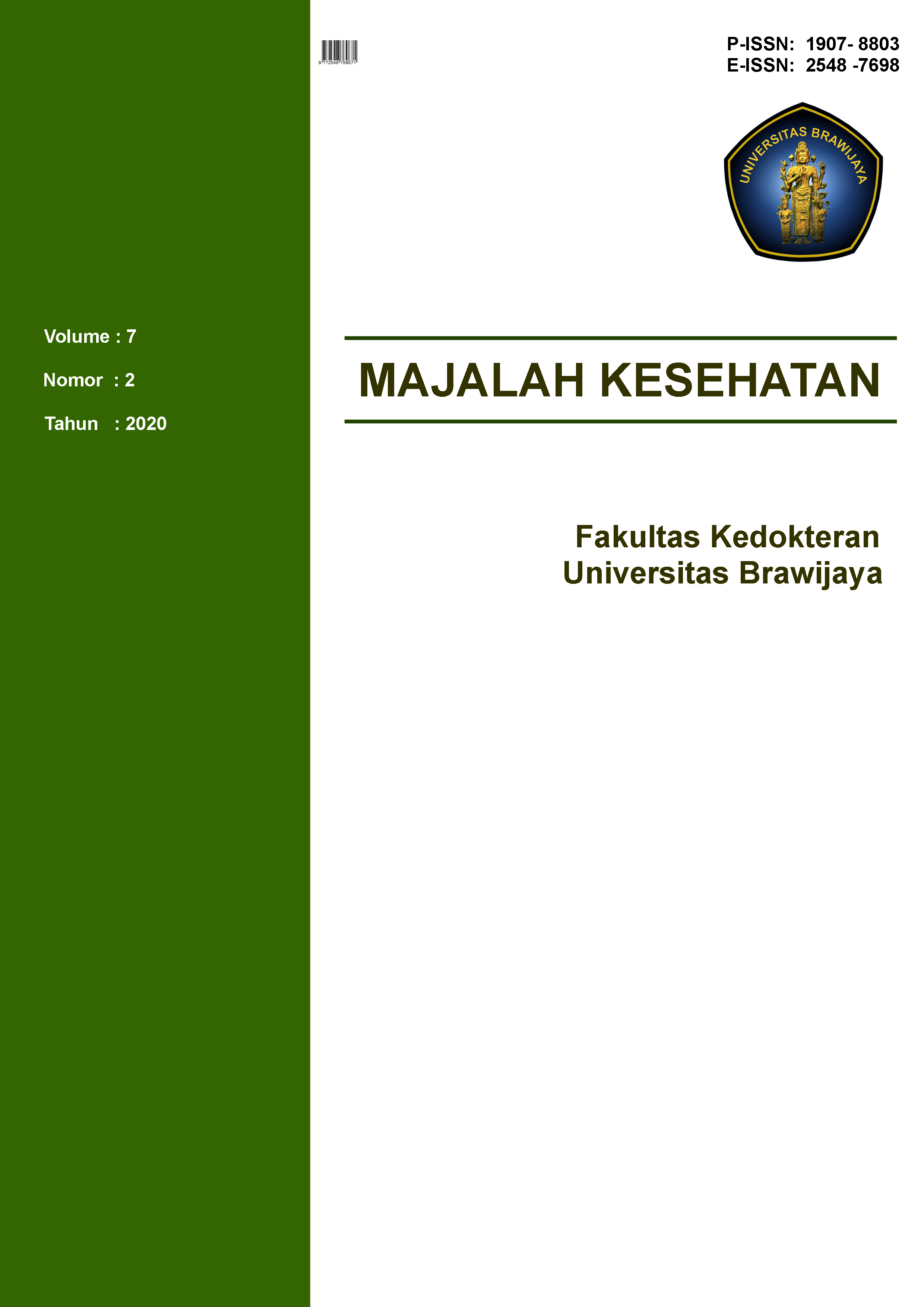 Downloads
How to Cite
Firdaus, M., & Suryaningrat, W. C. (2020). HUBUNGAN POLA MAKAN DAN AKTIVITAS FISIK TERHADAP TEKANAN DARAH PADA PASIEN HIPERTENSI DI KAPUAS HULU. Majalah Kesehatan, 7(2), pp.110–117. https://doi.org/10.21776/ub.majalahkesehatan.2020.07.02.5
Section
Original Research Article