HUBUNGAN ANTARA IgM ANTI-CYTOMEGALOVIRUS (CMV), DNA CMV SALIVA DAN URIN PADA BAYI DENGAN MANIFESTASI KLINIS INFEKSI CMV KONGENITAL
Keywords:
DNA, IgM, manifestasi klinis CMV kongenital
Abstract
 
Human cytomegalovirus merupakan penyebab utama infeksi kongenital di seluruh dunia. Infeksi     kongenital cytomegalovirus (CMV) berkontribusi terhadap morbiditas, mortalitas, dan kualitas hidup bayi. Diagnosis tidak dapat ditegakkan berdasarkan klinis saja, namun diperlukan juga deteksi laboratoris. Penelitian ini untuk mengetahui hubungan manifestasi klinis infeksi CMV kongenital pada bayi dengan pemeriksaan serologi (IgM) dan pemeriksaan DNA CMV pada spesimen urin dan saliva. Penelitian cross-sectional ini melibatkan bayi dengan gejala mengarah pada infeksi CMV. Pemeriksaan IgM anti-CMV     dilakukan pada sampel darah dengan teknik µ capture dan  DNA CMV pada sampel urin dan saliva diperiksa dengan metode PCR. Data dianalisis secara statistik menggunakan SPSS versi 22. Terdapat 32 pasien yang memenuhi kriteria inklusi. Didapatkan ikterus tidak behubungan dengan IgM anti-CMV (p = 0,228). Pneumonia dan necrotizing enterocolitis (NEC) berhubungan dengan IgM anti-CMV dengan nilai p berturut-turut 0,002 dan 0,034. Manifestasi klinis CMV kongenital tidak berhubungan dengan DNA CMV urin maupun saliva. IgM anti-CMV berhubungan signifikan dengan DNA CMV urin (p = 0,002) dan DNA CMV saliva (p = 0,000).  Sensitivitas pemeriksaan IgM anti-CMV terhadap DNA saliva dan urin berturut-turut sebesar 80% dan 75%, sedangkan spesifitas 92,6% dan 89,3% pada bayi dengan manifestasi klinis infeksi kongenital. Dapat disimpulkan bahwa ikterus tidak berhubungan dengan IgM anti-CMV, sedangkan pneumonia dan NEC berhu-bungan dengan IgM anti-CMV. Manifestasi klinis CMV kongenital tidak berhubungan dengan DNA CMV pada bayi. Didapatkan IgM anti-CMV memiliki hubungan dengan DNA CMV. Dan didapatkan nilai sesnsitivitas, spesifisitas, nilai prediktif positif dan nilai prediktif negatif yang lebih rendah pada pemeriksaan IgM .
 
References
Society for Maternal-Fetal Medicine, Hughes BL, Bannerman CG. Diagnosis and Antenatal Management of Congenital Cytomegalovirus Infection. Am J Obstet Gynecol. 2016; 214(6):B5-B11. doi: 10.1016/j.ajog.2016.02.042.
van Zuylen WJ, Hamilton ST, Naing Z, Hall B, Shand A, Rawlinson WD. Congenital Cytomegalovirus Infection: Clinical Presentation, Epidemiology, Diagnosis and Prevention. Obstet Med. 2014; 7(4):140–146.
Lorenzoni F, Lunardi S, Liumbruno A, Feri G, Madrigali V, Fiorentini E, et al. Neonatal Screening for Congenital Cytomegalovirus Infection in Preterm and Small for Gestational Age Infants. The Journal of Maternal Fetal Neonatal Medicine. 2014; 27:1589-93.
Rawlinson WD, Boppana SB, Fowler KB, Kimberlin DW, Lazzarotto T, Alain S, et al. Congenital Cytomegalovirus Infection in Pregnancy and the Neonate: Consensus Recommendations for Prevention, Diagnosis, and Therapy. Lancet Infect Dis. 2017; 17(6): e177-e188.
Saldan A, Gabriella F, Carlo M, Nadia G, Giorgio P, Davide A. Testing for Cytomegalovirus in Pregnancy. J Clin Microbiol. 2017; 55(3): 693-702.
Harrison G. Current Controversies in Diagnosis, Management, and Prevention of Congenital Cytomegalovirus: Updates for the Pediatric Practitioner. Pediatrics Annals. 2015; 44:115-25.
Ross SA, Novak Z, Pati S, Boppana SB. Overview of the Diagnosis of Cytomegalovirus Infection. Infect Disord Drug Targets. 2011; 11(5):466–474.
Pinninti SG, Shannon AR, Masako S, Zdenek N, April LP, Amina A, et al. Comparison of Saliva PCR Assay versus Rapid Culture for Detection of Congenital Cytomegalovirus Infection. Pediatr Infect Dis J. 2015; 34(5): 536 – 7.
Bellomo MA, Andrade PD, Costa SCB, Escanhoela CAF, Vassallo GP, Tommaso A, et al. Cytomegalovirus Frequency in Neonatal Intrahepatic Cholestasis Determined by Serology, Histology, Immunohistochemistry and PCR. World Journal of Gastroenterology. 2009; 15:3411-16
Gandhoke I, Aggarwal R, Hussain SA, Pasha ST, Sethi P, Thakur S, et al. Congenital CMV Infection; Diagnosis in symptomatic infants. Indian Journal of Medical Microbiology. 2009; 27:222-5.
Bilavsky E, Watad S, Levy I, Linder N, Pardo J, Ben ZH, et al. Positive IgM in Congenital CMV Infection. Clin Pediatr (Phila). 2017; 56(4): 371 – 375.
Santos DVV., Souza MMR., Gonçalves SHL., Cotta ACS., Melo LA.O., Andrade GMQ et al. Congenital Cytomegalovirus Infection in a Neonatal Intensive Care Unit in Brazil Evaluated by PCR and Association with Perinatal Aspects. Rev Inst Med trop S Paulo. 2000; 42(3): 129-132.
Celini FPM, Aparecida YY, Debora MP, Suely DN, Edineia VL, Celia MDG, et al. Incidence, Risk Factors, and Morbidity of Acquired Postnatal Cytomegalovirus Infection Among Preterm Infants Fed Maternal Milk in a Highly Seropositive Population. Clin Infect Dis. 2016; 63(7): 929-936.
Orr KI. Congenital Cytomegaloviral Infection as a Risk Factor for Preterm Birth. Proceedings in Obstetrics and Gynecology. 2013; 3(2):10.
Diar HA dan Velaphi S. Characteristics and Mortality Rate of Neonates with Congenital Cytomegalovirus Infection. South African Journal of Child Health. 2014; 8(4): 133-137.
Min CY, Joo YS, Su JJ. Characteristics and Prognosis of Hepatic Cytomegalovirus Infection in Children: 10 Years of Experience at a University Hospital in Korea. Korean J Pediatr. 2017; 60(8): 261-265.
Boppana SB, Ross SA, Fowler KB. Congenital Cytomegalovirus Infection: Clinical Outcome. Clin Infect Dis. 2013; 57 Suppl 4(Suppl 4):S178–S181. doi:10.1093/cid/cit629
Szczawińska-Popłonyk A, Jończyk-Potoczna K, Ossowska L, Bręborowicz A, Bartkowska-Śniatkowska A, Wachowiak J. Cytomegalovirus Pneumonia as the first Manifestation of Severe Combined Immunodeficiency. Cent Eur J Immunol. 2014; 39(3):392–395.
Ostapchuk M, Roberts DM, dan Haddy R. Community-Acquired Pneumonia in Infants and Children. Am Fam Physician. 2004; 70 (5) : 899-908.
Omarsdottir S, Agnarsdottir M, Casper C, Orrego A, Vanpée M, Rahbar A, Söderberg-Nauclér C. High Prevalence of Cytomegalovirus Infection in Surgical Intestinal Specimens from Infants with Necrotizing Enterocolitis and Spontaneous Intestinal Perforation: A Retrospective Observational Study. J Clin Virol. 2017; 93:57-64.
Bar-Meir M, Farrow KN, Melin-Aldana H, Chadwick EG. Cytomegalovirus Enterocolitis Mimicking Necrotizing Enterocolitis: Case Reports and Review of the Literature. J Pediatric Infect Dis Soc. 2013; 2(1):71-5.
Putri ND, Wiyatno A, Dhenni R, Sriyani IY, Dwantari AK, Handyastuti S. Birth Prevalence and Characteristics of Congenital Cytomegalovirus Infection in an Urban Birth Cohort, Jakarta, Indonesia. International Journal of Infectious Diseases. 2019; 86: 31-39
Yamaguchi A, Oh-ishi T, Arai T, et al. Screening for Seemingly Healthy Newborns with Congenital Cytomegalovirus Infection by Quantitative Real-Time Polymerase Chain Reaction using Newborn Urine: an Observational Study. BMJ Open. 2017; 7:e013810.
Rad ME, Talayeh SS, Fariba S, Kiana S, Nader S. Prevalence of Congenital Cytomegalovirus Infection in Symptomatic Newborns under 3 Weeks in Tehran, Iran. BMC Infectious Diseases. 2017; 17:688.
Wang C, Dollard SC, Amin MM, Bialek SR. Cytomegalovirus IgM Seroprevalence among Women of Reproductive Age in the United States. PLoS One. 2016; 11(3):e0151996.
Gantt S, Bitnun A, Renaud C, Kakkar F, Vaudry W. Diagnosis and Management of Infants with Congenital Cytomegalovirus Infection. Paediatr Child Health. 2017; 22(2):72–74.
Ohyama S, Fazumichi F, Sachiyo F, Shinya A, Mariko A, Toshihiko I. Diagnostic Value of Cytomaegalovirus IgM Antibodies at Birth in PCR- Confirmed Congenital Cytomegalovirus Infection. Int J Mol Sci. 2019; 20:3239.
Albanna EA, El-Latif RS, Sharaf HA, Gohar MK, Ibrahim BM. Diagnosis of Congenital Cytomegalovirus Infection in High Risk Neonates. Mediterr J Hematol Infect Dis. 2013; 5(1):e2013049.
Boppana SB, Ross SA, Shimamura M. Saliva Polymerase-Chain-Reaction Assay for Cytomegalovirus Screening in Newborns. N Engl J Med. 2011; 364: 2111–2118.
Kalkan IH, Dagli U. What is the Most Accurate Method for the Diagnosis of Cytomegalovirus (CMV) Enteritis or Colitis?. Turk J Gastroenterol. 2010; 21 (1): 83-86.
Enders G, Daiminger A, Bader U, Exter S, Enders M. Intrauterine Transmission and Clinical Outcome of 248 Pregnancies with Primary Cytomegalovirus Infection in Relation to Gestational Age. 2011; 52. 244-246.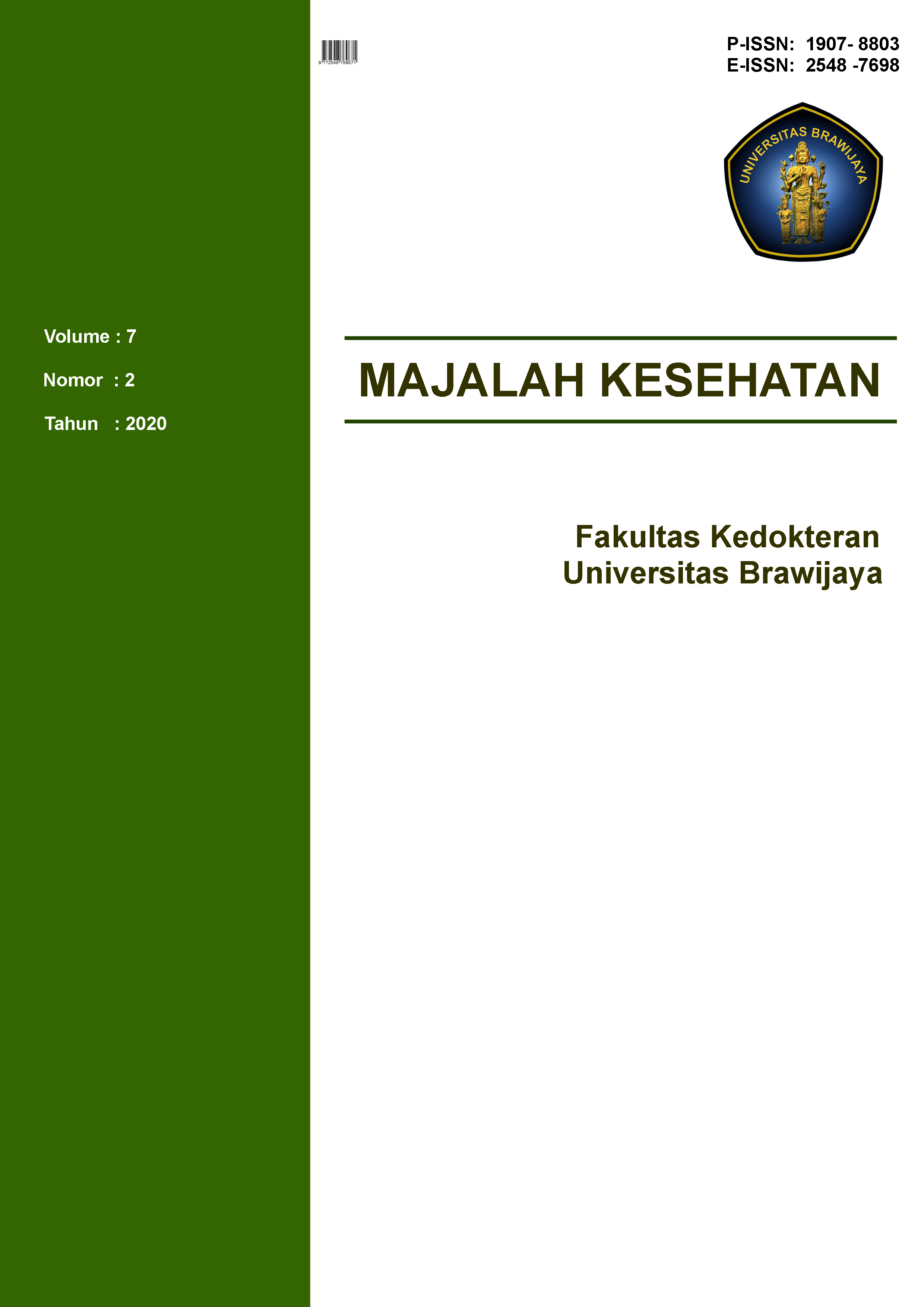 Downloads
How to Cite
Lucida, M. I., Ratridewi, I., & Santosaningsih, D. (2020). HUBUNGAN ANTARA IgM ANTI-CYTOMEGALOVIRUS (CMV), DNA CMV SALIVA DAN URIN PADA BAYI DENGAN MANIFESTASI KLINIS INFEKSI CMV KONGENITAL. Majalah Kesehatan, 7(2), pp.84–96. https://doi.org/10.21776/ub.majalahkesehatan.2020.07.02.2
Section
Original Research Article