EFEKTIFITAS ASUHAN GIZI TERHADAP KEPATUHAN ASUPAN NATRIUM DAN PROTEIN PADA PASIEN HIPERTENSI DENGAN GAGAL GINJAL KRONIK DI RSUD Dr. SAIFUL ANWAR MALANG
Keywords:
asuhan gizi, asupan protein, asupan natrium, hipertensi, keseimbangan cairan, gagal ginjal kronik
Abstract
Asuhan gizi adalah kegiatan yang dilakukan oleh ahli gizi berupa pemberian diet dan edukasi/ konseling gizi serta kolaborasi dengan tenaga kesehatan lain yang dapat membantu dalam menunjang proses penyembuhan pasien. Asuhan gizi pada pasien hipertensi dengan gagal ginjal kronik di RSUD Dr. Saiful Anwar ini bertujuan untuk mengetahui apakah asuhan gizi yang diberikan efektif terhadap kepatuhan asupan natrium dan protein pada pasien hipertensi dengan gagal ginjal kronik. Desain penelitian ini adalah rancangan penelitian korelasional dengan jenis pendekatan cross-sectional pada 30 orang responden yang dipilih secara  purposive sampling. Data penelitian diperoleh melalui rekam medis pasien dan food record selama 3 hari. Analisis data dilakukan menggunakan uji Pearson (asupan protein) dan uji Spearman (asupan natrium). Hasil penelitian menunjukkan bahwa terdapat hubungan yang signifikan antara asuhan gizi yang diberikan dengan asupan protein pasien (p = 0,002). Tidak terdapat hubungan yang signifikan antara asuhan gizi yang diberikan dengan asupan natrium pasien (p = 0,943). Sebanyak 56,7% pasien memiliki output urin >60% asupan cairannya dan 40% memiliki output urin <60% asupan cairannya. Dapat disimpulkan bahwa asuhan gizi yang diberikan mempengaruhi asupan protein pasien, namun tidak pada asupan natrium. Keseimbangan cairan pasien dilihat dari output urin didapatkan sebagian besar lebih banyak dan atau lebih sedikit dari asupan cairannya. 
References
Kemenkes. Pemberantasan Penyakit Menular dan Penyehatan Lingkungan. Kemenkes RI. 2013.
Riskesdas. Badan Penelitian dan Pengembangan Kesehatan Kementerian Kesehatan RI. Jakarta: Riskesdas RI. 2013.
Dinkes Kota Malang. Profil Kesehatan Kota Malang. Malang: Depkes Malang. 2014.
Babatsikou F, Zavitsanou A. Epidemiology of Hypertension In The Elderly. Health Sci J. 2010; 4(1):24-30.
Mulki R. Hubungan Antara Asupan Natrium, Asupan Kalium, Rasio Asupan Natrium: Kalium dengan Tekanan Darah pada Pasien Puskesmas Pasir Kaliki Kecamatan Cicendo Kota Bandung. Bandung: Politeknik Kesehatan Kemenkes. 2014.
Guyton A, Hall J. Buku Ajar Fisiologi Kedokteran. Edisi ke-12. Jakarta: EGC. 2014.
Budiyanto C. Hubungan Hipertensi dan Diabetes Mellitus terhadap Gagal Ginjal Kronik. Kedokteran Islam. 2009.
PERNEFRI. 5th Annual Report of IRR. Pehimpunan Nefrologi Indonesia. 2012.
Pasticci F, Fantuzzi A, Pegoraro M. Nutritional Management Stage 5 of Chronic Kidney Disease. J Ren Care. 2012; 38(1).50-8.
Busari O. Impact of Patients Knowledge, Attitude and Practice on Hypertension on Compliance with Antihypertensive Drugs in a Resource-poor Setting. TAF Prev Med Bull. 2010; 9(2):87–92.
Sumapradja M, Fayakun Y, Widyastuti D. Proses Asuhan Gizi Terstandar (PAGT). Abadi Publ Dan Print. 2011.
Braunschweig C, Gomez S, Sheean P. Impact of Decline in Nutrition Status of Outcome in Adult Patient Hospitalized for More Than 7 Days. J Am Diet Assoc. 2000; 1001(13):16–22.
Kusumayanti I, Hadi H, Susetyowati. Faktor - Faktor yang Mempengaruhi Kejadian Malnutrisi Pasien Dewasa di Ruang Rawat Inap. J Gizi Klin Indones. 2004; 1(1):9–17.
Irma I, Isti S, Elza I. Hubungan Asupan Protein dengan Kadar Ureum dan Kreatinin pada Pasien Gagal Ginjal Kronik yang sedang Menjalani Hemodialisa di Unit Hemodialisa RS PKU Muhammadiyah Yogyakarta. J Nutr. 2017; 19(1):1–6.
Handayani D, Astuti P, Nurwati Y, Marselina AM. Efektifitas Penatalaksanaan Proses Asuhan Gizi Terstandar Terhadap Perbaikan Asupan Pasien Sindrom Metabolik di RSUD Sidoarjo. 2017.
Cano N. ESPEN Guidelines on Enteral Nutrition: Adult Renal Failure. Clin Nutr. 2006; 25:295–310.
Almatsier S. Penuntun Diet. Jakarta: Gramedia Pustaka Utama. 2010.
Sherwood. Fisiologi Manusia dari Sel ke Sistem. Edisi ke-6. Jakarta: EGC. 2012.
Levey A, Bosch J, Lewis J, Greene T. A More Accurate Method To Estimate Glomerular Filtration Rate From Serum Creatinine: A New Prediction Equation,Modification of Diet in Renal DiseaseStudy Group. Ann Int Med. 2011; 130:461–70.
Martini. Hubungan Tingkat Asupan Protein dengan Kadar Ureum dan Kreatinin Darah pada Pederita Gagal Ginjal Kronik di RSUD Dr. Moewardi Surakarta. [Surakarta]: Fakultas Ilmu Kesehatan Universitas Muhammadiyah Surakarta. 2010.
Sumiasih. Hubungan Asupan Protein Hewani dan Nabati dengan Kadar Ureum dan Kreatinin Pasien Penyakit Gagal Ginjal Kronik Hemodialisa di RSUD Tugurejo Semarang. 2012.
Yunita, Husein A, Susetyowati. Pelaksanaan Proses Asuhan Gizi Terstandar (PAGT) Terhadap Asupan Gizi dan Kadar Glukosa Darah Pasien Diabetes Mellitus Tipe 2. J Gizi Klin Indones. 2013; 10(2):82–91.
Dwijayanthi L. Ilmu Gizi Menjadi Sangat Mudah, Nutrition Made Incredible Easy. Edisi ke-2. Jakarta: EGC. 2011.
Hendriyani. Perilaku Pemilihan Makanan Tinggi Natrium Berpengaruh Terhadap Asupan Natrium Penderita Hipertensi di Kota Semaran. Gizi Indones. 2014; 37(1):41–50.
Kamran A, Azadbakht L. Sodium Intake, Dietary Knowledge and Illness Perception of Controlled and Uncontrolled Rural Hypertensive Patients. Int J Hypertens. 2014.
Zhang J, Xu A, Ma J. Dietary Sodium Intake: Knowledge, Attitudes and Oractices in SHandong Province, China. PloS ONE. 2013; 8(3).
Grimes C, Riddel L, Nowson C. Consumer Knowledge and Attitudes to Salt Intake and Labelled Salt Information. Appetite. 2010; 53(2):189–94.
Palimbong S. Keefektifan Diet Rendah Garam 1 pada Makanan Biasa dan Lunak Terhadap Lama Kesembuhan Pasien Hipertensi. J Keperawatan Muhammadiyah. 2018; 3(1).
Darmawan H. Asupan Natrium dan Status Gizi Terhadap Tingkat Hipertensi pada Pasien Rawat Jalan di RSUD Kota Makassar. Media Gizi Pangan. 2018; 25.
Atun L. Asupan Sumber Natrium, Rasio Kalium Natrium, Aktivitas Fisik dan Tekanan Darah pada Pasien. MGMI. 2014; 6.
Black J, Jane H. Keperawatan Medikal Bedah Manajemen Klinis untuk Hasil yang Diharapkan. Jakarta: Salemba Medika; 2014.
Tovazzi M, Mazzoni V. Personal Paths of Fluid Restriction in Patients on Hemodialysis. Nephrol Nurs J. 2012; 39(3):207–15.
Istanti Y. Hubungan Antara Masukan Cairan dengan INterdialytic Weight Gains (IDWG) pada Pasien Chronic Kidney Disease di Unit Hemodialisa RS PKU Muhammadiyah Yogyakarta. [Yogyakarta]: Universitas Muhammadiyah Yogyakarta; 2014.
Setia R, Rahmalia S, Dewi AP. Hubungan Antara Dukungan Keluarga Terhadap Kepatuhan Dalam Pembatasan Asupan Nutrisi dan Cairan pada Pasien Gagal Ginjal Kronik dengan Hemodialisa. Riau: Univ Riau. 2013.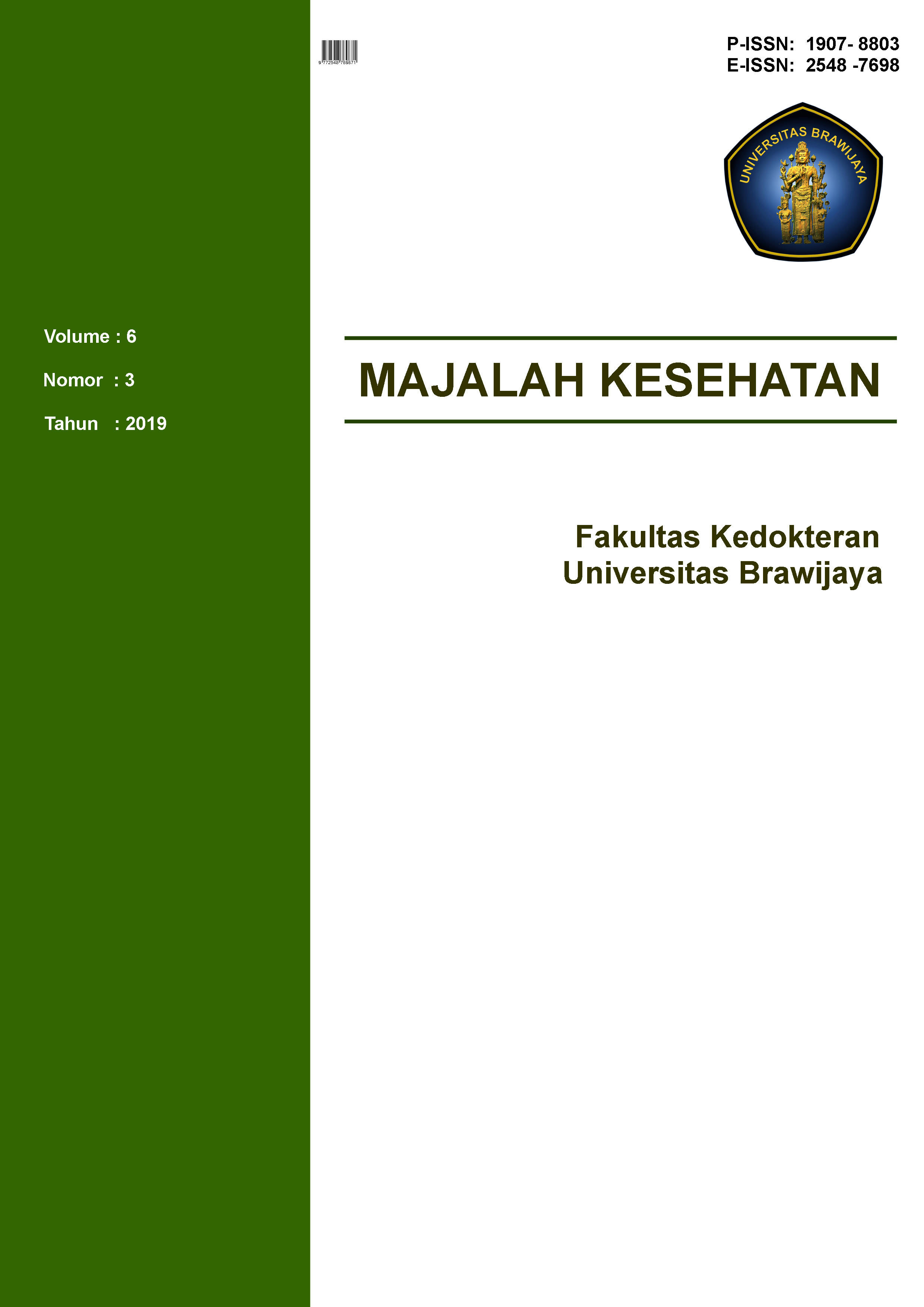 Downloads
License
This work is licensed under a
Creative Commons Attribution-NonCommercial 4.0 International License