PENGARUH Nigella sativa TERHADAP JUMLAH NEUTROFIL DAN PERBAIKAN SCORING ASTHMA CONTROL TEST PADA ANAK ASMA
Keywords:
anak, asma, neutrofil, Nigella sativa, skor ACT
Abstract
Asma merupakan gangguan inflamasi kronik saluran napas. Sebagian besar kasus asma dipengaruhi oleh peningkatan neutrofil jalan nafas. Penderita asma yang tidak terkontrol memberikan dampak negatif. Alat atau metode tervalidasi untuk menilai kontrol klinis asma yaitu Asthma Control Test/ACT. Saat ini berkembang pengobatan asma dengan menggunakan immunomodulator Nigella sativa (NS). Penelitian ini ingin mengetahui pengaruh pemberian NS terhadap jumlah neutrofil dan scoring ACT pada kelompok anak asma ringan sedang. Penelitian ini berjenis eksperimental, clinical trial, pre-post control study untuk scoring asma. Populasi penelitian adalah semua anak yang didiagnosis asma ringan dan sedang yang memenuhi kriteria, di Poli Respirologi Anak dan Alergi Imunologi Anak RS. Dr. Saiful Anwar Malang selama periode Januari-September 2016, jumlah sampel 28 pasien yang dibagi menjadi kelompok A (asma ringan+NS), B (asma sedang+NS), C (kontrol asma ringan), D (kontrol asma sedang), masing-masimg kelompok di-lakukan pemeriksaan darah lengkap dan peilaian skor ACT pre-post selang 8 minggu. Berdasarkan hasil analisis statistik didapatkan penurunan yang tidak signifikan jumlah neutrofil setelah perlakuan pada kelompok A (asma ringan dengan pemberian NS) (p = 0,359), didapatkan peningkatan signifikan skor ACT setelah perlakuan pada semua kelompok, dan didapatkan korelasi negatif signifikan antara jumlah neutrofil dan skor ACT pada kelompok asma sedang sebelum perlakuan (p = 0,015). Kesimpulannya, pemberian Nigella sativa pada anak asma ringan dan sedang, tidak dapat menurunkan neutrofil. Pemberian Nigella sativa pada anak asma ringan dan sedang dapat meningkatkan skor ACT. Tidak terdapat hubungan antara penurunan neutrofil dan peningkatan skor ACT setelah pemberian Nigella sativa pada anak asma ringan dan sedang.
References
Global Initiative for Asthma (GINA). Global Asthma Strategy of Management and Prevention. Cape Town: National Heart, Lung and Blood Institute. 2014.
Trifunovic J, Miller L, Debeljak Z, & Horvat V. Pathologic Patterns of Interleukin 10 Expression-A Review. Biochemia Medica. 2015; 25(1):36–48.
Monteseirín J, Bonilla I, Camacho MJ, Chacon P, Vega A, Chaparro A, Conde J, & Sobrino F. Speciï¬c Allergens Enhance Elastase Release in Stimulated Neutrophils from Asthmatic Patients. Int Arch Allergy Immunol. 2009; 131:174-181.
Abbas AK & Litchman AH. Cellular and Molecular Immunology. 8th Edition. Boston: Saunders. 2015.
UKK Pulmonologi PP IDAI. Pedoman Nasional Asma Anak. Rahajoe N, Supriyatno B, Setyanto DB (Editor). Jakarta: IDAI. 2016. Hlm. 1-15.
Global Initiative for Asthma (GINA). Global Initiative for Asthma: Global Strategy for Asthma Management and Prevention. GINA Executive Committee. 2016. P. 1-115.
Gholamnezhad Z, Keyhanmanesh R, & Boskabady MH. Anti-inflammatory, Anti-oxidant, and Immunomodulatory Aspects of Nigella sativa for Its Preventive and Bronchodilatory Effects on Obstructive Respiratory Diseases: A Review of Basic and Clinical Evidence. Journal of Functional Foods. 2015; 17:910–927.
Ahmad A, Husain A, Mujeeb M, Khan SA, Najmi K, Siddique NA, Damanhouri ZA, & Anwar F. A Review on Therapeutic Potential of Nigella sativa: A Miracle Herb. Asian Pac J Trop Biomed. 2013; 3(5):337-353.
Ramadheni P, Wahyuni FS, Raveinal & Khairsyaf O. The Effect of The Orally Gi-ven Black Caraway Seed's Formulation (Nigella sativa L.,) to Cell Counting Value to The Asthma Patients. Prosiding Seminar Nasional dan Workshop "Perkembangan Terkini Sains Farmasi dan Klinik IVâ€. 2014.
Muhyi A., Barlianto W, Kusuma HMS C. Efek Pemberian Imunoterapi, Probiotik, Nigella sativa terhadap Th17, Neutrofil, dan Skoring Asma. Jurnal Kedokteran Brawijaya. 2015; 28(3).
Michel ML, Keller AC, Paget C, Fujio M, Tottein F, Savage PB, Wong CH, Schneider E, Dy M, & Leite-de-moraes, MC. Identification of an IL-17 Producing NK1.1 (neg) iNKT Cell Population Involved in Airway. J Exp Med. 2007; 204(5):995-1001.
Simonian PL, Wehrmann F, Roark CL, Born WK, Rebecca L, O'Brien & Fontenot AP. Gammadelta T Cells Protect against Lung Fibrosis via IL-22. J Exp Med. 2010; 207(10):2239–2253.
Shi Y, Tatavoosian A, Aledia A & Galant P. Cut Points for Asthma Control Tests in Mexican Children in Orange Country California. Ann Allergy Asthma Immunol. 2010; 109(1):108-113.
Coomes SM., Kannan Y, Pelly VS., Entwistle LJ, Guidi R, Perez-lioret J, Nikolov N, Muller W, & Wilson MS. CD4+ Th2 Cells are Directly Regulated by IL-10 during Allergic Airway Inflammation.
Aziz AE, Sayed NS & Mahran LG. Anti-Asthmatic and Anti-Allergic Effects of Thymoquinone on Experimentally- Induced Hypersensitivity. Egyptian Journal of Basic and Clinical Pharmacology. 2011; 1(3):1-41.
Majdalawieh & Fayyad. Immunomodulatory and Anti-Inflammatory Action of Nigella sativa and Thymoquinone: A Comprehensive Review. IntImmunopharmacol. 2015; 28(1):295-304.
Paarakh PM. Nigella sativa A Comprehensive Review. Indian Journal of Natural Products and Resources. 2010; 1(4):409-429.
Kartasasmita CB. Diagnosis dan Tata Laksana Terkini Asma pada Anak. Dalam: Bogor Pediatric Update. IDAI cabang Jawa Barat. 2015; 22-35.
Marcdante KJ, Kliegman RM, Jenson HB, & Behrhman RE. Nelson Ilmu Kesehatan Anak Esensial. Singapore: Elsevier. 2011; 339-449.
Sugiono LT, Barlianto W, Olivianto E, Kusuma HMSC & Nurdiana. Pengaruh Pemberian Probiotik dan Nigella sativa sebagai Ajuvan Immunoterapi House Dust Mite terhadap Skor Asthma Control Test, Jumlah sel CD4+IL-4+ dan Kadar IgE pada Anak Asma Ringan. IOSR journals. 2013; 7:32-39.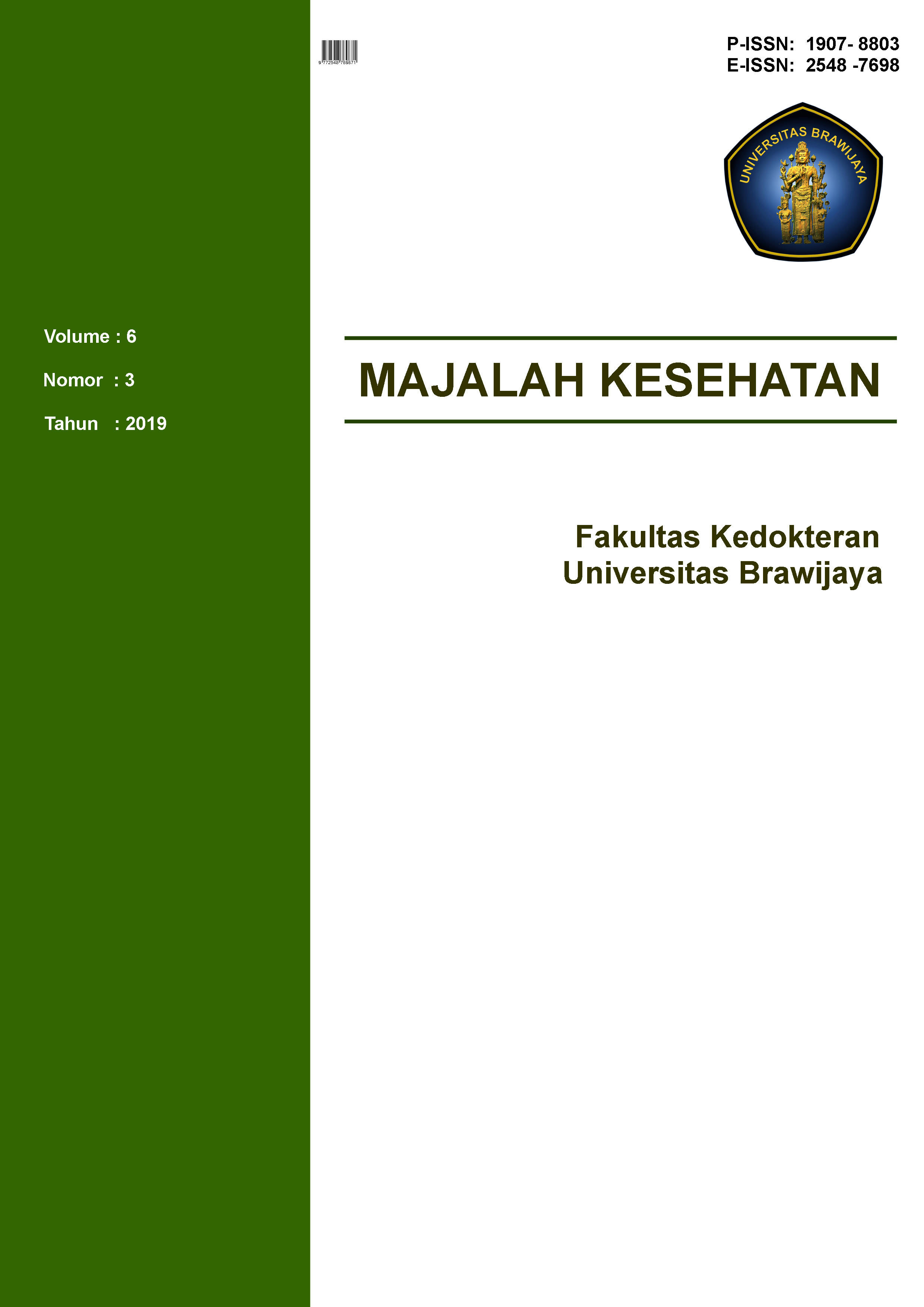 Downloads
How to Cite
Detriana, V., Barlianto, W., & Kusuma, H. C. (2019). PENGARUH Nigella sativa TERHADAP JUMLAH NEUTROFIL DAN PERBAIKAN SCORING ASTHMA CONTROL TEST PADA ANAK ASMA. Majalah Kesehatan, 6(3), pp.169–176. https://doi.org/10.21776/ub.majalahkesehatan.006.03.2
Section
Original Research Article