NILAI DIAGNOSIS DAN PROGNOSIS JUMLAH DAN INDEKS TROMBOSIT, MEAN PLATELET VOLUME (MPV) DAN PLATELETCRIT (PCT) PADA PENDERITA SEPSIS NEONATORUM
Keywords:
jumlah dan index trombosit, sepsis neonatorum
Abstract
Sepsis neonatorum merupakan penyebab utama kematian pada neonatus di Indonesia. Kondisi ini dapat memicu terjadinya disseminated intravascular coagulation (DIC), lalu meningkatkan konsumsi platelet dan mengakibatkan trombositopenia. Penelitian ini bertujuan untuk mengetahui nilai diagnostik dan prognostik jumlah dan index trombosit, mean platelet volume (MPV) dan plateletcrit (PCT) pada sepsis neonatorum. Penelitan ini adalah penelitian retrospektif menggunakan data sekunder pada neonatus terduga  sepsis yang dirawat di RSU dr. Saiful Anwar Malang. Hasil penelitian menunjukkan nilai diagnostik jumlah trombosit adalah sensitivitas 89,3%, spesifisitas 75%, sedangkan MPV sensitivitas 25% dan spesifisitas 10,7%. Nilai prognostik trombosit untuk menentukan outcome sepsis neonatorum adalah sensitivitas 55,6% dan spesifisitas 58,3%, sedangkan MPV 33,3% dan 33,3%. Kadar PCT tidak bisa digunakan baik untuk  diagnosis maupun prognosis sepsis neonatorum. Kesimpulan penelitian ini adalah jumlah trombosit mempunyai nilai diagnosis dan prognosis yang lebih baik bila dibandingkan dengan MPV pada sepsis neonatorum. Namun penegakan diagnosis dan prognosis sepsis neonatorum harus tetap ditentukan berdasar pada anamnesa baik terkait faktor risiko maupun riwayat penyakit, gambaran klinis, dan pemeriksaan penunjang. Kata kunci: jumlah dan index trombosit, sepsis neonatorum.
References
Penelitian lebih lanjut mengenai trombosit dan komponennya untuk diagnosa dan prognosa sepsis neonatorum dengan jumlah sampel yang lebih besar.
Penelitian lebih lanjut menggunakan variabel lain yang lebih baik seperti penggunaan sitokin proinflamasi untuk menentukan diagnosis dan prognosis sepsis neonatorum.
Daftar Pustaka
Wilar R, Antolis Y, Tatura SNN, Gunawan S. 2010. JumlahTrombosit dan Mean Platelet Volume sebagai Faktor Prognosis pada Sepsis Neonatorum. Sari Pediatri. 2010; 12(1):53-57.
Roeslani RD, Amir Idham, Nasrulloh MH, Suryani. Penelitian Awal: Faktor Risiko pada Sepsis Neonatorum Awitan Dini. Sari Pediatri. 2013; 14(6):363-368.
Answer SK dan Mustafa S. Rapid Identification of Neonatal Sepsis. J Pak Med Assoc. 2000; 50(3):94-98.
Reslina Ade.N, Fatmawati, Wisnumurti DA. Gambaran Rasio Neutrofi lImatur/ Neutrofil Total (Rasio I/T) pada Tersangka Sepsis Neunatorum yang Dirawat di Instalasi Perawatan Neonatus RSUD Arifin Achmad Provinsi Riau. JOM FK. 2015; 2(2):1-10.
Sofwan R, Suhelda S, Lembar S. Prokalsitonin sebagai kandidat petanda inflamasi pada Sepsis Neonatorum. Damianus Journal of Medicine. 2010; 9(1): 34-44.
Analis R. Makalah Trombosit. 2012.
Depkes. Penatalaksanaan Sepsis Neonatorum. Jakarta. 2007.
Hoffbrand AV, Pettit JE, Moss PAH. Essential Haematology. Setiawan Lyana (Penerjemah). Jakarta: EGC. 2005. Hlm. 221-228.
Setiati S, Idrus A, Sudoyo AW, Simadibrata M, Setiyohadi B, Syam AF (Editor). Buku Ajar Ilmu Penyakit Dalam. Jilid ke-5. Jakarta: Interna Publishing. 2014.
Gunawan S, Sutanto FC, Tatura SNN, Mantik MFJ. Platelet Distribution Width dan Mean Platelet Volume: Hubungan dengan derajat Penyakit Demam Berdarah Dengue. Sari Pediatri. 2010; 12(2):74-77.
Agoropoulou KK, Evdoridou I, Sarafidis K, Diamanti E, Soubassi V, Drossou V. Thrombocytopenia and Platelet Indices in Septic Neonates. (Abstract). Haematologica. 2010.
Leal -Santos FA, Silva SBR, Crepaldi NP, Nery AF, Martin TOG, Junior-Alves ER, Fontes CJF. Altered Platelet Indices as Potential Markers of Severe and Complicated Malaria Caused By Plasmodium vivax: A Cross-Sectional Descriptive Study. Malaria Journal. 2013; 12:462. doi: 10.1186/1475-2875-12-462.
Dahlan SM. Statistik Untuk Kedokteran dan Kesehatan. Edisi ke-6. 2014. Hlm. 225-234.
Dahlan M, Sopiyudin. Statistika Untuk Kedokteran dan Kesehatan. Jakarta: Arkans. 2004.
Putra PJ. Insidendan Faktor-Faktor yang Berhubungan dengan Sepsis Neonatus di RSUP Sanglah Denpasar. Sari Pediatri. 2012; 14(3):205-210.
Masihor JJG, Mantik MFJ, Memah M, Mongan AE. Hubungan Jumlah Trombosit dan Jumlah Leukosit pada Pasien Anak Demam Berdarah Dengue. Jurnal e-Biomedik. 2013; 1(1):391-395.
Hill-McGraw. Harrison's Principles Of Internal Medicine 13/E,Asdie HA. EGC: Jakarta. 2014. Hlm. 571-576.
Bessman JD, Gilmer PR, Gardner FH. Use of Mean Platelet Volume Improves Detection of Platelet Disorders. Blood Cells. 1985; 11:127-35.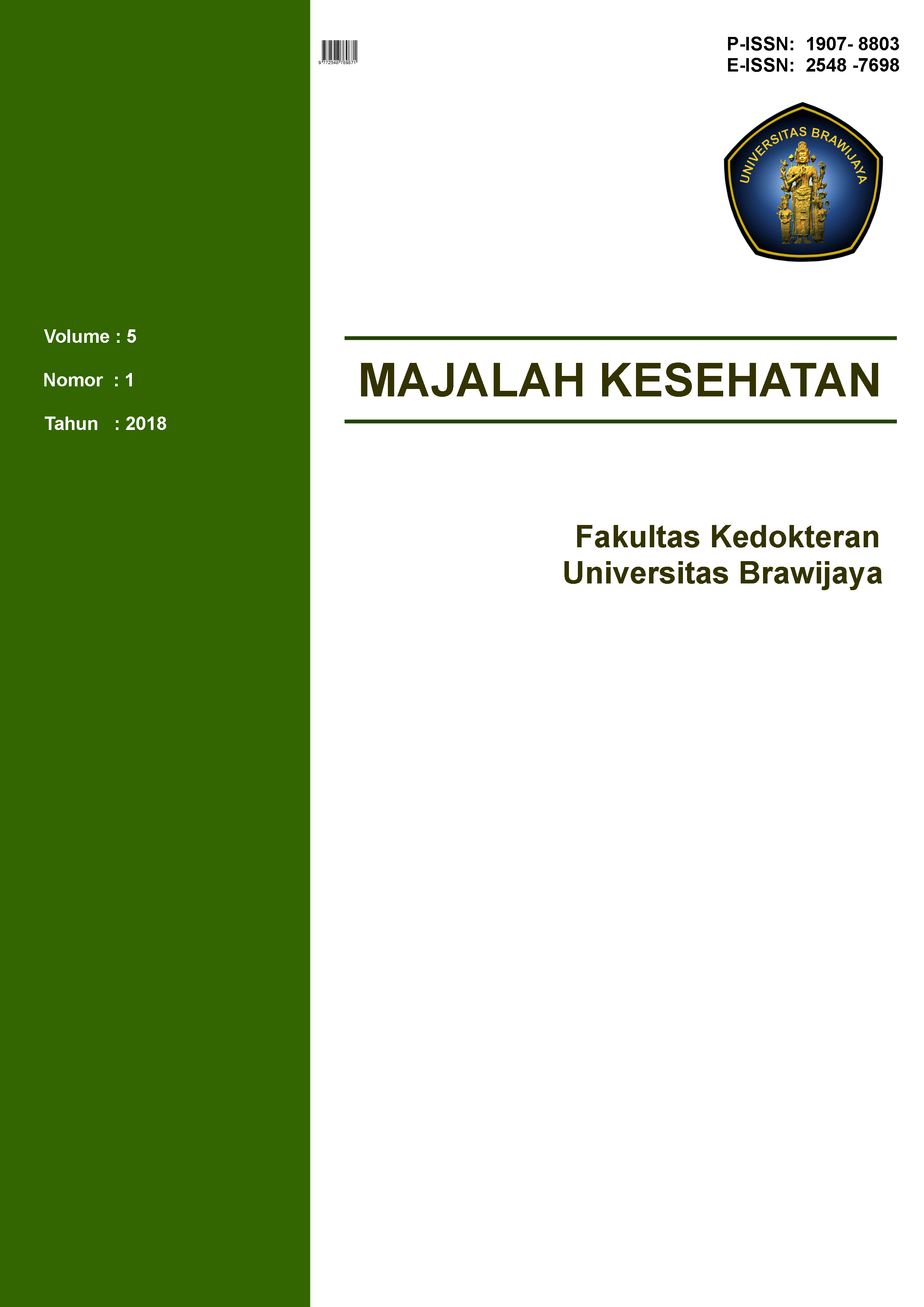 Downloads
License
This work is licensed under a
Creative Commons Attribution-NonCommercial 4.0 International License