PERAN EDUKASI GAYA HIDUP TERHADAP STATUS GIZI, STATUS FUNGSIONAL, DAN KUALITAS HIDUP PASIEN DIABETES MELLITUS TIPE 2 LANJUT USIA
Abstract
ABSTRAKIntervensi latihan fisik dan saran diet tinggi protein membantu memperlambat penurunan massa otot, sehingga secara tidak langsung dapat juga memperbaiki status gizi, status fungsional, dan kualitas hidup pada lansia penderita Diabetes Mellitus tipe 2. Penelitian bertujuan apakah terdapat perbedaan status gizi, status fungsional, dan kualitas hidup pada lansia penderita Diabetes Melitus tipe 2 sebelum dan sesudah pemberian latihan fisik dan saran diet tinggi protein. Penelitian eksperimental analitik dengan kohort selama10 minggu. Subjek adalah 56 pasien Diabetes Mellitus tipe 2 di Poli Endokrin RSSA Malang yang 58% adalah wanita dengan rerata usia 65,79±5,74 tahun, penilaian rerata status gizi menunjukkan hasil normal, rerata status fungsional berdasarkan Indeks Barthel menunjukkan ketergantungan ringan, dan rerata kualitas hidup berdasarkan SF 36 menunjukkan nilai yang bagus. Kemudian, subyek dibagi secara acak menjadi 2 kelompok (kelompok perlakuan dan tidak mendapat perlakuan). Analisis data menggunakan uji Independent T Test, Mann Whitney U, dan uji T-Test berpasangan dengan program SPSS for window versi 16.0. Pada kelompok perlakuan, edukasi tentang latihan fisik dan diet tinggi protein didapatkan hasil yang signifikan untuk status gizi, status fungsional, dan kualitas hidup  dibandingkan kelompok kontrol ( p<0,05). Didapatkan juga hasil yang signifikan pada kelompok perlakuan untuk status gizi, status fungsional, dan kualitas hidup sebelum dan sesudah intervensi ( p<0,05).  Kesimpulan dari penelitian ini adalah status gizi, status fungsional, dan kualitas hidup pada lansia penderita diabetes mellitus tipe 2 berbeda secara bermakna antara kelompok kontrol dan kelompok perlakuan, serta terdapat peningkatan status gizi, status fungsional, dan kualitas hidup sebelum dan sesudah intervensi pada kelompok perlakuan. Kata kunci : Lansia penderita Diabetes Mellitus tipe 2, Status Gizi, Status Fungsional, Kualitas Hidup, Latihan Fisik, Diet Tinggi Protein.
References
Setiati S. Geriatric Medicine, Sarkopenia, Frailty dan Kualitas Hidup Pasien Usia Lanjut: Tantangan Masa Depan Pendidikan, Penelitian dan Pelayanan Kedokteran di Indonesia. Jurnal Kedokteran Indonesia. 2013; 1(3): 234-242.
International Diabetes Federation. IDF Diabetes Atlas 7th Edition. 2015
Riset Kesehatan Dasar. Badan Penelitian dan Pengembangan Kesehatan Kemetrian Kesehatan RI. 2013.
Almatsier S. Prinsip Dasar Ilmu Gizi. Gramedia Pustaka Utama, Jakarta, 2004.
Evert AB, Boucher JL, Cypress M, Dunbar SA, Franz MJ, Mayer-Davis EJ et al. Nutrition Therapy Recommendations for the Management of Adults With Diabetes. Diabetes Care 2013; 36: 3821-3842
Kaiser MJ, Bauer2 JM, Ramsch C, Uter W, Guigoz Y, Cederholm T, Thomas DR, Anthony P et all. Validation of The Mini Nutritional Assessment Short- Form (MNA-SF) : A Practical Tool For Identification of Nutritional Status. The Journal of Nutrition Health. 2009; 13(9): 782-788
Rohmawati N. Asupan Makan, dan Status Gizi pada Lansia di Kabupaten Jember. Jember. (Skripsi). Tidak Diterbitkan. Universitas Jember. Jember. 2013
Paddon-Jones D, Rasmussen BB. Dietary protein recommendations and the prevention of sarcopenia: Protein, amino acid metabolism and therapy. Curr Opin Clin Nutr Metab Care. 2009 ; 12(1): 86–90
Saniawan IM. Status Gizi pada Lanjut Usia pada Banjar Paang Tebel di Desa Peguyangan Kaja Wilayah Kerja Puskesmas III Denpasar Utara. Jurnal Ilmiah Keperawatan. 2009; 2(1): 45-49.
Dwiyanti D, Hadi H, Susetyowati. Pengaruh Asupan Makanan Terhadap Kejadian Malnutrisi di Rumah Sakit. Jurnal Gizi Klinik Indonesia. 2004; 1(1): 1-7
Kvamme JM, Holmen J, Wilsgaard T, Florholmen J, Midthjell K, Jacobsen BK. Body mass index and mortality in elderly men and women: the Tromsø and HUNT studies. J Epidemiol Community Health. 2011; 10: 1-7
Kirkman MS, Briscoe VJ, Clark N, Florez H, Halter JB, Huang ES et al. Diabetes in Older Adults. Diabetes Care. 2012; 35: 2650-2664
Sulter. 2009. Use of Barthel Index and Modified Rankin Scale in Acute Stroke Trials. US National Library of Medicine National Institute of Health. 2009; 30 (8) :1538-41.
Patterson DH. Physical Activity and Fungtional Limitations in Older Adults : A systematic review related to Canada's Physical Activity Guidlines. Journal of Behavioral Nutrition and Physical Activity. 2010; 7(38):1-22.
Concannon LG, Grierson MJ, Harrast MA. Exercise in the Older Adult: From the Sedentary Elderly to the Masters Athlete. Physical Medicine and Rehabilitation. 2012; 4: 833-839.
Kinsela K, He W. An Aging World : International Population Reports. National Institute of Aging. 2008.
Liu C, Latham NK. Progressive resistance strength training for improving physical function in older adults. Cochrane Database Syst Rev. 2009; 3: 1-227
Ware JE. SF-36 Health Survey Update. Spine 2000 ; 25(24) : 3130-3139
Pernambuco CS, Rodrigues MB, Bezerra JCP, Carrielo A, Oliveira Fernandes AD, Souza Vale RG, Dantas EHM. Quality of Life, Elderly and Physical Activity. Sci Res. 2012; 4(2): 88-93.
Tambariki JL. Latihan Fisik dan Kualitas Hidup pada Lansia di Kecamatan Dimembe Kabupaten Minahasa Utara. JKU. 2012; 1(1):73-83
Surilena, Agus D. 2006. Faktor-faktor yang mempengaruhi Depresi pada Lansia di Jakarta. Majalah Kedokteran Damianus. 5 (2), hal 115-129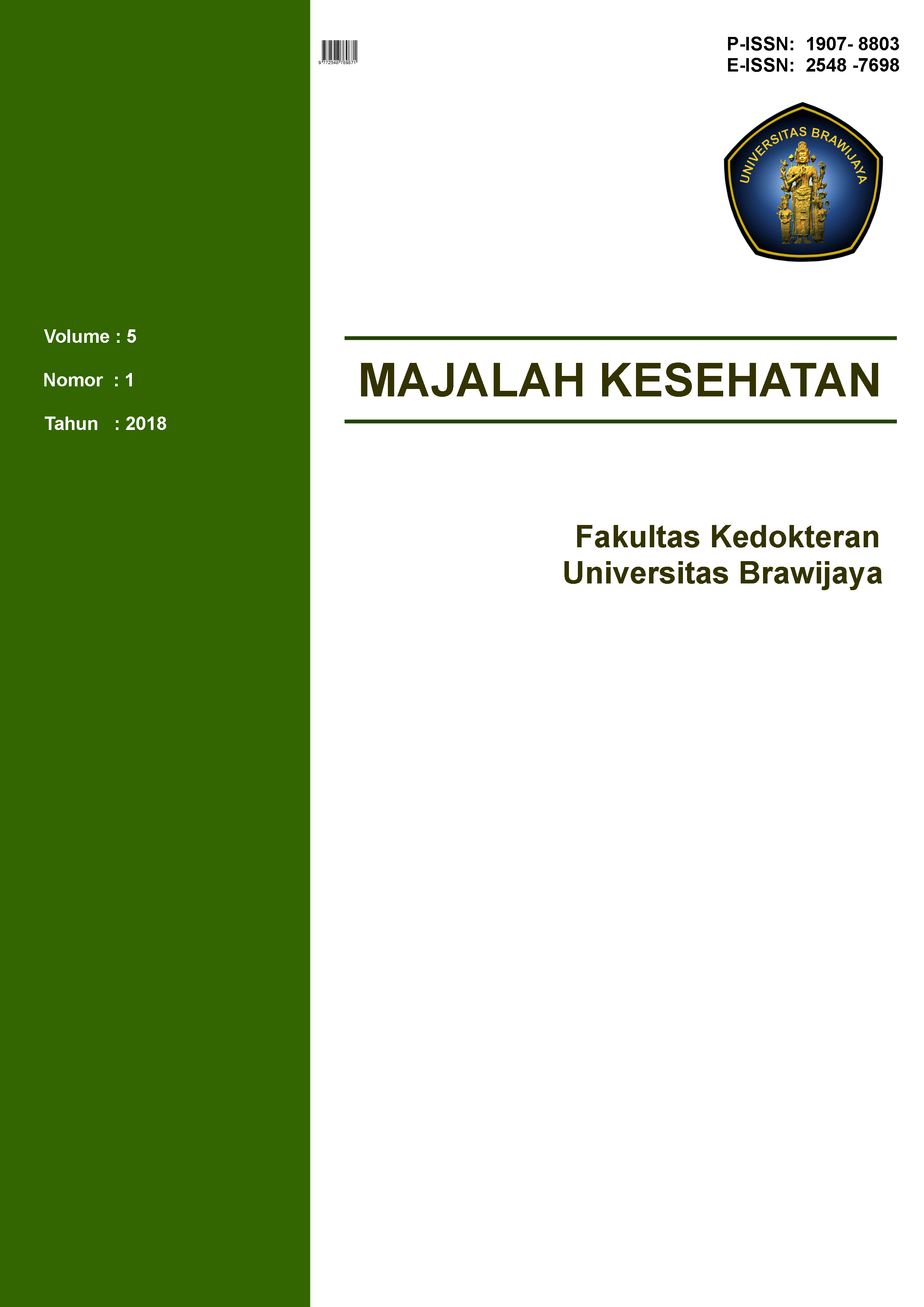 Downloads
License
This work is licensed under a
Creative Commons Attribution-NonCommercial 4.0 International License