EFEK PEMBERIAN ARTEMISIN DAN MINYAK BUAH MERAH (Pandanus conoideus) TERHADAP PRODUKSI REACTIVE OXYGEN INTERMEDIATE SEL MAKROFAG PERITONEUM MENCIT DIINFEKSI MALARIA
Abstract
Kerusakan jaringan hospes yang terinfeksi malaria dapat disebabkan oleh radikal bebas yang dihasilkan akibat  respons imun yang berlebihan dan mekanisme kerja artemisin. Kandungan beta-karoten dan tokoferol yang tinggi dalam minyak buah merah berfungsi sebagai antioksidan dan imunostimulator. Penelitian ini bertujuan mengetahui pengaruh terapi kombinasi artemisin dan minyak buah merah terhadap pembentukan reactive oxygen intermediate (ROI) oleh makrofag. Sebagai model malaria digunakan Plasmodium berghei yang diinfeksikan ke mencit Balb/C secara intraperitoneal. Sampel  terdiri dari kelompok mencit normal, mencit yang diinfeksi P. berghei (kontrol positif), mencit yang diinfeksi P. berghei dan diterapi artemisin 0,0364 mg/gBB peroral, mencit yang diinfeksi P. berghei dan mendapat artemisin 0,0364 mg/gBB serta minyak buah merah (dosis 16,5μL/mencit,  49μL/mencit, dan 97,5μL/mencit).  Didapatkan penurunan parasitemia pada kelompok mencit yang diterapi dengan artemisin serta kombinasi artemisin dan minyak buah merah pada hari ke-3. Keadaan ini diikuti dengan rendahnya jumlah sel makrofag yang memproduksi ROI yaitu pada kelompok yang mendapat artemisin saja maupun kombinasinya dengan minyak buah merah dosis 16,5 μL/mencit, dan dosis 49 μL/mencit dibanding kelompok kontrol positif (berturut-turut p = 0,003; p = 0,007; p = 0,003), kecuali pada mencit dosis 97,5 μL yang menunjukkan setara dengan kontrol positif (p = 0,822). Pada hari ke-5, jumlah sel makrofag yang memproduksi ROI lebih rendah pada kelompok kombinasi artemisin dan minyak buah merah dosis 49 μL/mencit, dan dosis 97,5 μL/mencit  dibandingkan dengan kelompok artemisin saja dan kontrol positif (p = 0,000). Disimpulkan bahwa pada infeksi malaria yang diberi terapi artemisin, buah merah dosis tinggi diperlukan sebagai imunostimulator pada fase akut dan sebagai antioksidan pada fase kronis.
 
Kata kunci: artemisinin, makrofag, malaria, reactive oxygen intermediate, buah merah (Pandanus conoideus)
References
Percário S, Moreira DR, Gomes BAQ, et al. Oxidative Stress in Malaria. International Journal of Molecular Sciences. 2012; 13(12):16346-16372. doi:10.3390/ijms131216346.
Porto BN, Alves LS, Fernández PL, Dutra TP, Figueiredo RT, Graça-Souza AV, Bozza MT. Heme Induces Neutrophil Migration and Reactive Oxygen Species Generation Through Signaling Pathways Characteristic of Chemotactic Receptors. J Biol Chem. 2007; 282:24430–24436.
Kannan R, Kumar K, Sahal D, Kukreti S, Chauhan VS. Reaction of Artemisinin with Haemoglobin: Implications For Antimalarial Activity. Biochem. J. 2005; 385:409–418.
Akanbi OM, Odaibo AB, Ademowo OG. Effect of Antimalarial Drugs and Malaria Infection on Oxidative Stress in Pregnant Women. African Journal of Reproductive Health. 2010; 14(3):212.
Gutteridge JM, and Halliwell B. Antioxidants in Nutrition, Health, and Disease. Oxford: Oxford University Press. 1994. P 1-72.
Krinsky NI, Jhonson Ej. Carotenoids Action and their Relation to Health and Disease. Mol Aspect med. 2005; 26(6):459-516.
Redaksi Trubus. Seri Praktis: Buah Merah dan Bukti Empiris. Jakarta: Penebar Swadaya. 2005.
Tahergorabi Z, Abedini MR, Mitra M, Fard MH, Beydokhti H. "Pandanus conoideusâ€: A Red Fruit with Promising Anticancer Activities. Pharmacognosy Reviews. 2015; 9(18):99–106. doi.10.4103/0973-7847.162108.
Blazquez K, Moll K, Ljungstrom I, Petmann, Scherf A, Wahlgren, M. Thawing of Glicerolyte Frozen Parasites
with NaCl. Methods in Malaria Research 5th. Paris: BioMalPar. 2008. pp15.
Clemmer L, Martins Y, Zanini M. Arthemeter and Artesunate Show The Highest Efficacies in Rescuing Mice with Late-Stage Cerebral Malaria and Rapidly Decrease Leukocyte Accumulation in Brain. American Society for Microbiology. 2011. p1383-1390.
Wu X, Gowda NM, Gowda DC. Phagosomal Acidification Prevents Macrophage Inflammatory Cytokine Production to Malaria, and Dendritic Cells are the Major Source at the Early Stages of Infection: Implication for Malaria Protective Immunity Development. The Journal of Biological Chemistry. 2015; 290(38):23135–23147. doi.10.1074/jbc.M115.671065.
Leijh PCJ, Furh RV, Zwet TLV.. In Vitro Determination of Phagocyte and Intracellular Killing by Polymorphonuclear and Mononuclear Phagocyte. In: Weir DM (Editor). Cellular Immunology. London: Blackwell Scientific Publication. 2001. 46.1 - 46.21.
Supargiyono. Production, Proliferation, and Functional Activities of Mononuclear Phagocytes during Plasmodium vinkei pitteri Infection in Mice. Thesis. 1993.
Nosten F, and White NJ. Artemisinin-Based Combination Treatment of Falciparum Malaria. Am J Trop Med Hyg. 2007. 77(Suppl 6):181–192.
NDCF. Artemisin New Hope for Malaria Victim. (Online). 2005. www.ndcf.org/reports/Artemisinin.
Good MF, Xu H, Wykes M, and Engwerda, CR. Development and Regulation of Cell-Mediated Immune Responses to the Blood Stages of Malaria: Implications for Vaccine Research. Annual Review Immunol. 2004; 23:69–99.
Kulkarni AG, Suryakar AN, Sardeshmukh AS, and Rathi DB. Studies on Biochemical Changes with Special Reference to Oxidant and Antioxidants in Malaria Patients. Indian Journal of Clinical Biochemistry. 2003;18:136-149.
Ahvazi BC, Jacobs P, Stevenson MM. Role of Macrophage-Derived Nitric Oxide in Suppression of Lymphocyte Proliferation During Blood-Stage Malaria. (Online).1995.www.jleukbio.org/cgi/content/abstract/58/1/23;
Subowo. Imunobiologi..Jakarta: Penerbit Angkasa. 1993. P. 35.
Budi IM, dan Paimin FR. Buah Merah. Bogor: Penebar Swadaya. 2005.
Hunt N, Kopp M, and Stocker. Free Radicals and Antioxidant in Malaria. In: ASH Ong, and L Pocker (Editor). Lipid Soluble Antioxidants, Biochemistry, and Clinical Application. Switzerland: Birkhasen Verlong. 1992. P. 337-354.
Murray. Biokimia Harper. Edisi ke-24. Jakarta: EGC. 1996.
Simamora D. dan Fitri L.E. Antioksidan pada Infeksi Malaria. Jurnal Molluca Medica. 2007; II(I):47-56.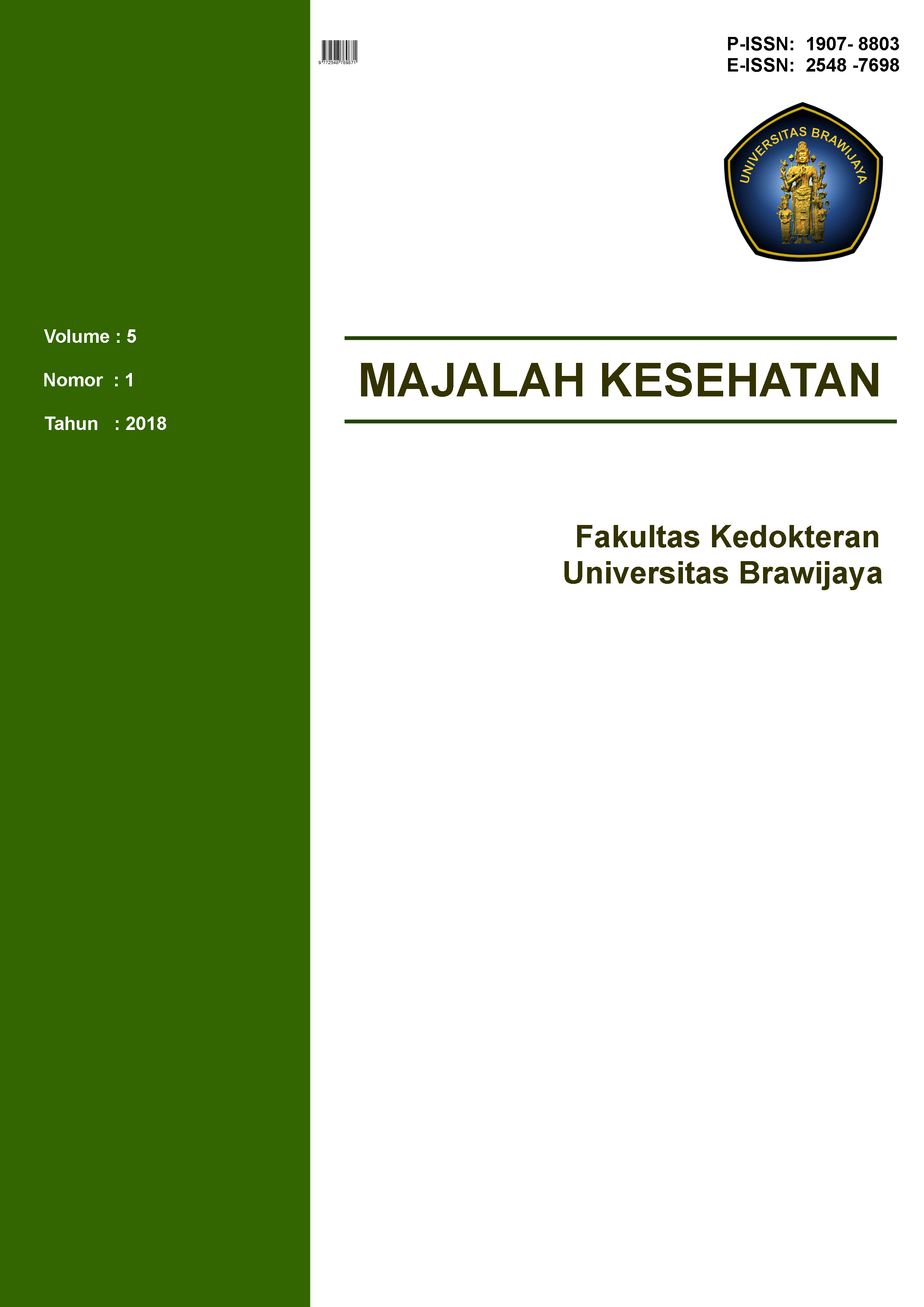 Downloads
License
This work is licensed under a
Creative Commons Attribution-NonCommercial 4.0 International License